Two of the biggest Cinderellas in this year's NCAA Tournament will square off on Saturday night with the first Final Four berth on the line. The Kansas State Wildcats are in the Elite Eight after shocking Kentucky and have already ended another Cinderella's season when they beat UMBC. Meanwhile, the Loyola Ramblers are trying to become the fifth double-digit seed to ever make the Final Four and the first double-digit mid-major to make it since VCU in 2011.
So, which of these teams will earn a trip to San Antonio? Here's our full preview and prediction:
Catch up on nightly college basketball scores in the best sports app available - the Chat Sports App!
Game Info:
When: 6:09 p.m. EST
Where: Philips Arena, Atlanta, GA 
TV: TBS
Spread: Kansas State (-1.5)
O/U: 126.5
Projected Starting Lineups
(9) Kansas State Wildcats (25-11, 10-8 in Big 12)
G Kamau Stokes (Jr.) – 8.9 ppg, 3.4 apg
G Barry Brown (Jr.) – 16.0 ppg, 3.3 apg, 3.1 rpg
G Cartier Diarra (Fr.) – 7.1 ppg, 2.4 rpg
F Xavier Sneed (So.) – 11.0 ppg, 5.1 rpg
F Makol Mawien (So.) – 6.9 ppg, 3.4 rpg
(11) Loyola Ramblers (31-5, 15-3 in MVC)
G Clayton Custer (Jr.) – 13.4 ppg, 4.2 apg
G Ben Richardson (Sr.) – 6.4 ppg, 3.9 apg
G Marques Townes (Jr.) – 11.2 ppg, 3.9 rpg
G Donte Ingram (Sr.) – 11.3 ppg, 6.3 rpg
C Cameron Krutwig (Fr.) – 10.4 ppg, 6.1 rpg
What they're saying about the Kansas State Wildcats:
Small Ball: The unexpected catalyst of Kansas State's magical Elite Eight run (Kansas City Star)
X marks the spot: K-State's Xavier Sneed gives Wildcats lift (Wichita Eagle)
Kansas State Players Felt Disrespected by Lack of Handshakes from Kentucky (Bleacher Report)
What they're saying about the Loyola Ramblers:
March Madness Highlights: Top 10 Buzzer-Beaters In NCAA Tournament History (Chat Sports)
Beloved Sister Jean gets new bobblehead as Loyola-Chicago marches on (ESPN)
Ramblers Around the World: Fans Gather to Watch Historic Sweet 16 Game (Loyola Phoenix)
Keys to the game:
Can K-State continue their defensive dominance?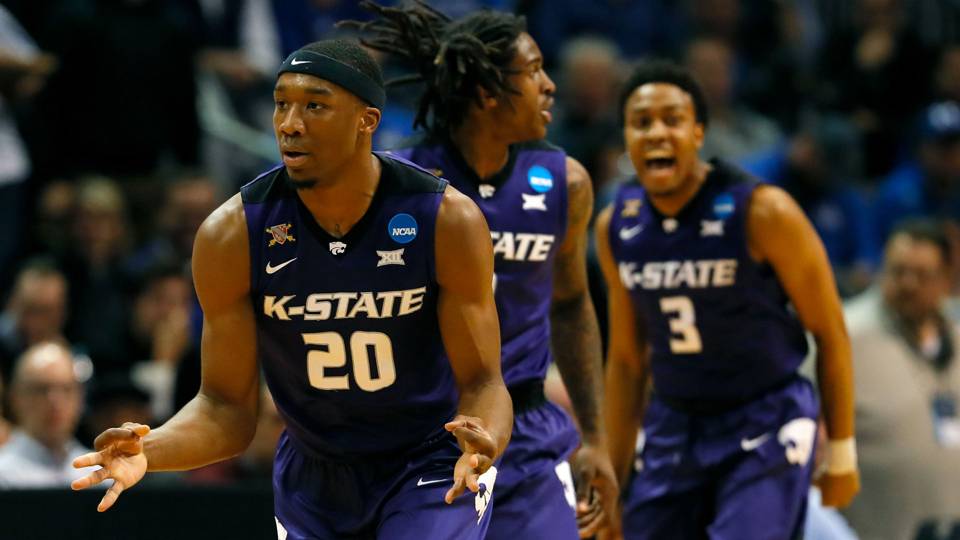 K-State is not a great offensive team (especially without the injured Dean Wade) but is one of the better defensive teams remaining in the tournament. They've held all three of their opponents below 60 points while winning the turnover battle in all three games as well. Brown and Sneed have really carried the Wildcats' offense to this point, but without Wade, they don't have enough firepower to rely on their offense to win them games. They're going to have to win this game with their defense.
Continued steady play from Loyola
Obviously, Loyola has some magic on their side as they've won all three of their tournament games on last-second shots. However, looking under the surface with this team, there's substance behind this run. They were among the most efficient teams in the country on both offense and defense during the season - which is why they were able to go blow-for-blow with very good teams in Miami, Tennessee, and Nevada.
However, the big key in this game will be taking care of the ball. They're efficient enough on offense to give Kansas State some problems, but they can't give the Wildcats easy buckets.
Prediction: Loyola wins 63-61
The Ramblers actually have the best defense Kansas State has faced in the tournament so far, so don't expect any sudden offensive explosion from the Wildcats. Plus, even though Kentucky ranks higher than Loyola in adjusted offensive efficiency, the Ramblers are a much better shooting team. 
K-State's defense will keep it very close but, as we've seen in this tournament, Loyola's offensive efficiency gives them a big advantage down the stretch. They'll win another tight one and return to the Final Four for the first time since they won the national title in 1963.
Back to the Loyola Ramblers Newsfeed
Related Topics: NCAA Basketball, Loyola Ramblers Basketball, Kansas State Wildcats Basketball, March Madness, 2018 NCAA Tournament