Despite being a one seed, the Kansas Jayhawks didn't even begin the tournament as the Final Four favorites in their own region. This is a team that has been doubted all year (remember when they weren't supposed to win the Big 12?) but have made it to the sport's biggest stage after winning three consecutive games by four points, including their overtime thriller against Duke in the Elite Eight.
We'll be doing these on each Final Four team during the course of the week, and while this season already feels like a success for the Jayhawks, this proud program is measured by national championships. Here are five reasons why they can win the title:
1) The rise of Malik Newman
Malik Newman has made Kansas a very dangerous team of late by taking much of the load off of Big 12 Player of the Year Devonte' Graham. He has led KU in scoring in six of their last seven games (including 32 points against Duke) and has been their best player in the month of March. His emergence has given the Jayhawks perhaps the most dynamic backcourt in the country.
RELATED: Malik Newman Rising Up NBA Draft Boards, Considered A "Value Pick"
2) Big-shot making of Svi Mykhailiuk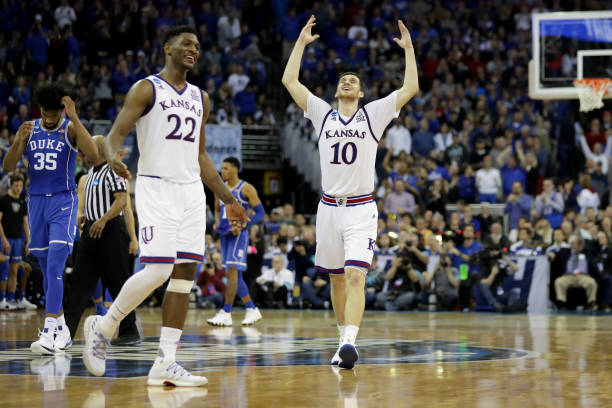 While Graham and Newman have been getting most of the publicity during the tournament, but Mykhailiuk has been as vital to their run as anyone. He outrebounded both Marvin Bagley and Wendell Carter and hit the game-tying three against Duke that forced overtime, something we've seen from Mykhailiuk throughout his career.
Last year, he beat Kansas State on a buzzer-beating floater. This year, he has hit big shots in wins over the Wildcats, West Virginia, and the game-winner against Nebraska. If the game is close late, Mykhailiuk is a guy KU knows they can rely on.
3) A healthy Udoka Azubuike
Kansas's guards are great but they need a healthy Udoka Azubuike in the middle for them to play up to their full potential. He was limited by an MCL strain earlier in the tournament but he's fully healthy now - and it's no surprise the wins have followed. Azubuike is their only rim protector and they've yet to lose when he grabs double-digit rebounds. He's the best shot-blocker remaining in the Final Four and Kansas has used him as a big alley-oop threat when opponents try to pressure the perimeter.
As we've seen several times this year, he can be a true difference maker - and the Jayhawks will need him to be one.
Catch up on nightly college basketball scores in the best sports app available - the Chat Sports App!
4) Bill Self's record in the Final Four
For all the criticism head coach Bill Self has received in his career for failing to get past the Elite Eight on several occasions - whether you feel it's warranted or not - it's impossible to ignore what he has done when he's made it this far. This is Self's third Final Four and he made it to the title game in each of his previous trips, posting a 3-1 overall record. That success is a good sign for the Jayhawks.
5) Home-court advantage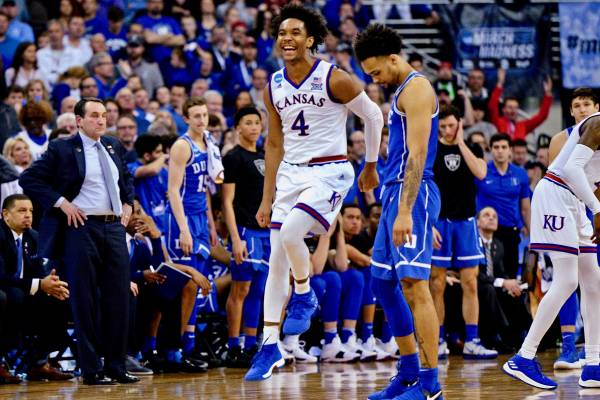 Kansas fans travel better than pretty much every other fan base in the country (Kentucky's right up there with them), so it shouldn't be a surprise to see them flood San Antonio this weekend. Furthermore, they're also the closest in proximity to the Final Four by a considerable margin. Expect the crowd to have a very heavy KU lean, giving Kansas an edge.
ALSO IN THIS SERIES
Michigan
Villanova
Loyola-Chicago
Back to the Kansas Jayhawks Newsfeed
Related Topics: NCAA Basketball, Malik Newman, March Madness, Kansas Jayhawks Basketball, 2018 Final Four, 2018 NCAA Tournament, Big 12 Basketball