The Loyola-Chicago Ramblers, who are just the fourth No. 11 seed to ever reach the Final Four, enter this weekend with their dream season already accomplished, but their Cinderella run hasn't been a fluke. Loyola is one of the most efficient teams in the country in both ends of the floor and has used their precision to beat a number of quality opponents.
We've done these on each Final Four team during the course of the week, and while this season has already been a rousing success for the Ramblers, this program is looking to keep their Cinderella run going. Here are five reasons why they can win the title:
1) Balanced attack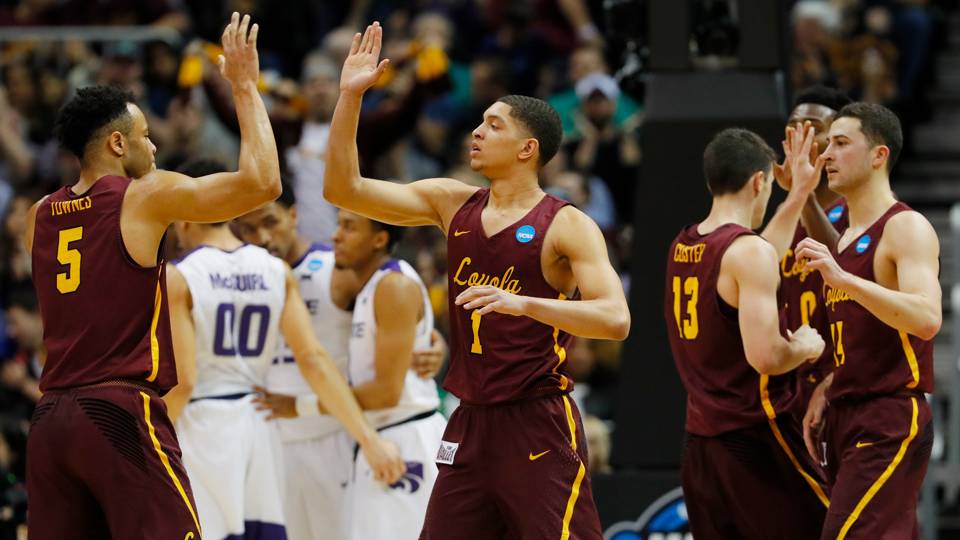 Obviously, Loyola has some magic on their side as they've won three of their four tournament games on last-second shots (and we'll get to that later), but they've beaten teams due to their efficiency, which is best shown with their balance. A different player has led them in scoring in each of their tournament games and six players average at least seven points per game - including five in double-digits.
Getting contributions from everyone makes them extremely dangerous of the offensive end and it's why they rank in the top five nationally in effective field goal percentage.
2) Great perimeter defense
Now let's dig deeper into their efficiency, particularly on the defensive end. They're in the top 20 nationally in adjusted defensive efficiency and limit their opponents from deep. Loyola is giving up just 63.5 points per game in the tournament and held both Nevada and Kansas State under 26 percent shooting from three-point range. The three other teams remaining are all reliant on their three-point scoring, and Loyola's three-point defense gives them a major edge.
3) Four-guard lineup
One of the biggest reasons why they're so good on the perimeter is because of their four-guard lineup. That allows the Ramblers to switch everything, creating fewer openings, and the quickness to pressure teams on the perimeter. Outside of point guard Clayton Custer, all of those guards are between 6-foot-4 and 6-foot-6, giving them length to bother three-points shots.
On the other end, playing four guards allow them to space the floor with shooters and open up driving lanes for the drive-and-kick offense. Having that much quickness on the court also makes them tough to guard - especially with how unselfish they are (24th nationally in assist rate).
Catch up on nightly college basketball scores in the best sports app available - the Chat Sports App!
4) Late-game heroics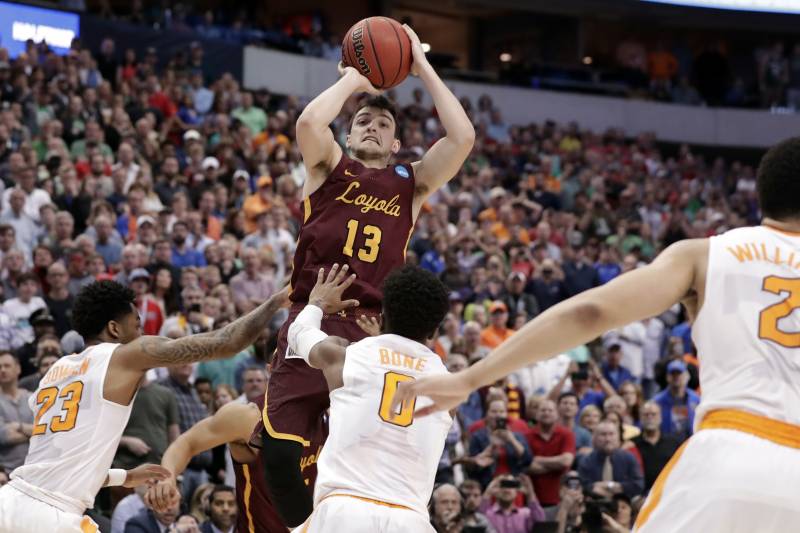 Which team do you trust the most with the game on the line? Loyola has proven that they're the most deserving of that trust by hitting three game-winners in the final seconds in the tournament. It's reminiscent of the run Kentucky went on in the 2014 tournament when Aaron Harrison drained three game-winners while leading the Wildcats to the championship game.
Of course, the Ramblers have had a different player hit each of those shots instead of just one player, which goes back to the balance of their attack. Their efficient offense allows them to get quality looks on important possessions and they've taken advantage.
5) Team of destiny
Every year, there always seems to be a team that accomplishes major feats through a series of unexpected events. Loyola is clearly that team this season, riding those last-second shots and the phenomenon that is Sister Jean to become the story of the tournament. There are tangible reasons to think this group can keep their run going, but there are a number of intangible reasons as well.
ALSO IN THIS SERIES
Kansas
Michigan
Villanova
Back to the Loyola Ramblers Newsfeed
Related Topics: Loyola Ramblers Basketball, March Madness, 2018 NCAA Tournament, Missouri Valley Basketball, 2018 Final Four, NCAA Basketball