Welcome to another edition of the Rauf Report, where I will share my biggest takeaways from the past week in college basketball. There's a ton to sort through on a week-to-week basis, so I'm here to make things easier and tell you what you need to know. You can (and should) follow me on Twitter for real-time college basketball updates and analysis, but here are my eight biggest takeaways from the week:
1) The UCLA-Ball Family marriage is over - and that's a good thing for both sides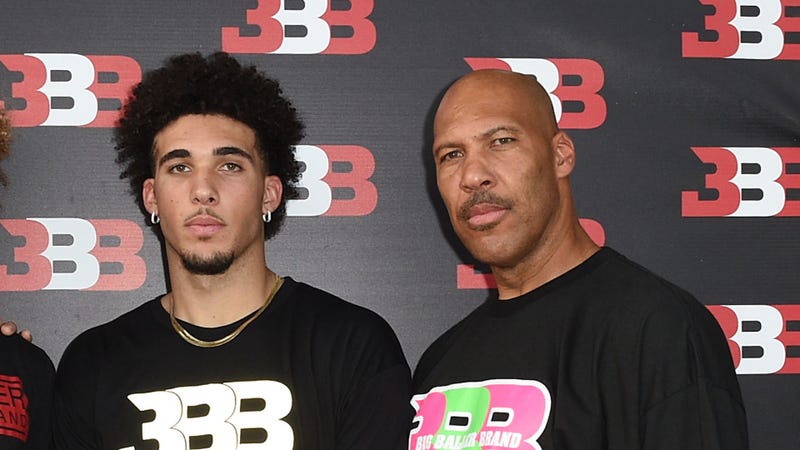 This has been the biggest story in college basketball this week, so I'd be remissed if we didn't mention it here. If you're unaware, LaVar Ball is pulling LiAngelo Ball - the second of three Ball children - out of UCLA following an indefinite suspension stemming from a shoplifting incident while the Bruins were in China. However, he won't be transferring to another school. LaVar has said that LiAngelo will be going pro despite there being no chance he gets drafted, but they're currently looking into LiAngelo and LaMelo, the No. 7 overall prospect in the 2019 class who LaVar also pulled out of school to homeschool, playing together overseas. 
And, honestly, that's the best move for both sides.
For UCLA, they got the best Ball brother (Lonzo), who led them to 31 wins last season and now no longer have to deal with the outside noise that comes with the Balls or eligibility questions surrounding LaMelo, who is still committed to UCLA but has his own Big Baller Brand signature shoe. The profits from those shoes would make him ineligible at the college level, which is why playing overseas is such a good idea. It would give LaMelo three seasons of professional experience before being eligible for the 2020 NBA Draft, which would actually make him a lot more intriguing as a prospect - and could propel him higher up draft boards if he has success.
For LiAngelo, he wasn't going to be anything more as a rotation player at UCLA and was likely going to end up playing overseas anyways when his collegiate career ended.
So, in the end, this break up allows everyone to get what they want, which is a good thing.
2) Chris Holtmann has made Ohio State relevant quicker than expected
Given how weak the Big Ten is this year, there is an opportunity for a surprise team to emerge. Ohio State looks like they're going to be that team. Getting blown out by Gonzaga in the PK80 wasn't fun and losing at home to Clemson wasn't great - yet Chris Holtmann has the Buckeyes sitting at 2-0 in conference play (one of three teams still undefeated in Big Ten play) thanks to a 25-point road win over Wisconsin and an impressive comeback win over Michigan.
They still don't do anything exceptionally well but the emergence of Keita Bates-Diop (17.4 ppg, 9.9 rpg) has helped them grind out some key victories. Once they return to Big Ten play at the start of January, four of Ohio State's six games are against Michigan State, Maryland, Minnesota, and Northwestern. If they can win just half of those games, they put themselves in a good position to get double-digit conference wins - and for an NCAA Tournament bid.
3) Maybe I was right about Notre Dame...
So I began the season with Notre Dame listed as one of my overrated teams because I didn't think they had enough around Bonzie Colson and had concerns about them defensively. After winning the Maui Invitational, it certainly looked like I was dead wrong. Well, now things are swinging the other way.
The Irish rose to No. 5 after their performance at Maui, but all they've done since then is get embarrassed by Michigan State and get upset at home by a Ball State team that has been blown out by both unranked Oklahoma and Oregon.
A SHOCKER IN SOUTH BEND!@BallStateMBB takes down No. 9 Notre Dame on this game-winner by @TaylerPersons8! #MACtion pic.twitter.com/wE5fSRUN44

— #MACtion (@MACSports) December 6, 2017
Those losses have highlighted my reasons for concern about this team. They play small ball, so they don't rebound well and are allowing opponents to grab offensive rebounds on nearly one-third of their misses. That has helped drag down Notre Dame's defensive efficiency, which ranks outside the top 50. 
Obviously, it's just two games and crazy things tend to happen around exam time. But these struggles are something to keep an eye on, especially in the strong ACC.
4) Get to know Trae Young
The best freshman - heck, the best player - you probably don't know about is Trae Young, who is leading the country in points (28.7 ppg) and is third in assists (8.7 apg) while leading the Sooners to a 6-1 record. He has turned himself into a lottery pick and is playing like the collegiate version of Steph Curry.
Oklahoma's next two games - Dec. 8 vs. USC and Dec. 16 vs. Wichita State - will give him more opportunities on the national stage. Expect the hype around him to take off.
College Basketball Fans - Download Chat Sports on iPhone today for breaking news, rumors, scores and more - Chat Sports App!
5) Florida State might be the most underrated team in the country
Not much was expected of the Seminoles this year as their three best players from last year's team - Jonathan Isaac, Dwayne Bacon, Xavier Rathan-Mayes - all left for the NBA. They're not the same team offensively, but the Seminoles are good. Florida State is one of the best defensive teams in the country and showcased that dominance in a blowout win over Florida in Gainesville this week. They're tall, long, and athletic...and will be a factor in the ACC because of that defense. If Terance Mann (16.7 ppg, 5.6 rpg) continues to emerge as a go-to guy offensively, Florida State could repeat last season's success.
6) X is back
What a week for Xavier, huh? After losing to Arizona State (a loss that now actually looks like a good one), the Musketeers responded with 13-point wins over Baylor and Cincinnati. Trevon Bluiett (20.8 ppg) has their offense, which ranks fourth nationally in both effective field goal percentage and adjusted offensive efficiency, playing at a very high level.
Plus, they're playing with that edge that made them so dangerous last year. Their domination of Cincinnati was incredibly impressive, and the fight between J.P. Macura and Bearcats coach Mick Cronin was indicative of that edge. They're clearly the biggest threat to Villanova in the Big East and are a team no one wants to play.
7) Let's give Nevada some love
I've been high on UT-Arlington as the best mid-major (outside of Gonzaga, who isn't really a mid-major) in the country, and while I still believe that is the case, we need to give Nevada some love. They cracked the AP Top 25 as the No. 22 team in the country this week with wins over Rhode Island and Davidson on their resume. NC State transfers Caleb (20.0 ppg, 5.3 rpg) and Cody Martin (15.0 ppg, 6.2 rpg) have added weapons in the frontcourt with guard Jordan Caroline (17.0 ppg, 9.4 rpg) returning as their leader.
Given their size (14th tallest team in the country), skill (Caroline will be drafted while the Martin twins will get NBA training camp invites), and experience, Nevada has easily proven themselves as a mid-major team worth watching. The Wolf Pack let their first chance for a signature win slip through their fingers on Tuesday in a 82-76 overtime loss to Texas Tech on the road, but get another chance when they host TCU on Friday night. 
8) Remember South Dakota State when filling out your bracket
Nevada and UT-Arlington are the mid-major favorites, but South Dakota State gets even less publicity than them - but have also shown how dangerous they can be. The Jackrabbits already have Iowa, Buffalo, and Ole Miss, and nearly knocked off Wichita State on Tuesday. Mike Daum (19.9 ppg, 7.5 rpg) is as good of a big man as there is in the country and will be playing in the NBA at some point. Plus, in their last NCAA Tournament appearance two years ago, they nearly knocked off Maryland before losing by five.
All of those factors - experience, beating/playing evenly with quality teams, and having an NBA-caliber player - make South Dakota State a team no one wants to see show up next to them on Selection Sunday.
Follow our NCAA news page for all the latest college basketball news or download the Chat Sports App!
Back to the NCAA Newsfeed
Related Topics: NCAA Basketball, Rauf Report