Welcome to another edition of the Rauf Report, where I will share my biggest takeaways from the past week in college basketball. The new year has brought about upsets and crazy games seemingly every night, which has resulted in plenty of turnovers at the top of the polls. You can (and should) follow me on Twitter for real-time college basketball updates and analysis, but here are my eight biggest takeaways from the week:
1) Villanova is clearly the No. 1 team in the country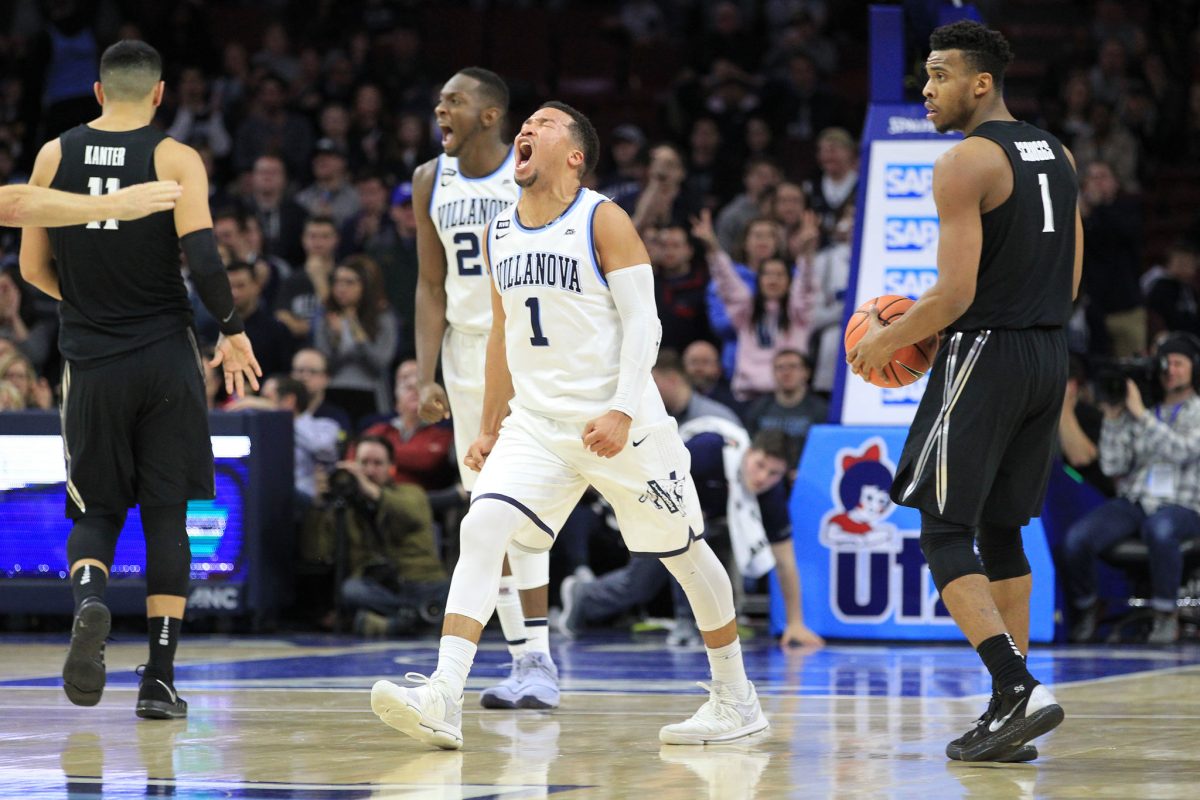 I wrote at the start of the week that Villanova was the only team you can trust in college basketball this year, and they made me look smart by blowing out #10 Xavier 89-65 this week. Their consistency and efficiency on both sides of the ball have keyed their steady play and they have a pair of All-American players in Jalen Brunson and Mikal Bridges. Villanova can get better defensively, but considering their business-like approach and the way they've handled everyone they've faced outside of Butler, it's impossible to vote for anyone else as the best team in the country.
2) Chris Holtmann is the favorite for Coach of the Year
I got into this conversation last night on Twitter and there are plenty of quality candidates for National Coach of the Year - namely Arizona State's Bobby Hurley, Auburn's Bruce Pearl, Oklahoma's Lon Kruger, Texas Tech's Chris Beard, and Virginia's Tony Bennett - but I'd give the award to Ohio State's Chris Holtmann right now.
The Buckeyes were picked to finish near the bottom of the Big Ten (Holtmann's late arrival in June was a reason why), yet all they've done is go 14-4 with a dominant over Michigan State and are one of two undefeated teams in the conference. Furthermore, all four of their losses have come to RPI top 60 teams and they already have three top quadrant wins (Michigan State, Michigan, Maryland). The fact that Ohio State is not only a tournament lock but one of three favorites in the Big Ten makes Holtmann my favorite for Coach of the Year right now.
3) Oklahoma is more than just Trae Young
This was my big takeaway from Oklahoma's 75-65 win over #8 Texas Tech. Even though Trae Young finished with 27 points and nine assists, he was 1-12 from the field early in the second half - and the Sooners still had the lead. Why? Christian James (who is shooting 50.7 percent from the field and 42.7 percent from three this season) was able to carry the load with Khadeem Lattin and Rashard Odomes provided complementary scoring until Young found his offense.
Obviously, Oklahoma would not be anywhere close to where they are without Trae Young being the guy Trae Young has been. But the supporting cast has proven that the Sooners aren't just a one-man band.
MORE ON CBB: College Hoops Mailbag: Thoughts On A Pair Of Bubble Teams, All-Glue Guy Team, & More
4) Arizona State's struggles
Arizona State's loss to Oregon on Thursday night dropped them to just 1-3 in Pac-12 play after going undefeated through the non-conference portion of their schedule. During that undefeated run, I warned that the Sun Devils were due for some regression due to their defensive problems, lack of size, and reliance on the perimeter shot, and all of that is coming back to bite them right now. They were outrebounded by the Ducks (and allowed 15 second-chance points off Oregon's 15 offensive rebounds), lost the turnover battle, and were outscored 38-16 in the paint.
The Sun Devils will bounce back - their guards are too good for them not to - but we're seeing why they aren't the team many projected them to be going into 2018.
5) Could NC State actually make the NCAA Tournament?
On the flip side of that spectrum is NC State, who got off to a slow start to the season (including losses to Northern Iowa and UNC-Greensboro) but have racked up two elite wins this past week over both Duke and Clemson to add to their November win over Arizona. However, they also lost to Notre Dame - without Bonzie Colson - by 30 on Jan. 3. 
All of that gives the Wolfpack a confusing resume right now, but as long as they avoid another terrible loss, I could see that trio of RPI top 25 wins being enough to get NC State into the Big Dance in head coach Kevin Keatts' first season.
6) Pitt is the worst Power 6 team in the country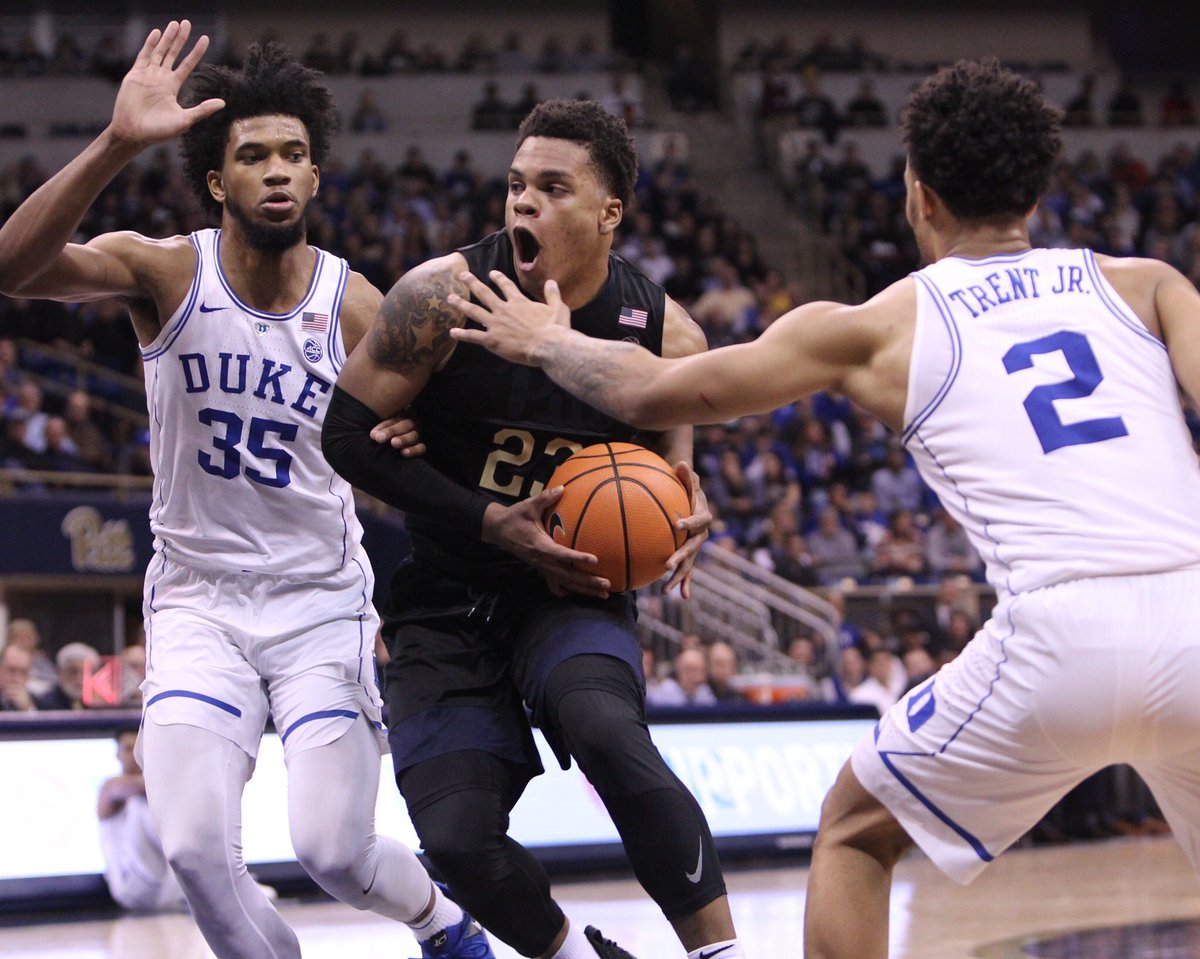 NC State is vastly outperforming their preseason pick of finishing 13th in the ACC, but Pitt continues to validate everyone who picked them to finish 15th - dead last - in the conference. In fact, they're playing like the worst power conference team out there. A season-opening loss to Navy set the tone for the season and they've lost all four of their ACC games by double digits - including their most recent 87-52 loss to Duke in a game that wasn't even that close. Head coach Kevin Stallings will be fired shortly after the season ends.
Catch up on nightly college basketball scores in the best sports app available - the Chat Sports App!
7) I'd be shocked if Brian Bowen ever plays for South Carolina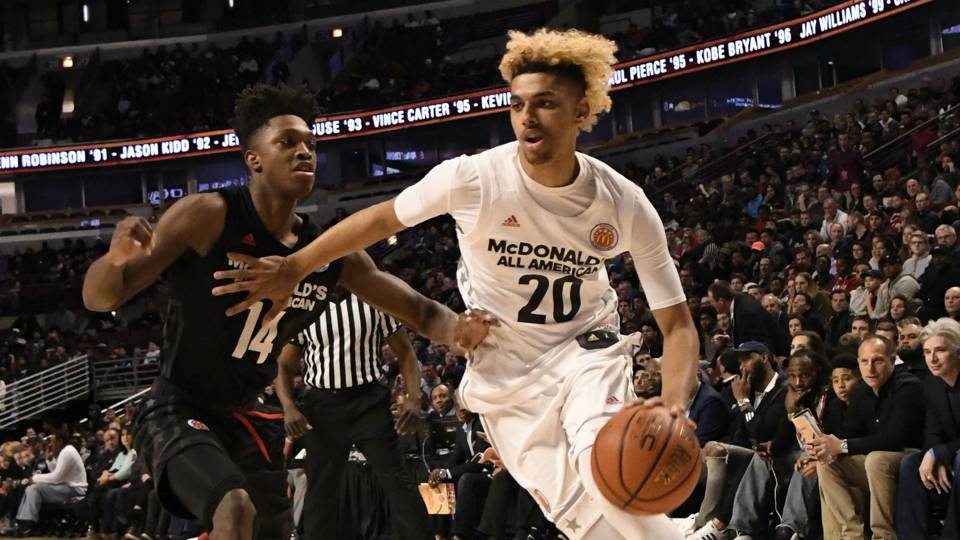 We're closing this Rauf Report with the latest FBI probe-related news. The biggest this week came from Brian Bowen - the Louisville commit mentioned in the FBI's findings who received $100K from Adidas in exchange for his commitment to the Cardinals - as he enrolled at South Carolina. Bowen has denied his role in the allegations via the Cam Newton Defense (Bowen claims his father took the money without his knowledge) and has been doing everything in his power to get onto a college basketball court after being dismissed from the Louisville program.
The Gamecocks are an interesting destination for a number of reasons. They were also connected to the FBI probe through former assistant Lamont Evans (one of the four coaches that were arrested - Evans was hired by Oklahoma State prior to the 2016-17 season) and the program is also coming off their first-ever Final Four and are struggling with a 10-6 record. Head coach Frank Martin is a no-nonsense type of guy, but he enjoys these teachable/possible redemption stories by getting kids on the right track and said yesterday that there's "no downside" to adding Bowen. 
South Carolina's compliance department believes that the former five-star recruit has been cleared of any wrongdoing and the school is petitioning the NCAA for Bowen's reinstatement - but I'll be shocked if that ever happens. Don't expect him to ever suit up for the Gamecocks.
8) Finally, some FBI-related clarity for USC and Auburn
Elsewhere, things got a little more clear for Auburn and USC regarding two players wrapped up in the investigation. Tigers center Austin Wiley, a projected first-round pick in the 2018 NBA Draft, was suspended for the rest of the season by the NCAA for his role in the FBI probe. He will be eligible to play next season, but he's expected to enter the draft - meaning his time at Auburn is likely done.
For USC, they - not the NCAA - have decided to hold De'Anthony Melton (another projected first-round pick) out for the remainder of the season due to eligibility questions stemming from the school's internal investigation into findings from the FBI's investigation. He is also expected to enter the draft.
Both schools clearly wanted to start to move past the cloud that has been hanging over them all season, but don't think this is the end. We knew the investigation would hang over the sport all season, which it continues to do.
Back to the NCAA Newsfeed
Related Topics: NCAA Basketball, Rauf Report