The 2018 NCAA Tournament is finally here, and while there are plenty of off-court questions surrounding the tournament that stem from the FBI investigation, it promises to be one of the most upset-filled ever on the court. 
Despite the parity at seemingly all levels, there are metrics that allow us to differentiate true title contenders from other quality teams. Since 2002, every national champion has ranked in the top 22 nationally in adjusted offensive efficiency and in the top 40 in adjusted defensive efficiency, according to KenPom.com (UConn's offense in 2014 is the lone exception during that time frame).
Only eight teams fit those parameters, but a few of them (Gonzaga, North Carolina, West Virginia) aren't legitimate title contenders in my mind for a variety of reasons. I also don't consider a number of other big-name programs (Kansas, Arizona) realistic title contenders for reasons I explain here.
Last year, our list of six teams contained both of last year's title game participants in UNC and Gonzaga. So, here are the only five teams that can win the championship this season:
NEXT READ: 5 High Seeds In The 2018 NCAA Tournament That Will NOT Win The National Championship
Villanova went through a bit of a slide in February but I think they're the best team in the country when they're totally healthy - which is now the case. Jalen Brunson (19.4 ppg, 4.7 apg) is the frontrunner for National Player of the Year and is the smartest player in the country. He drives the offense that leads the country in efficiency, while projected lottery pick Mikal Bridges (18.0 ppg, 5.4 rpg, 1.6 spg) drives the defense as a versatile defender who can lock down an opposing team's best player.
The Wildcats do lack depth and have some questions in the frontcourt - Omari Spellman (10.7 ppg, 7.9 rpg) and Eric Paschall (10.3 ppg, 5.1 rpg) are their only big men and both are 6-foot-9 - but have a scheme that makes up for that.
In a crazy year, Villanova has the two things that provide stability in experience and quality guard play. That makes them a championship favorite.
Michigan State is perhaps the most complete team in the country as they're one of two squads (Duke) that ranks in the top 10 in both adjusted offensive and defensive efficiency. That has sparked their 12-game win streak and had them finish the regular season with the second-fewest losses of any team in the country.
Of course, on the flip side, the Spartans almost lost to Indiana, Iowa, Northwestern, and Wisconsin in February. Michigan State found a way to win those close games, which is something to feel good about, but they're way too good to put themselves in those positions on a consistent basis. As the old saying goes, if you play with fire enough times, you will get burnt.
Look for Jaren Jackson Jr. (11.3 ppg, 5.8 rpg, 3.2 bpg) to become a bonafide superstar in March. He has wedged his way into the conversation for the No. 1 pick in the NBA Draft because of his size (6-foot-11), athleticism, offensive skillset, and shot-blocking prowess. Expect him to be a difference-maker for them this month.
Catch up on nightly college basketball scores in the best sports app available - the Chat Sports App!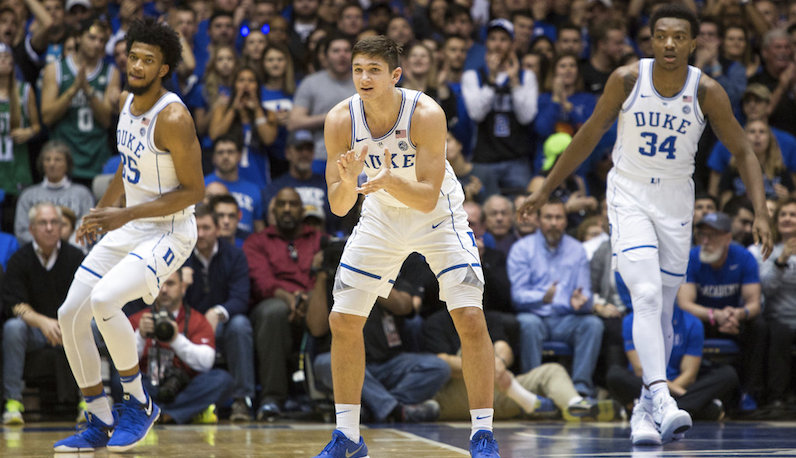 For all the talk about how bad Duke's defense has been this season, you might be surprised to know that the Blue Devils rank seventh in adjusted defensive efficiency. 
What changed? Duke started playing almost exclusively zone with a halfcourt trap mixed in and, as a result, they've held eight of their last nine opponents to 70 points or less (including 60 points or less in four games). Now, that defense still has holes and it's hurting their defensive rebounding a bit, but that's a massive improvement that will give them a chance.
On the other end of the court, Duke's offense is the third-most efficient in the country and they have two players in Grayson Allen (15.7 ppg, 4.5 apg) and Marvin Bagley III (21.1 ppg, 11.5 rpg) that can win a game by themselves. As long as their defense holds up, Duke has the ability to make a long run.
RELATED: 5 Tips For Filling Out Your NCAA Tournament Bracket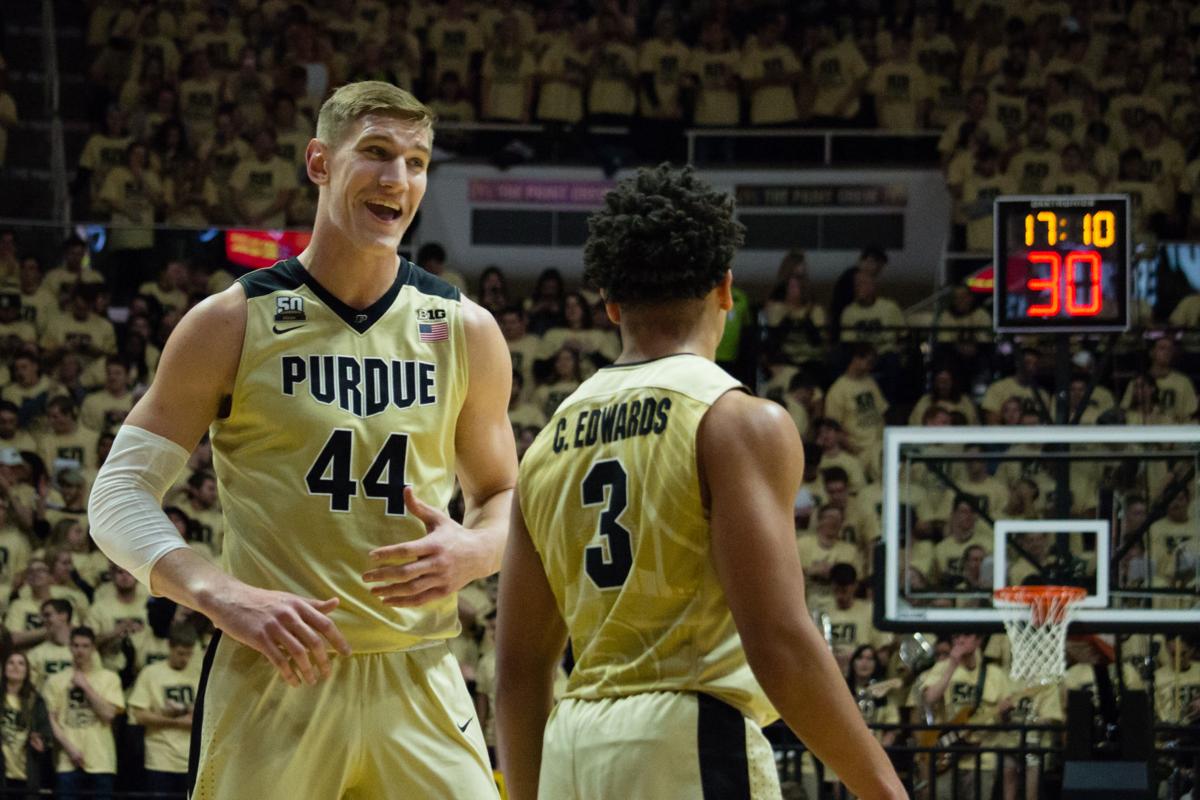 I still have my doubts about this Purdue team (I don't have them making the second weekend) but the emergence of Carsen Edwards (18.5 ppg, 3.0 apg) over the past couple of weeks simply can't be ignored (plus, I've been wrong occasionally). After the Boilermakers lost at Wisconsin on Feb. 15, Edwards took over during the final three games of the regular season, averaging 28.3 points, 4.3 rebounds, and 4.0 assists per game. Unsurprisingly, they won all three games.
If he continues to play at a high level, he'd give Purdue the type of guard play we usually see from teams that make long NCAA Tournament runs. They already have tremendous size thanks to 7-foot-2 Isaac Haas (14.9 ppg, 5.6 rpg) and 7-foot-3 Matt Haarms (4.8 ppg, 3.1 rpg) along with quality three-point shooting (42.0 percent is second nationally). 
There are legitimate questions about Purdue's lack of athleticism and their ability to defend quicker teams, which is why they're the weakest team on this list, but they have a strong resume and fit the KenPom criteria.
Looking for more on College Basketball? Watch the Rauf Report video podcast on iTunes!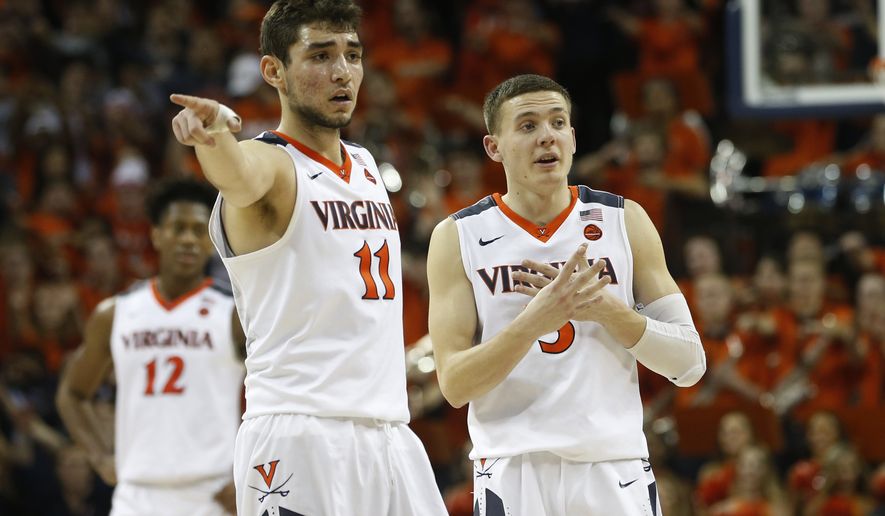 You can have your doubts about Virginia, but what they've done this season can't be ignored. The Cavaliers rank 21st in adjusted offensive efficiency and are on pace to set the record for best defensive efficiency in the analytics era (since 2002).
That defense speaks for itself, so why do I think they can overcome some of their traditional offensive problems? Ty Jerome (10.5 ppg, 3.9 apg) has proven to be one of the best big-shot makers in the country and Kyle Guy (14.1 ppg) is the kind of offensive threat UVA hasn't had under Tony Bennett. Throw in quality play from Devon Hall (12.0 ppg, 4.3 rpg) and you have a team with a number of reliable weapons. Furthermore, they don't turn the ball over (fifth-lowest turnover percentage) and have a solid effective field goal percentage. 
That said, the problem with Virginia is the same it has been in year's past - their pace. It lessens their margin for error because there are fewer possessions in a game, which is by design. That has sunk them in year's past. I think they have enough firepower to overcome that and make the Final Four, but do they have enough to win the title? We shall see.
NEXT READ: 5 High Seeds In The 2018 NCAA Tournament That Will NOT Win The National Championship
Back to the NCAA Newsfeed
Related Topics: NCAA Basketball, 2018 NCAA Tournament, Virginia Cavaliers Basketball, Villanova Wildcats Basketball, Michigan State Spartans Basketball, NCAA Tournament, Duke Blue Devils Basketball, Purdue Boilermakers Basketball