The college football rumors surrounding these five coaches regarding there job security is still heating up. Most of these coaches have been on the hot seat much of the season and after another disappointing week will this be the week where they get booted from the hot seat? If you disagree or want to add names to our hot seat list tweet @ChatSports on Twitter!
5. Kevin Sumlin - Texas A&M
Texas A&M has lost three of their last four games and after giving up 42 points to Auburn at home will this be the game that breaks the camel's back? At five wins and four losses this season, this has been a disappointing season for the Aggies and Head Coach Kevin Sumerlin.
Suggested Read: Texas A&M Coaching Hot Board: Top 10 Potential Replacements For Kevin Sumlin (If He Gets Fired)
4.) Jim Mora - UCLA
 
UCLA this past week lost 48-17 to Utah. They have only won one game in their last four. UCLA's defense has not played well at all this season, giving up 40 plus points six times this season. Sure the Bruins have plenty of injuries but if Mora has another losing season this very well might be is last.
Suggested Read: UCLA Coaching Hot Board: Top 5 Candidates To Replace Jim Mora (If He Gets Fired)
3.) Bret Bielema - Arkansas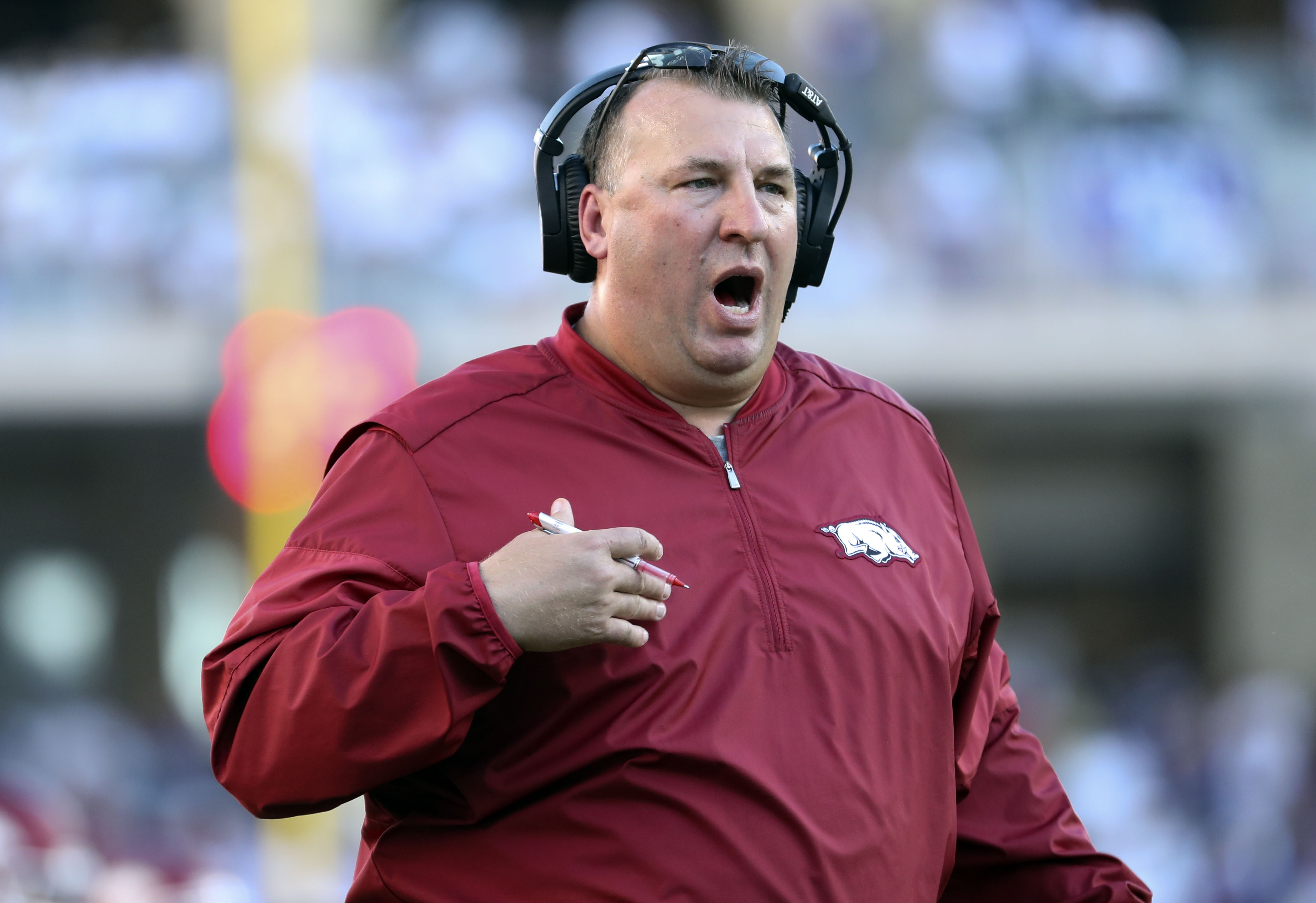 Arkansas won this past week 39-38 against Coastal Carolina. Coastal Carolina is 1-8 and not even an FBS team. Yes, Arkansas has only one win in the SEC and will play at LSU next week which is not an easy matchup. The Arkansas offense is moving the ball down the field which leads to a short field for the opposing offenses. This is a major reason why they have given up 28 points or more in seven games.
Suggested Read: Arkansas Coaching Hot Board: Top 5 Candidates To Replace Bret Bielema (If He Gets Fired)
2.) Mike Riley - Nebraska

The heat is getting turned up after a loss to Northwestern in overtime. The Cornhuskers currently have four wins and their next three games are not easy. On the road against Minnesota, Penn State, and then home against Iowa. It would not surprise me to see them lose all three of those games.
Suggested Read: Nebraska Coaching Hot Board: Top 5 Candidates To Replace Mike Riley (If He Gets Fired)
1.) Butch Jones - Tennessee
The Vols finally snapped their four-game losing streak with a win over Southern Miss, Tennessee has a chance to finish with an above .500 record but Tennessee didn't pay Butch Jones $4.1 million to finish .500 and be in 6th in the SEC East. The Vols have yet to win a game in the SEC but have a decent chance this upcoming week on the road against Missouri.
Like and Follow College Football By Chat Sports on Facebook!
Mitchell Renz is the Senior Writer & On-Air Host at Chat Sports check out his article archive and live videos on Chat Sports Facebook page. Please follow him on Twitter @MitchellRenz365. 
Back to the NCAA Newsfeed
Related Topics: College Football Coaches, College Football Rumors, Texas A&M Football, Arkansas Football, Nebraska Cornhuskers Football, Tennessee Football, Butch Jones, UCLA Football, College Football Hotseats