The Nebraska Cornhuskers have fired head coach Mike Riley following their 56-14 loss to Iowa on Friday, which dropped their record to 4-8 on the season. The writing was on the wall when the school fired athletic director Shawn Eichorst in September citing a lack of on-field success.
Nebraska was just 19-19 in three seasons under Riley, and the program has clearly taken a step back - and is nowhere near where fans and boosters expect it to be. A loss to Northern Illinois early in the season and a four-game losing streak to end the year is what ultimately did Riley in.
Who will the Huskers target to bring the school back to national prominence? Here are the top 5 candidates:
5) Les Miles, former LSU head coach
While Miles' tenure had run its course at LSU, there's no denying how successful he was during his time in Baton Rouge. He went 114-34 in 11 years, including a national championship and two SEC titles. There may be some reservations about pursuing him given LSU's offensive struggles over the last few years of his tenure, but he's a proven coach who has a desire to get back to a high-profile program. If they strike out on other options, Nebraska may just give him a chance.
4) Mike Norvell, Memphis head coach
Just 36 years old, Norvell left his OC position at Arizona State to take over the Memphis head coaching gig last year. After an 8-5 season in year one, the offensive-minded Norvell has guided one of the most electric offenses in the nation - something Nebraska could use. The Tigers are 9-1, with their lone loss coming to undefeated UCF.
3) Ken Niumatalolo, Navy head coach
Niumatalolo has been considered for several Power 5 jobs in the past but has either chosen to stay at Navy or been passed over because of his triple-option offense. At Nebraska, they would embrace the triple-option that was so successful for them in the 90's. This wouldn't be a hire with much upside - Niumatalolo hasn't proven to be much of a recruiter, though being at Navy may hamper that - but he's a coach who has proven he can consistently win games.
2) Matt Campbell, Iowa State head coach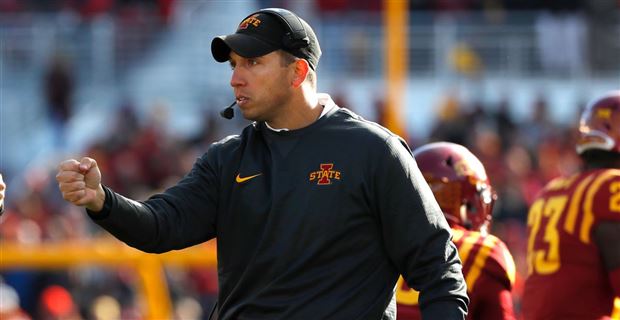 Campbell has turned into the hot coaching candidate of the year after leading Iowa State to wins over Oklahoma and TCU on their way to a top 15 national ranking a few weeks ago. More impressively, he's only in his second year in Ames. It's only a matter of time before he gets a better job on the Power 5 level.
1) Scott Frost, UCF head coach
In the eyes of Nebraska fans, Frost is the only option on the list. The former Nebraska quarterback is in his second season with the Knights, posting a 16-7 record in his tenure - including an 11-0 mark this season and a top 15 ranking. Frost has been the coach most linked to the Huskers head job, and they're reportedly ready to offer him a seven-year, $35 million deal - which is reportedly a "done deal."
Follow our Nebraska Cornhuskers team page for all the latest Nebraska football rumors!
Back to the Nebraska Cornhuskers Newsfeed
Related Topics: Mike Riley, Nebraska Cornhuskers Football, NCAA Football, Big Ten Football