Many of the country's top freshmen - specifically Oklahoma's Trae Young, Arizona's Deandre Ayton, and Duke's Marvin Bagley -  have dominated the headlines in college basketball this season, but there are always new stars that emerge every March as they find success in the NCAA Tournament. Remember when we were all introduced to Stephen Curry in 2008? That was fun. So, who should you be keeping your eyes on? Here are three relatively unknown players who could very well turn into superstars in March:
MORE NCAA TOURNAMENT COVERAGE: Here Are The Only 5 Teams With A Realistic Shot To Win The National Championship
De'Andre Hunter, SF, Virginia Cavaliers
For many, Virginia is a starless, faceless team who tries to come out and smother their opponents defensively on a nightly basis. Sophomores Kyle Guy and Ty Jerome are this team's most public stars, but Hunter may be their most talented player. NBA teams have already taken note of the freshman and you probably will, too, by the time UVA's season is done.
If Hunter's name sounds familiar, it's likely because he hit the game-winning three to beat Louisville in Virginia's epic comeback, but that's only a very small part of his game. He's a supremely athletic 6-foot-7, 222-pounder who can defend every position on the court due to his quickness (very important in Virginia's scheme). Furthermore, he's really finding his stride of late, scoring in double digits in seven of Virginia's last 10 games.
Hunter is a real difference maker for the Cavaliers, giving them a skilled, athletic wing player they haven't had in the past - and his role will only become more important as Virginia gets deeper into the tournament.
MORE NCAA TOURNAMENT COVERAGE: 5 High Seeds In The 2018 NCAA Tournament That Will NOT Win The National Championship
Keenan Evans, PG, Texas Tech Red Raiders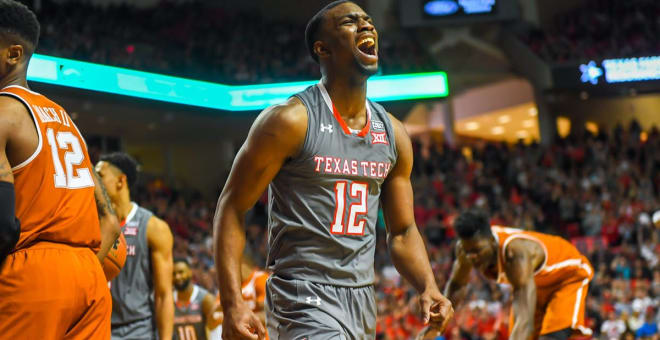 Keenan Evans is a name that is very well known in college basketball circles, but he's largely invisible to the casual fan simply because of where he plays. But make no mistake about it - everyone will know Evans' name by the time the NCAA Tournament is over.
Texas Tech is a team with real Final Four potential because of their incredible defense, yet they need Evans' offense to be the dangerous team they have been. The Red Raiders lost four games in a row in February while he was dealing with an ankle injury simply because he wasn't himself. He has 12 games with at least 20 points on the year and should rack up a few more while his star moves from the very good tier into the elite tier.
MORE NCAA TOURNAMENT COVERAGE: 5 Tips For Filling Out Your NCAA Tournament Bracket
Jemerrio Jones, SF, New Mexico State Aggies
Jemerrio Jones is 6-foot-5 and a 195 pounds but he's the best rebounder in the NCAA Tournament. No, seriously. He's averaging 13.2 rebounds per game on the season, the most of any player still playing meaningful basketball - more than Ayton, more than Bagley, more than Mo Bamba. 
He has 13 games this season in which he has grabbed over 15 rebounds and racked up 20 rebounds in three straight games in February. New Mexico State is very capable of making a run, and if they do, Jones will put up some monster double-doubles in the process that will get him some notoriety.
MORE NCAA TOURNAMENT COVERAGE: Ranking The 5 Most Likely First-Round Upsets In The 2018 NCAA Tournament
Back to the NCAA Newsfeed
Related Topics: New Mexico State Aggies Basketball, Virginia Cavaliers Basketball, Texas Tech Red Raiders Basketball, 2018 NCAA Tournament, March Madness, De'Andre Hunter, Jemerrio Jones, Keenan Evans, NCAA Basketball