The NBA preseason tips off in less than two weeks, meaning that basketball is right around the corner. As such, teams around the league are finalizing their rosters - which has created some storylines worth following over the past 24 hours. Here are all the latest news and rumors you need to know in today's NBA Rumors Roundup:
Kevin Durant rips Thunder, Billy Donovan
Durant has remained quiet about his time with the Oklahoma City Thunder ever since he left for the Golden State Warriors in free agency, but that changed on Twitter last night. In a series of now-deleted tweets, Durant ripped both the Thunder organization and head coach Billy Donovan.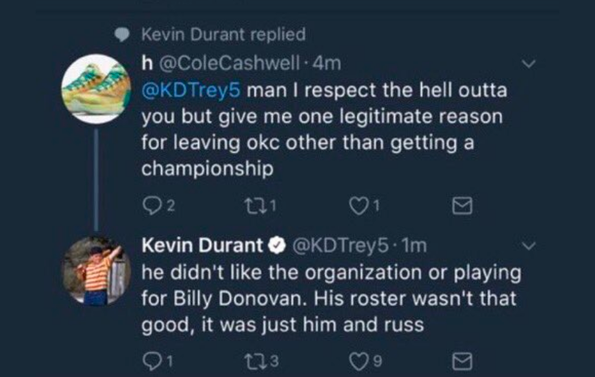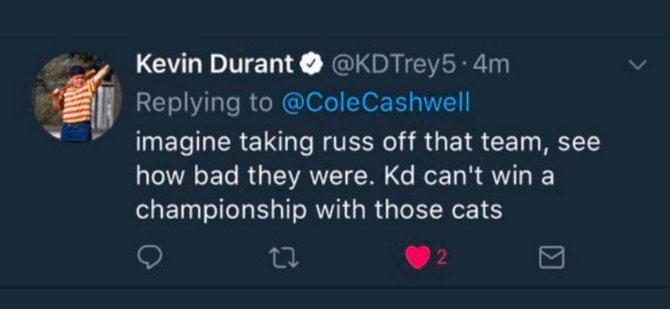 Durant talking about himself in the third person seems to indicate that he was trying to use a fake account to defend himself, or that he is now simply referring to himself in the third person. Either way, Durant didn't try to hide that he deleted the tweets.
no, I just deleted it.

— Kevin Durant (@KDTrey5) September 16, 2017
Durant, of course, won his first NBA title and Finals MVP with the Warriors this past season while the Thunder lost in the first round despite Russell Westbrook winning the regular season MVP award.
The Warriors and Thunder will face each other four times this season with the first coming in Oklahoma City on Nov. 22. That game will be televised by ESPN.
Dwyane Wade hoping for buyout from Bulls
The Chicago Bulls are expected to reach a buyout agreement with Dwyane Wade at this some point this season, and Wade is hoping the team approaches him with an offer soon, according to Joe Cowley of the Chicago Sun-Times.
After fellow guard Jimmy Butler was dealt to Minnesota in a draft-night trade, Wade — who had exercised his $23.8 million option for the 2017-18 season — made it known in his circles that he wanted a buyout. According to one source, however, he has not gone to the front office with that request.
Don't expect that to change. According to the same source, Wade is hoping the Bulls approach him first — with a suitable monetary amount.
Wade has said he would be interested in joining the Cleveland Cavaliers, Miami Heat or Los Angeles Lakers. LeBron James' camp expect Wade to join Cleveland at some point this season.
The 35-year-old, who is scheduled to make $23.8 million this season on his current deal with the Bulls, averaged 18.3 points, 4.5 rebounds and 3.8 assists per game last season.
Mason Plumlee re-signs with Nuggets
Restricted free agent center Mason Plumlee signed a three-year, $41 million deal to stay with the Denver Nuggets, according to multiple reports.
Denver acquired Plumlee in a February trade with the Portland Trail Blazers. He averaged 9.1 points and 6.4 rebounds in 27 games with the Nuggets last season.
NBA Fans - Download Chat Sports on iPhone today for breaking NBA news, rumors, scores and more - Chat Sports iPhone App!
Mitchell Robinson leaves Western Kentucky to focus on 2018 NBA Draft
Robinson, a McDonald's All-American who was the top-ranked center in the 2017 class, originally committed to Western Kentucky, but left the school or the third time last week and is now leaving the program for good in order to focus on preparing for the 2018 NBA Draft, according to Scout.com.
Robinson was projected to be a lottery pick, but I'm told this decision has really hurt his draft stock. Those I've talked to expect him to now be a late-first round selection. NBA teams have about his indecisiveness and don't like that they won't be able to evaluate him against college-level competition.
Western Kentucky surprised many by landing Robinson, who committed to the Hilltoppers because of assistant coach Shammond Williams, who is also Robinson's godfather. However, Williams resigned from WKU in early July, leading to this series of events.
WKU granted Robinson his release from the school in July as he wanted to transfer - the second time he left the school (the first came after Williams left) - and considered Kansas, LSU, and New Orleans before returning to the Hilltoppers last week.
The 7-foot, 222-pound Robinson was ranked as the No. 8 overall prospect in the 2017 recruiting class by 247sports.
Check out our NBA page for all the latest NBA rumors!
Back to the NBA Newsfeed
Related Topics: Mitchell Robinson, NBA Rumors Roundup, Kevin Durant, 2018 NBA Draft, Mason Plumlee, Bulls Rumors, Nuggets Rumors, NBA Rumors, Warriors Rumors, Dwyane Wade, Thunder Rumors