The 2018 NCAA Tournament will reach its conclusion tonight with the Michigan Wolverines going up against the Villanova Wildcats in a battle between two of the country's top programs. The Wolverines are trying to win their second national championship in program history, while the Wildcats are trying to win their third title and the second in three years.
Who will be cutting down the nets at the end of the night? Here's our full preview and prediction:
Catch up on the latest college basketball news and rumors in the best sports app available - the Chat Sports App!
Game Info:
When: 9:20 p.m. EST
Where: Alamodome, San Antonio, TX 
TV: TBS
Spread: Villanova (-7)
O/U: 145
Projected Starting Lineups
(1) Villanova Wildcats (35-4, 14-4 in Big East)
G Jalen Brunson (Jr.) – 19.2 ppg, 4.7 apg, 3.1 rpg
G Phil Booth (Jr.) – 10.3 ppg, 3.2 rpg
G Mikal Bridges (Jr.) – 17.6 ppg, 5.3 rpg
F Eric Paschall (Jr.) – 10.7 ppg, 5.2 rpg
F Omari Spellman (Fr.) – 10.9 ppg, 7.9 rpg
(3) Michigan Wolverines (33-7, 13-5 in Big Ten)
G Zavier Simpson (So.) – 7.3 ppg, 3.7 apg
G Muhammad-Ali Abdur-Rahkman (Sr.) – 12.6 ppg, 3.9 rpg
G Charles Matthews (Jr.) – 13.1 ppg, 5.6 rpg
F Isaiah Livers (Fr.) – 3.5 ppg, 2.3 rpg
F Moritz Wagner (Jr.) – 14.6 ppg, 7.1 rpg
What they're saying about the Villanova Wildcats:
Here Are 5 Reasons Why Villanova Can Win The National Championship (Chat Sports)
Villanova Greasing Light Poles Ahead of National Championship Game vs. Michigan (Bleacher Report)
Shoot 'Em Up, Sleep in the Streets: Breaking Down Villanova's Record-Breaking Final Four (VU Hoops)
What they're saying about the Michigan Wolverines:
Why Michigan Can Win The National Championship (Chat Sports)
Michigan's Duncan Robinson has had 'incredible run' to title game (The Detroit News)
GRAND FINALE: This NEW Michigan National Championship Hype Video Is The Best Thing You'll See Today (Chat Sports)
Keys to the game:
Will Michigan find their offense?
For all the talk about Villanova's offense - which is the best in the country - going up against Michigan's top-five defense, I think the game will be decided on the other end of the court. Villanova is 20-0 this season when they hold their opponents to 70 points or fewer thanks to a top 15 defense of their own.
Michigan has really struggled to score in the tournament, cracking the 70-point mark just one time - their 99-72 win over Texas A&M in the Sweet 16, when they made 10 three-pointers in the first half. In their four other games, the Wolverines have not shot above 31.3 percent from three-point range or 45 percent from the field.
Will they be able to recapture their offensive firepower in this game? They'll need to score at least 70 points to have a chance to win.
Moe Wagner vs. Omari Spellman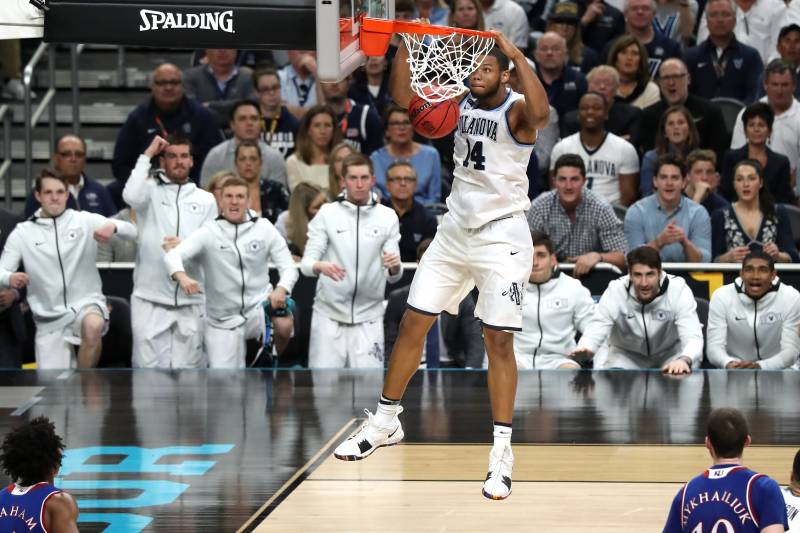 Wagner has been Michigan's saving grace in this tournament, carrying their offense for much of the past five games during their struggles. He is actually Michigan's best three-point shooter (percentage-wise), the's team's leading scorer, and is so crucial to the Wolverines' offensive attack. His shooting ability takes the opponent's big man out of the paint and makes him defend the perimeter, where Wagner's quickness usually plays to his advantage while opening up driving lanes for Michigan's guards, allowing them to run their drive-and-dish offense.
However, Omari Spellman does those exact same things for Villanova. His and Eric Paschall's ability to play on the perimeter created huge mismatch problems for Kansas in their Final Four win. 
There are other intriguing matchups in this game (namely Zavier Simpson's defense on Jalen Brunson), but this one will be the most important. Whoever wins this battle and gives their team the advantage they're used to having will likely be cutting down the nets at the end of the night.
Prediction: Villanova wins 77-69
I simply have too much confidence in this Villanova team to pick against them. They've proven they can beat the best teams in the country playing any style, so no matter what Michigan throws at them, I expect them to be able to handle it. Michigan's defense is capable of keeping this game close, but I don't think we'll see the offensive turnaround they'll need to win this game.
Back to the NCAA Newsfeed
Related Topics: Big East Basketball, 2018 NCAA Tournament, Villanova Wildcats Basketball, 2018 Final Four, NCAA Basketball, Big Ten Basketball, Michigan Wolverines Basketball