Welcome to another edition of the Rauf Report, where I will share my biggest takeaways from the past week in college basketball. Conference play continues to see ranked teams fall to unranked foes seemingly every night, which has resulted in plenty of turnovers at the top of the polls. You can (and should) follow me on Twitter for real-time college basketball updates and analysis, but here are my eight biggest takeaways from the week:
Catch up on nightly college basketball scores in the best sports app available - the Chat Sports App!
1) Efficient Trae Young may set the college basketball world on fire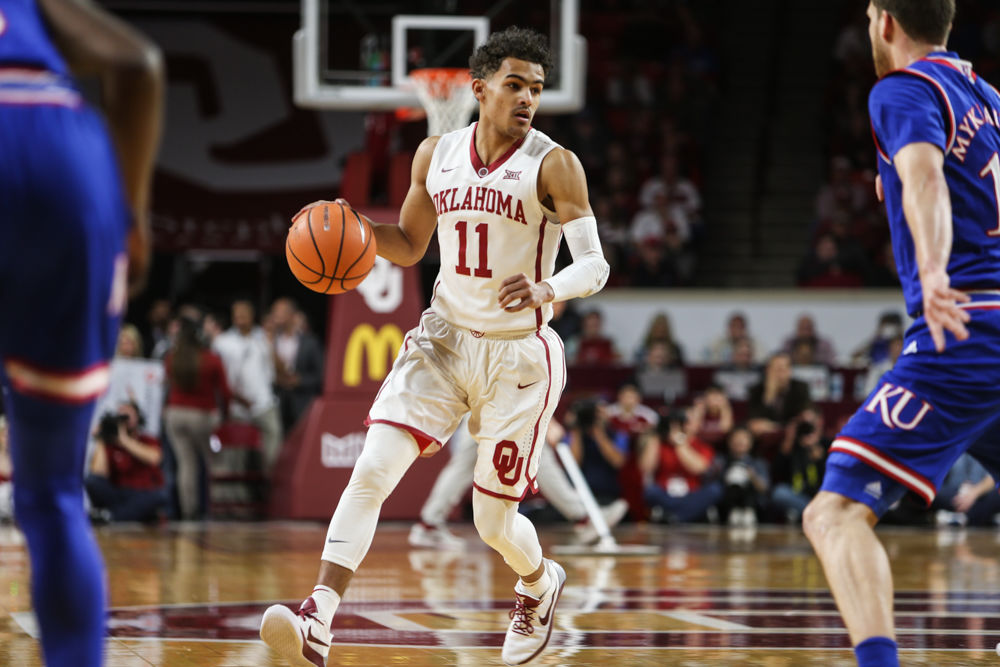 Following a week where Oklahoma suffered back-to-back road losses to Kansas State and Oklahoma State, the Sooners rebounded with an 85-80 win over Kansas in what was Trae Young's most efficient game of the season. He still put up his numbers (26 points, nine assists), but did so on 7-9 shooting, including 2-3 from three-point range. 
That came one game after he took 39 shots against the Cowboys, a two-point loss in which his inefficiency (especially down the stretch) seemed to doom OU. Young acknowledged as much after the win over Kansas and said he wants to continue to play the way he did over the Jayhawks.
"The way I played at OSU -- I was overly aggressive at OSU," Young said. "I think tonight, I managed the game a lot better. I got back to the way I was playing before last week and even before K-State. I managed the game a lot better and teammates did a great job of making plays, too."
Young had taken at least 20 shots in each of the five games leading up to the Kansas win, and despite having great numbers, the Sooners were only 2-3 in such games. By comparison, Oklahoma is 9-1 when he takes fewer than 20 shots. If playing smarter and more efficiently is something we see from Young more often down the stretch, watch out.
2) UNC is a prime candidate to be upset early in the NCAA Tournament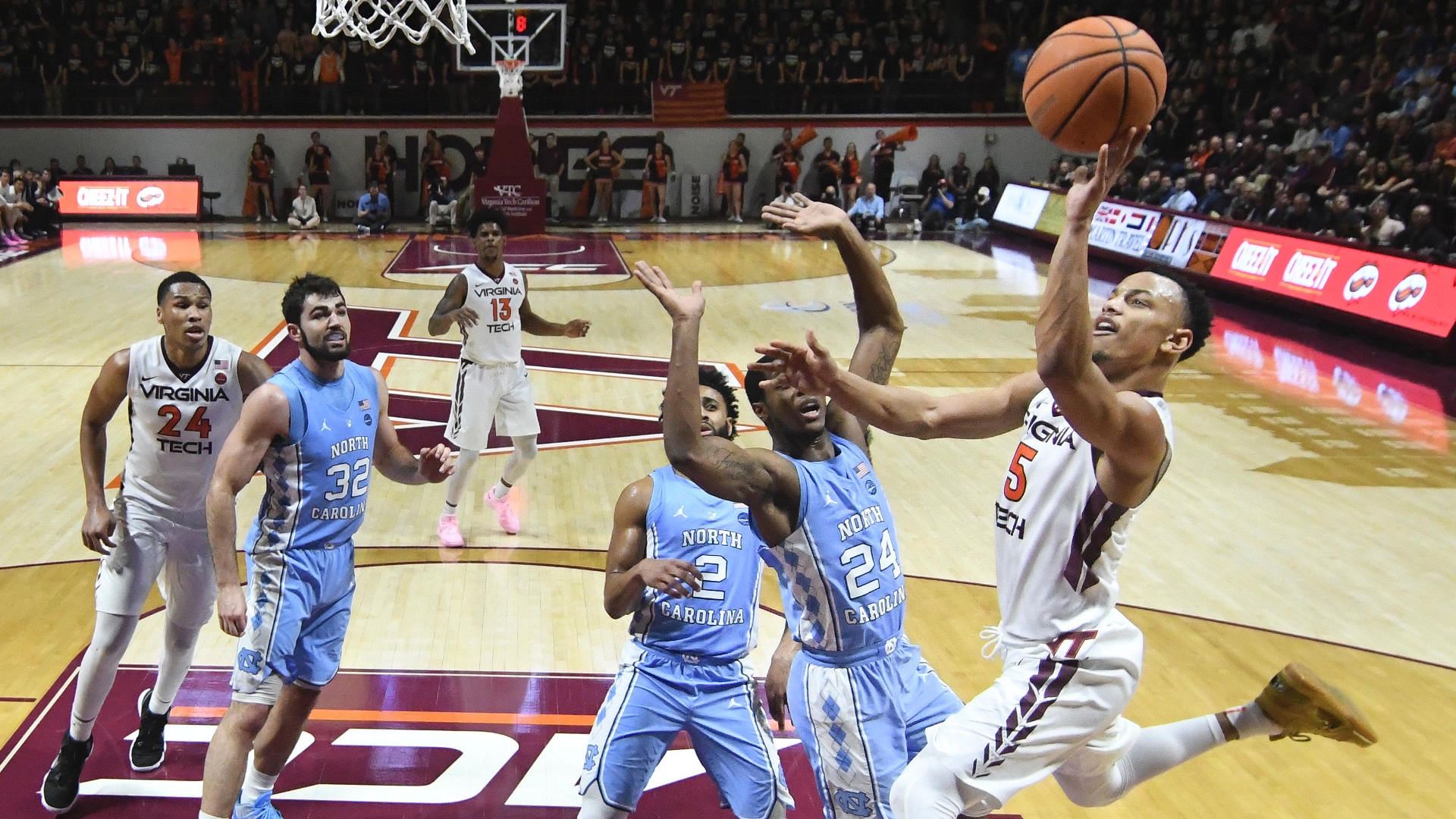 North Carolina dropped to 5-3 in ACC play (1-3 on the road) with an 80-69 loss to Virginia Tech on Monday in a game that showcased all of their flaws. They can be over-reliant on Luke Maye (18.0 ppg, 10.4 rpg) and Joel Berry (17.6 ppg, 2.9 apg) offensively, struggle in defensive transition and are actually pretty bad defending the perimeter. UNC allows their opponents to shoot 37.2 percent from three-point range (287th nationally) and their opponents get 41.9 percent of their points from the outside (third-most in the country).
The Heels are talented enough and have such a great home-court advantage that they'll earn a top-four seed in the NCAA Tournament. However, once they get there, those defensive woes on the perimeter will be extremely problematic if they don't improve.
3) Virginia's defense needs to be talked about more
Virginia is playing elite defense again this season and that shouldn't come as a surprise to anyone. However, it's been largely unnoticed just how special they've been on that side of the ball. They're on pace to finish with the best adjusted defensive efficiency rating since KenPom started recording that stat in 2002 and have the best scoring defense - 51.6 points allowed per game - this season by a wide margin (Cincinnati is second with 56.6 points allowed per game). UVA will have their biggest test of the season on Saturday at Duke, but what this group is accomplishing right now is historic.
MORE CBB NEWS: UConn Being Investigated By NCAA For Possible Recruiting Violations
4) Saturday's Virginia-Duke game will tell us which team will go further in the NCAA Tournament
Speaking of that game against Duke, it's going to tell us which team will go further in the NCAA Tournament. Why? They're polar opposites of each other. As mentioned above, Virginia is an elite defensive team but can struggle offensively. On the flip side, Duke's offense is one of the best in the country, but their defensive woes have been well documented. Whoever wins that strength vs. strength matchup will prove that strength can overcome anyone and carry them in the tournament. It's going to be fun to watch.
5) Phil Booth's injury changes things for Villanova
Villanova announced this week that starting guard Phil Booth (11.6 ppg, 3.3 rpg) is out indefinitely with a broken hand, which is a bigger blow to them than it might seem. Even though Donte DiVincenzo (13.2 ppg, 4.5 rpg) will step into that starting role and that group won't miss a beat, it is a significant blow to their depth. They now only have five players that average at least 13 minutes per game and Dhamir Cosby-Roundtree (3.9 ppg, 2.5 rpg) is the only other player who has appeared in every game. That depth, or lack thereof, will really be tested in the coming weeks.
6) USC is starting to figure things out
The Trojans were one of the biggest disappointments in the first month of the season, going from a preseason top 10 team to one that had a 6-4 record following an overtime loss to Princeton. Then, they went to the Diamond Head Classic and won it, and they have carried that momentum over to Pac-12 play, where they're only a half-game out of first with a 7-2 record. We'll find out how much growth they've actually made from Feb. 3-10 when they have a three-game road trip against UCLA, Arizona State, and Arizona.
College Hoops Mailbag: Why There's So Much Parity, Trae Young's NBA Comparison & More
7) Will the best team in the SEC please stand up?
Who is the best team in the SEC? Auburn is all alone in first place - and really has been all season - with an 18-2 (6-1) record, but they only have one win over a team currently ranked in the top 25 (#22 Tennessee). So, they're still largely unproven, but it's not like they're currently being challenged by anyone.
Kentucky is having a down year (for them) due to inconsistencies on both ends of the court and their inability to shoot the three while Florida has lost two of their last four games to teams that are not currently projected to be in the NCAA Tournament in Ole Miss and South Carolina. Then there's Alabama, who despite being talented, are only 1-3 on the road in the conference play.
Yes, the SEC is much better this year - but no team has separated itself from the rest.
8) What in the world is Iowa doing?
If you don't know, Iowa gave head coach Fran McCaffery an extension in November that raised his buyout from $4.6 million to $10.2 million if they fired him before July 1 of this season, a number that decreases annually through the length of the extension (2023-24 season).
Why did they do this? To make a coach - who has only made the NCAA Tournament three times in eight seasons, has only won more than 22 games once, is under .500 in conference play during his tenure, and wasn't receiving any outside interest from other programs - harder to fire. There's no apparent rhyme or reason for it, and with Iowa only 11-11 on the season and 2-7 in Big Ten play, it baffles me that they decided it was necessary to give him such an extension.
Back to the NCAA Newsfeed
Related Topics: NCAA Basketball, Rauf Report