We often pay attention to the dynamic between quarterbacks and wide receivers in college football, with those top connections spearheading some of the most explosive offenses in the country. However, a good combination at those positions only affects one area of an offense. The better judge of how effective an offense can be comes from having quality players at both quarterback and running back. Which schools have the best QB/RB combinations in the country? Here are our top five:
5) Oklahoma State Cowboys - QB Mason Rudolph/RB Justice Hill
Rudolph and All-American wide receiver James Washington get almost all of the headlines in Stillwater, but that overshadows just how good of a running they have as well. As a freshman last season, Hill ran for 1,142 yards - more than any other freshman in the country. Rudolph also threw for over 4,000 yards last year, bringing their combined yardage total to 5,340 yards last season. That's elite.
4) USC Trojans - QB Sam Darnold/RB Ronald Jones II
We won't touch much on Darnold - he's the preseason Heisman favorite and projected No. 1 overall pick in the 2018 NFL Draft. He's good. However, you probably haven't heard much about Jones, which is a shame. He emerged as USC's lead back after a few games last season and rushed for over 1,000 yards with 12 touchdowns. Jones is very elusive and showcased excellent vision in 2016, averaging over six yards per carry. If defenses start keying on Darnold and playing to defend the pass, Jones will make them pay.
3) Washington Huskies - QB Jake Browning/RB Myles Gaskin
Browning was the Heisman candidate who led Washington to the Pac-12 title and College Football Playoff last year by throwing for 43 touchdowns to just nine interceptions. He's joined in the backfield by Gaskin, who ran for 1,373 yards and 10 touchdowns. They may be the most underrated combo on this list, but should get even more publicity and notoriety this year.
2) Alabama Crimson Tide - QB Jalen Hurts/RB Bo Scarbrough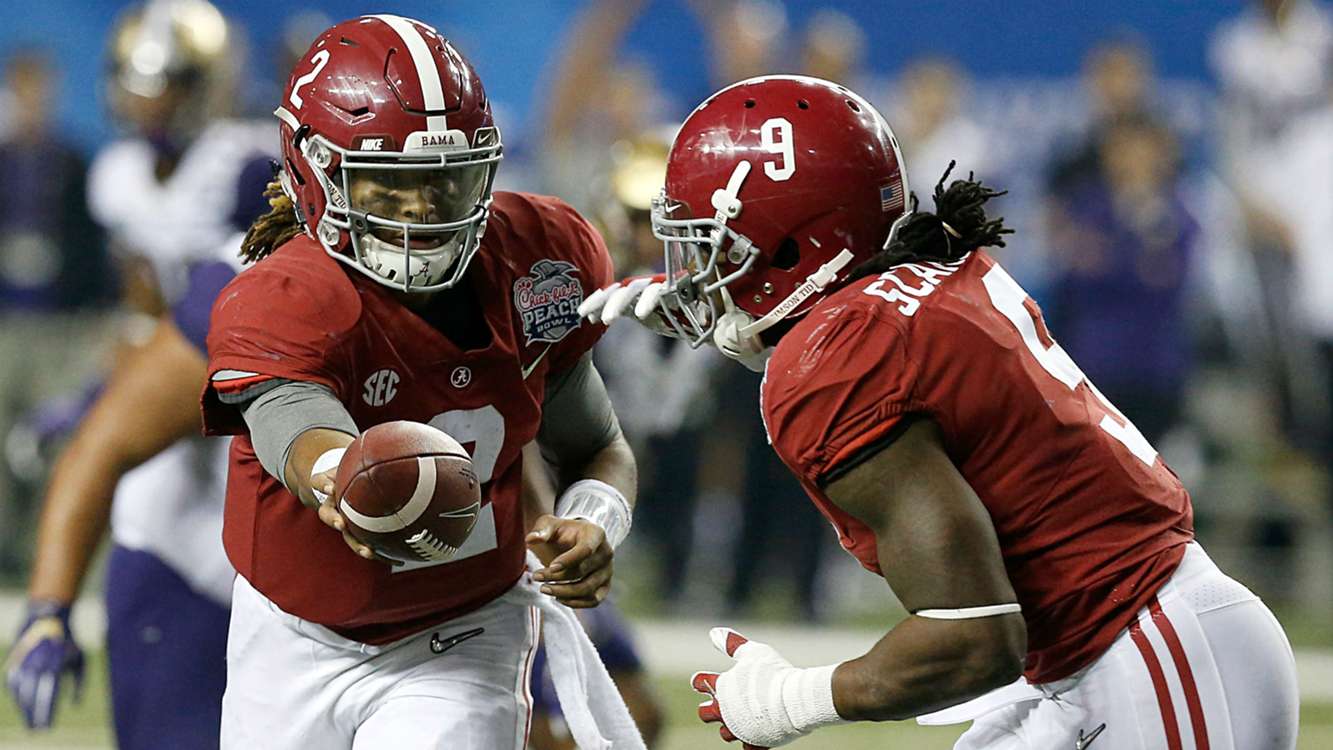 A powerful runner at 6-foot-2 and 230 pounds, Scarbrough is an absolutely beast who can carry defensive linemen into the end zone or outrun a corner on the perimeter. Alabama may have very well won the national championship if Scarbrough didn't break his leg, and though the Tide have three other really good backs (Damien Harris, Joshua Jacobs, Najee Harris), Scarbrough will get the majority of the carries.
Hurts was inconsistent as a passer as a freshman last season but was a dynamic rusher, nearly gaining 1,000 yards on the ground to go along with a team-high 13 touchdowns. All indications out of camp are that he has really improved throwing the ball. Pair that with his running ability and clutch play, and he gives the Tide a second Heisman candidate. The only reason they aren't higher on this list is because of his passing ability.
College Football Fans - Download Chat Sports on iPhone today for breaking news, rumors, scores and more - Chat Sports iPhone App!
1) Penn State Nittany Lions - QB Trace McSorley/RB Saquon Barkley
You were expecting another pair? Both McSorley and Barkley are back after leading Penn State to the Big Ten title last year, and both are among the favorites to win the Heisman this season. Barkley is projected to be a top pick in the 2018 draft after picking up 1,898 total yards and 22 total touchdowns in 2016 thanks to an impressive combination of speed, power and athleticism. He's the best back in the country, bar none. McSorley is also one of the best deep ball throwers in the country, giving Penn State's offense a vertical dynamic few other teams have. These two are the biggest reason why Penn State has playoff aspirations this year.
Check out our NCAA page for all the latest college football news!
Back to the NCAA Newsfeed
Related Topics: Oklahoma State Cowboys Football, Penn State Nittany Lions Football, Ronald Jones II, NCAA Football, Alabama Crimson Tide Football, Washington Huskies Football, Jalen Hurts, Trace McSorley, Bo Scarbrough, Mason Rudolph, Saquon Barkley, USC Trojans Football, Sam Darnold, Jake Browning, Myles Gaskin, Justice Hill