Offense may rule this era of college football, but the best programs in the country know that having a good defense is what differentiates good teams from great teams. It's still early in the season, but which defenses have been the best in the country so far?
This list is changed a bit from last week's based on the outcome of Saturday's games and performances around the country. Through the first three weeks of the season, here are our top six defenses:
Yes, Auburn's loss to Clemson wasn't pretty, but it's important to remember that their defense only allowed Clemson to score 14 points. The Tigers rank second in the country in yards allowed per game and 11th in points allowed, but games against Georgia Southern and Mercer have somewhat inflated those numbers. As such, they're at No. 6 - though the Clemson game proves this unit is legit. 
Alabama's defensive stats are good, but they aren't as good as you'd think they'd be considering how impressive they've been on the field. That's because, aside from the win over Florida State, they've gotten out to big leads and have had backups playing in the second half in wins over Fresno State and Colorado State. The Tide certainly have the talent to be No. 1 on this list but are at five because of some of the yardage they've given up (37th in the country).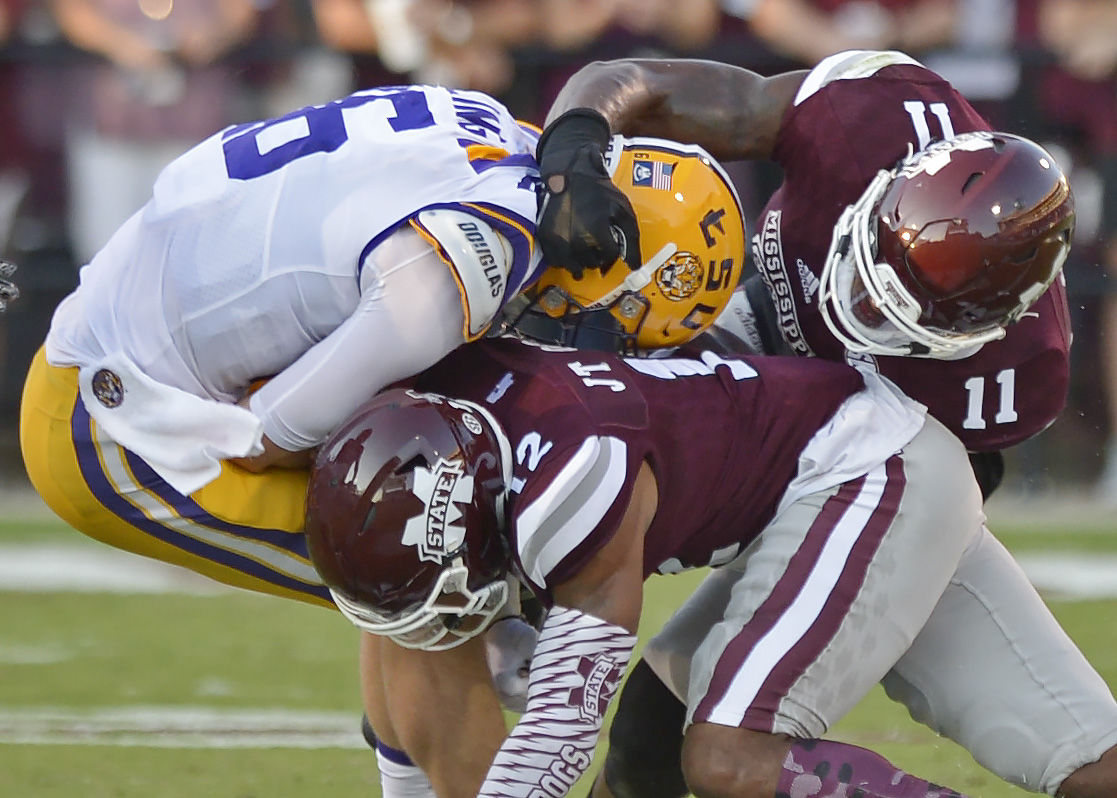 Mississippi State's win over LSU this weekend really raised some eyebrows. They limited the Tigers to just 270 yards in a dominant 37-7 victory that wasn't even that close. The Bulldogs now rank in the top six in the country in both yards and points allowed, and have shown they can put up those numbers against top quality competition. This group will be tested again this weekend against Georgia.
College Football Fans - Download Chat Sports on iPhone today for breaking college football news, rumors, scores and more - Chat Sports iPhone App!
The biggest thing Michigan has going for them right now is the defense, which has been one of the best units in the entire country this year. This group ranks fifth in the country in yards allowed per game and have been giving up less than 15 points per game. Not to mention, the Wolverines rank in the top 10 nationally in sacks and rushing yards allowed. Those are elite numbers, especially considering the competition they've played.
Vandy has only allowed 13 total points and less than 600 yards through three games this season, leading the country in both per game categories. They rode that defense to an upset win over Kansas State last weekend and are the biggest reason why it looks like they can compete in the SEC East. We'll find out just how legitimate they are this weekend against Alabama.
Clemson topped our rankings last week and followed up a dominant performance against Auburn by limiting Lamar Jackson and Louisville to their worst performance of a season. Despite playing those two marquee games - and perhaps the toughest schedule in the country to this point - they rank eighth in the country in both yards and points allowed per game. Those stats, plus the insane talent they have all over the field, make them the top defense in the country.
Follow our NCAA page for all the latest college football news & rumors!
Back to the NCAA Newsfeed
Related Topics: Michigan Wolverines Football, Vanderbilt Commodores Football, ACC Football, SEC Football, NCAA Football, Alabama Crimson Tide Football, Auburn Tigers Football, Big Ten Football, Mississippi State Bulldogs Football, Clemson Tigers Football