The adage "defense wins championships" may be a cliche, but it's a cliche for a reason. Explosive offenses have become the norm in college football, but if you can't stop anybody, you have no chance of winning your conference or earning a College Football Playoff berth.
It's still early in the season, but which defenses have been the best in the country so far? Here are the top six:
A good defense in Durham? Duke's defense has been surprisingly stout through two games, ranking sixth in the country in yards allowed (175 per game) and 19th in points allowed (12 per game). Keep in mind, some team's stats are inflated during this time of year due to playing lesser opponents, but that's not the case with this Duke team. The Blue Devils only allowed 191 total yards (including just 22 on the ground) against Northwestern on Saturday following a 60-7 win over NC Central. They forced three turnovers as well.
This is the definition of a TAKEAWAY. Ripped it right out of his hands! pic.twitter.com/czsXpVMWzl

— Chat Sports (@ChatSports) September 9, 2017
It remains to be seen if they can keep this up, but limiting Northwestern's Justin Jackson to just 18 yards made a statement to the rest of the ACC.
It looks like there might be a legitimate defense in the Big 12 after all. TCU has only given up one touchdown all season and rank fourth nationally in both yards and points allowed per game. The Horned Frogs did what they were supposed to do in their opener against Jackson State, winning 63-0, then absolutely dominated and were more physical than Arkansas on Saturday. This defense is the biggest reason to believe in TCU this year.
Based on talent alone, Alabama should be No. 1 on this list. And, in reality, you could make a legitimate argument that any team in the top four could hold the No. 1 spot. This group dominated Florida State and played well for most of the game against Fresno State, forcing turnovers and looking like one of the sport's elite units.
However, the three teams ranked ahead of them have both allowed fewer yards and two have given up fewer points per game, which is why I have the Tide fourth - for now.
College Football Fans - Download Chat Sports on iPhone today for breaking college football news, rumors, scores and more - Chat Sports iPhone App!
Michigan's defense has only allowed 17 points this season while scoring two defensive touchdowns of their own.
#Michigan's defense seals the WIN with a sack-fumble-TD! #GoBlue pic.twitter.com/xdX80RvHvq

— Chat Wolverines (@ChatWolverines) September 2, 2017
PICK SIX!!! 14-0 GOOD GUYS! #GoBlue #UCvsMICH pic.twitter.com/VPHO8BkK0G

— Chat Wolverines (@ChatWolverines) September 9, 2017
When your defense can score almost as many points as they give up, your team is going to be in good shape. The Wolverines, who have played the toughest schedule of anyone on this list to this point (Florida, Cincinnati), also rank in the top 10 in the country in yards allowed per game. 
2) LSU Tigers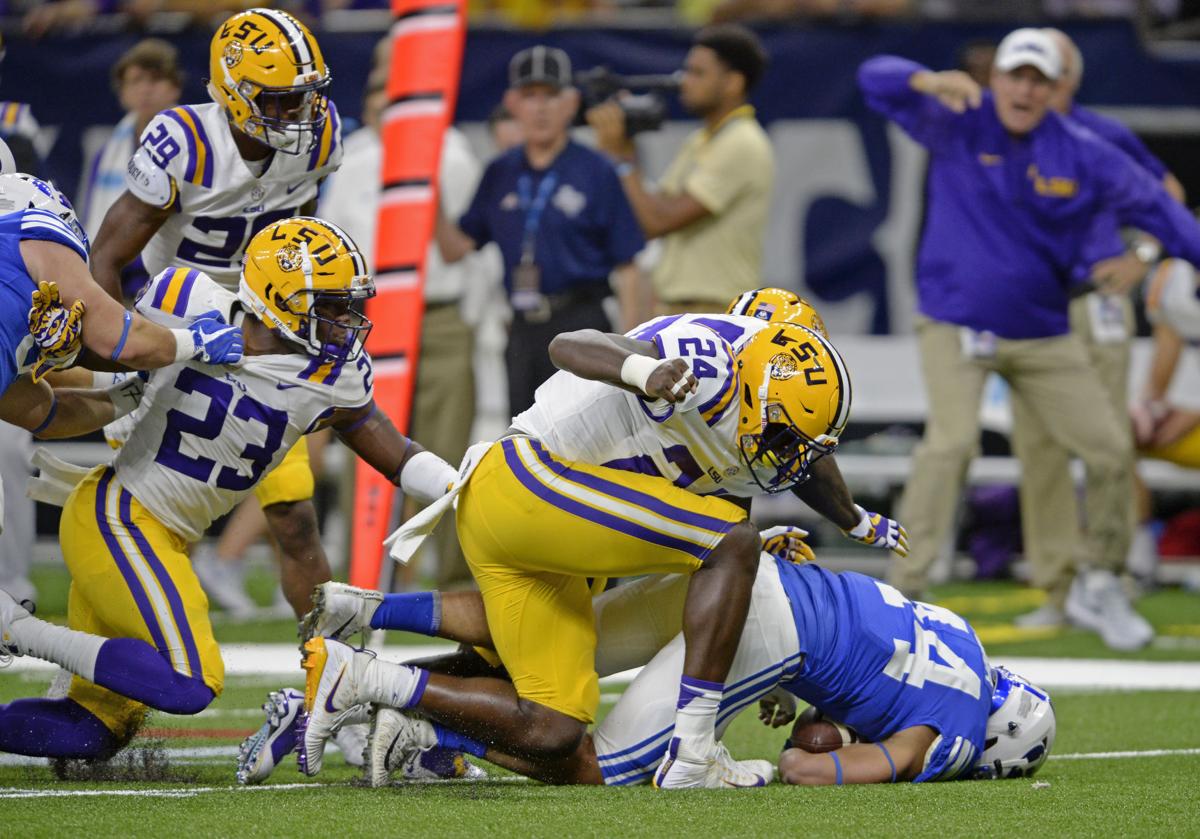 Want a truly incredible stat? In their opener, LSU didn't allow BYU's offense to cross midfield. They didn't cross the 50-yard line a single time. That's as impressive of a performance as you'll see this season, and the starters followed that up by only allowing a field goal to Chattanooga (the Mocs scored a touchdown in garbage time). 
As impressive as their performances have been, BYU's offense has been one of the worst in the country this year, showing they weren't a great test for LSU. That test will come this Saturday at Mississippi State.
First, let's look at the numbers. Clemson is one of four teams that hasn't allowed a touchdown this season, rank second in the country in yards allowed per game and fifth in points allowed per game. That resume is enough to get them at the top of this list, but it's more impressive considering they've done it against legitimate competition in Auburn. 
Some teams allow 250 yards in a half or even a quarter. Clemson has only allowed 239 yards total this season in two games, easily the fewest of any team that has played in multiple games. Clemson's pass rush has also been incredible and sacked Auburn quarterback Jarrett Stidham 11 times on Saturday. ELEVEN TIMES! Couple that in with everything else and you have the best defense in the country.
Follow our NCAA page for all the latest college football news & rumors!
Back to the NCAA Newsfeed
Related Topics: Michigan Wolverines Football, Big 12 Football, LSU Tigers Football, NCAA Football, Big Ten Football, Duke Blue Devils Football, Alabama Crimson Tide Football, ACC Football, TCU Horned Frogs Football, Clemson Tigers Football, SEC Football