Following perhaps the craziest offseason ever, the start of the new NBA season is just days away. The Golden State Warriors are still the overwhelming favorites to repeat as champions, but with massive summer acquisitions made by the Boston Celtics, Cleveland Cavaliers, Houston Rockets, Oklahoma City Thunder and Minnesota Timberwolves, there is plenty of competition and intrigue for the new year. 
Of course, the unexpected always happens - that's why we love sports. Here are eight bold predictions for the 2017-18 season:
1) Giannis Antetokounmpo will win MVP
The thinking behind this is similar to why Russell Westbrook won the award last year. The Greek Freak is extremely talented and is burdened with doing everything for a Milwaukee Bucks team that will be without Jabari Parker until at least February thanks to a torn ACL he suffered late last season.
With the exception of LeBron James and Kawhi Leonard, every MVP candidate is now playing alongside another MVP candidate. And, as we saw with Stephen Curry and Kevin Durant last year, that really keeps a single player from standing out on those teams. Antetokounmpo doesn't have that. He led Milwaukee in points, rebounds, and steals last year (along with being second in assists and blocks), and assuming he showcases that amount of dominance for a Bucks team that figures to get a quality seed in the East, he will get a lot of MVP attention.
2) Gordon Hayward - not Kyrie Irving - will be the biggest addition for the Celtics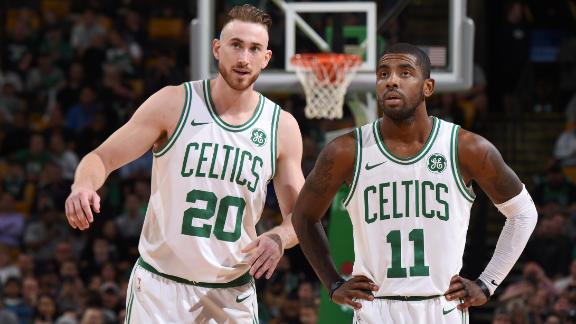 The Kyrie Irving trade dominated headlines for the Celtics all offseason, and that really overshadowed Boston's stellar free agency acquisition of Gordon Hayward. His scoring numbers have increased every season he has been in the league, posting a career-high with 21.9 points per game last season while shooting nearly 50 percent from the field. 
So, why will he be the better pickup over Kyrie for the Celtics this season?
First off, Kyrie really isn't an upgrade over a healthy Isaiah Thomas, and I go in-depth on why here. In shorter terms, it comes down to two things with Irving - inefficient offense and poor defense. Irving is an isolation-heavy offense player who ran iso-sets 409 times last season (compared to 248 times for Isaiah Thomas), which usually led to bad shots or stagnant offense. It's also not something the Celtics do very often under head coach Brad Stevens. On the other end of the floor, the Cavs allowed 107.1 points per 100 trips with Irving-led lineups while giving up just 102.7 per 100 possessions with him on the bench. The end result is that those Irving-led lineups (with LeBron on the bench or not playing) have been outscored by 2.1 points per 100 possessions.
On the flip side, Hayward is capable of creating his own offense but knows how to get those points through a team offensive system. He's also already very familiar with Stevens' coaching philosophies from their days at Butler and gives the Celtics a knockdown perimeter shooter they haven't really had. 
Hayward and Irving will both be successful this year, but Hayward will be the biggest reason why this Boston team is better than last season's team. 
3) Lonzo Ball wins Rookie of the Year as Lakers challenge for playoff spot
The Lakers have been amassing young talent for the past several years now, and while they still have plenty of room to grow, this year will be the biggest step forward they've taken in a while - and Lonzo Ball will be why. As we saw at UCLA last year, Ball is the perfect point guard for the up-tempo system LA runs under head coach Luke Walton. He already has better court vision than all but a handful of players and knows how to get the ball to his teammates where they can be successful.
In short, Ball gets the most out of everyone around him. Heck, he led the Bruins to a 31-5 record just one year after they went 15-17 with mostly the same roster. Brandon Ingram, Julius Randle, and Kentavious Caldwell-Pope are primed to have career years playing next to a guy like Ball.
With all of those guys playing at the top of their games, I think the Lakers become a dangerous team. They aren't talented enough to make the playoffs in the West, but I think Ball will lead them much closer to that than a lot of people expect.
That success, Ball's playmaking and his all-around game (only two triple-doubles in Vegas Summer League history) will be why Ball wins Rookie of the Year.
4) Phoenix will finish with the worst record in the league - and terrify everyone in the process
The Suns will look better than they did last season, particularly defensively thanks to the play of Josh Jackson. However, with how loaded the West got this offseason, there simply aren't going to be many opportunities for wins. Meanwhile, the bad teams in the East - Nets, Hawks, Magic - all get to play each other. That will result in Phoenix finishing with the worst record in the league...and the highest lottery odds.
And that's where the terrifying part comes in. Devin Booker has proven that he's an elite scorer, Eric Bledsoe is a quality point guard and I think Josh Jackson will develop into a two-way menace over the next two years. What happens when you add another top pick (say, Marvin Bagley?) to that mix? Suddenly, the Suns would have one of the best - if not the best - young cores in the entire league.
NBA Fans - Download Chat Sports on iPhone today for breaking NBA news, rumors, scores and more - Chat Sports iPhone App!
5) Philadelphia won't make the playoffs
Despite the East being bad, I don't see the Sixers making that leap into the playoffs as many others are predicting. It's just too early. The three players shown above have combined to play just 31 career games in the NBA and two of them are coming off of major injuries. 
It's so obvious that the 76ers are going to be good for a long time with Joel Embiid, Ben Simmons, and Markelle Fultz that many want to jump the gun on this group's progression. Those three stars are just 23, 21 and 19 years old and - despite the hype train - still need time to develop.
It's the same problem Minnesota ran into last year. Don't put the carriage before the horse. Philadelphia will continue to show promise, but this will be a year of growing pains.
6) The Grizzlies blow it up
While Philadelphia is trending up, Memphis is very clearly trending down. They're trying to rebuild while still staying competitive, and that's not going to work in the West this year. The Grizzlies have called both Mike Conley and Marc Gasol "untouchable," but I think they'll change their minds as we get closer to the trade deadline.
Just think of all the teams in the West with playoff expectations - Warriors, Thunder, Rockets, Timberwolves, Spurs, Clippers, Pelicans, Trail Blazers, Jazz, Nuggets, and the Grizzlies. That's 11 teams fighting for eight spots, and even if Memphis makes the playoffs, it will be as a seven- or eight-seed that gets trounced in the first round. Essentially, it's the worst place to be in the sport.
Their schedule also doesn't do them any favors. Before the end of December, they will have played Houston four times and Golden State, Portland, San Antonio and the Clippers twice. It's certainly a real possibility that Memphis is well under .500 through 35 games. That happens and Conley and Gasol could find themselves on the trade market.
7) Oklahoma City will make the Western Conference Finals
The Thunder were a one-man-band last year with Russell Westbrook. Now? He has two superstars to play with in Paul George and Carmelo Anthony. It will be interesting to see how these three players mesh, especially considering Westbrook and Anthony's tendencies to play isolation basketball. That said, I think they have the most talent of any team not named Golden State.
Having that many new players in significant roles will mean that OKC likely has a slow start to the season, allowing Houston to edge them out for the No. 2 seed in the West. However, the Thunder will get that No. 3 seed and face Houston in the conference semis, where the overall talent level of their new Big 3 - plus Steven Adams' contributions - will win out. In fact, shooting guard (James Harden) may be the only position where the Rockets hold the advantage.
As such, be ready to see an awesome, heated Western Conference Finals between Golden State and Oklahoma City.
8) The Warriors and Cavs will meet in the Finals again
Speaking of Golden State, they're going to face the Cavs in the NBA Finals for the fourth consecutive year. There's simply no way around it.
The Warriors are as close to perfect as a basketball team can get and will be prohibitive favorites to get through the West no matter who they play. On the flip side, the East will come down to Cleveland and Boston. As I discussed previously, I consider the Isaiah Thomas-Kyrie Irving trade a wash. Maybe the Celtics can push it to six or seven games with essentially an entirely new roster, but the Cavs still have too much firepower for them.
Golden State should win in the Finals again, cementing themselves as one of the best teams in league history. But who's up for Round 4?
Check out our NBA page for all the latest NBA rumors!
Back to the NBA Newsfeed
Related Topics: Grizzlies News, Cavs News, 76ers News, Suns News, Celtics News, Lakers News, Bucks News, Warriors News, Thunder News, NBA News