The Duke Blue Devils and Michigan State Spartans meet Tuesday night in a battle between the top two teams in the country, marking just the 23rd time since the AP Poll started in 1949 in which #1 will take on #2 in the regular season. Who will come out with a major early-season victory in this battle between national championship contenders? Here's our full preview and prediction:
Game Info:
When: 7:00 p.m. EST
Where: United Center, Chicago, IL 
TV: ESPN
Spread: Duke (-2)
O/U: 157
Projected Starting Lineups
(1) Duke Blue Devils (2-0)
G Trevon Duval (Fr.) – 11.5 ppg, 10.0 apg, 3.0 spg
G Grayson Allen (Sr.) – 20.0 ppg, 3.5 rpg
G Gary Trent Jr. (Fr.) – 17.0 ppg, 5.0 rpg
F Marvin Bagley III (Fr.) – 24.5 ppg, 10.0 rpg
F Wendell Carter Jr. (Fr.) – 10.0 ppg, 6.5 rpg, 3.0 bpg
(2) Michigan State Spartans (1-0)
G Cassius Winston (So.) – 12.0 ppg, 8.0 apg
G Joshua Langford (So.) – 13.0 ppg, 5.0 rpg, 3.0 spg
G/F Miles Bridges (So.) – 20.0 ppg, 10.0 rpg, 3.0 bpg
F Jaren Jackson Jr. (Fr.) – 13.0 ppg, 13.0 rpg, 4.0 bpg
F Nick Ward (So.) – 16.0 ppg, 2.0 rpg
What they're saying about the Duke Blue Devils:
What NBA fans need to watch at prospect-loaded Champions Classic (ESPN)
Grayson Allen Speaks to Media Before Michigan State Matchup (DukeBlog)
Duke Basketball: 5 Keys to Beating Michigan State (Duke Report)
What they're saying about the Michigan State Spartans:
Thanks To The Return Of Miles Bridges, Michigan State Is Poised To Win The National Championship (Chat Sports)
Michigan State's Tom Izzo pivots outlook to more than just 2nd title (Detroit Free Press)
Clash of the titans: 'No bigger stage' than MSU vs. Duke (The Detroit News)
Keys to the game:
Marvin Bagley vs. Jaren Jackson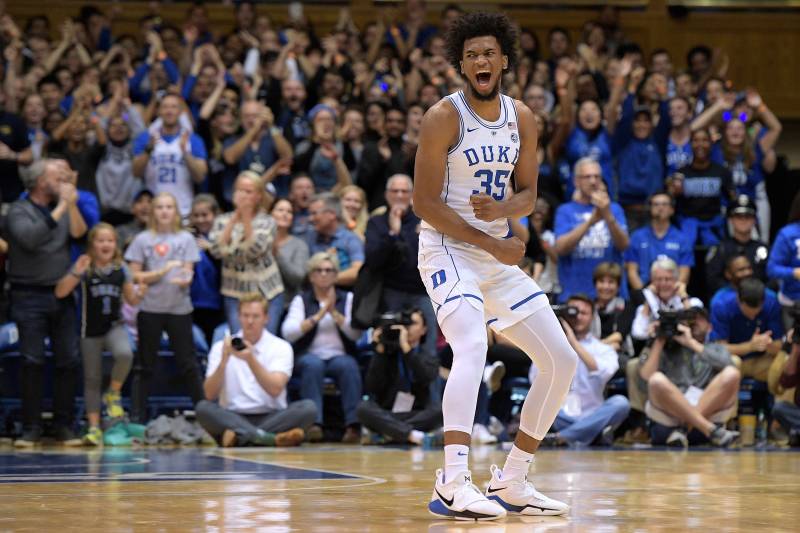 I've been saying that Bagley, who graduated high school a year early and reclassified to the 2017 class in order to enroll at Duke this season, will be the unquestioned No. 1 pick in the NBA Draft over Missouri's Michael Porter Jr., and he has turned heads in the first two games of the season with monster double-doubles. His athleticism and versatility at 6-foot-11 make him a matchup nightmare for virtually every team in the country - but Michigan State has someone who can match up with him in fellow freshman Jaren Jackson Jr.
Jackson has similar size and athleticism, and while he's not as skilled, he's one of the few players who can neutralize that advantage for Duke. These two are expected to defend each other all night, making it the matchup NBA scouts will be paying attention to the most. Grayson Allen vs. Miles Bridges will be the duel in the headlines, but Bagley vs. Jackson will have a bigger impact on which team wins the game.
Is the stage too big for Duke's freshmen?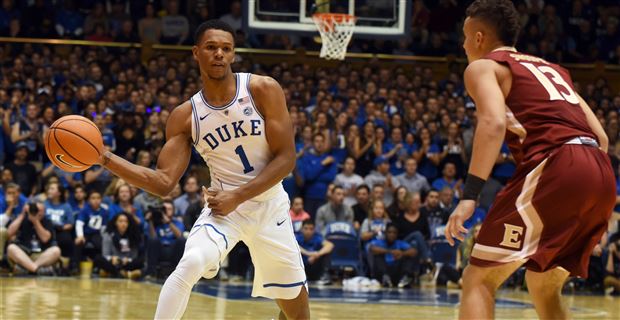 The Blue Devils reeled in the top recruiting class in the country for the second consecutive year, and they highlight how young this team is. Allen, a senior, is the only player in Duke's 10-man rotation that isn't a freshman or is seeing significant game action for the first time. That youth hasn't been a factor in two home games against lesser competition, but it could show itself on a stage this big in their first game away from Cameron Indoor Stadium. Will they play with confidence or will they look like freshmen?
Prediction: Michigan State wins 84-80
This one is going to be so much fun. There will be NBA talent all over the court and should be plenty of scoring. However, Michigan State's slight edge in experience will make the difference in the closing minutes in a tight game. 
Follow our Michigan State Spartans team page for all the latest Michigan State basketball news!
Back to the Michigan State Spartans Newsfeed
Related Topics: Michigan State Spartans Basketball, NCAA Basketball, Duke Blue Devils Basketball, ACC Basketball, Big Ten Basketball