Rick Pitino is out as head coach of the Louisville Cardinals following the FBI's indictment of the school in a corruption investigation, leaving the program in a complicated situation. With just days until practice begins for the start of the 2017-18 season on Friday, Louisville is in flux and without a coach - and without time to find a new one. A temporary head man will be named to lead the program this year, but what about moving forward?
There's no doubting Louisville as one of the premier jobs in all of college basketball. It's a program that's rich in tradition, has won three national championships, plays in the sport's best conference and are consistently one of the country's best in terms of attendance. However, it's also a program marred by two recent scandals that have many calling for - and some expecting - the death penalty to be handed down by the NCAA. 
Louisville may want to distance itself from the Rick Pitino coaching tree and bring in some fresh blood to clean up the program. On the flip side, Pitino is the second-winningest coach in program history and helped navigate the school to where they are today. 
The school can go many different directions with their next hire. Who are some possible replacement options? Here are our top five:
5) Frank Vogel, Orlando Magic head coach
Vogel, a member of the Pitino coaching tree, has spent his entire career in the NBA after starting as a student manager at Kentucky before following Pitino to the Celtics. Does Vogel want to return to college? Probably not. But, it's no secret that the Magic are expected to struggle this year, meaning that Vogel could be out of a job. Louisville may decide to open the checkbook to pursue him if that's the case.
4) Pat Kelsey, Winthrop head coach
Looking for a young, up-and-coming coach who can inject fresh energy into the program? The former associate head coach at Xavier has spent the past five years as Winthrop's head coach, leading them to back-to-back Big South regular-season titles and to the NCAA Tournament this year. He originally agreed to take the UMass job this offseason before backing out a few days later. This would be a big jump up the coaching ranks for Kelsey and wouldn't win the press conference for Louisville, but there's no doubt that Kelsey is a rising star in the coaching ranks.
3) Kevin Willard, Seton Hall head coach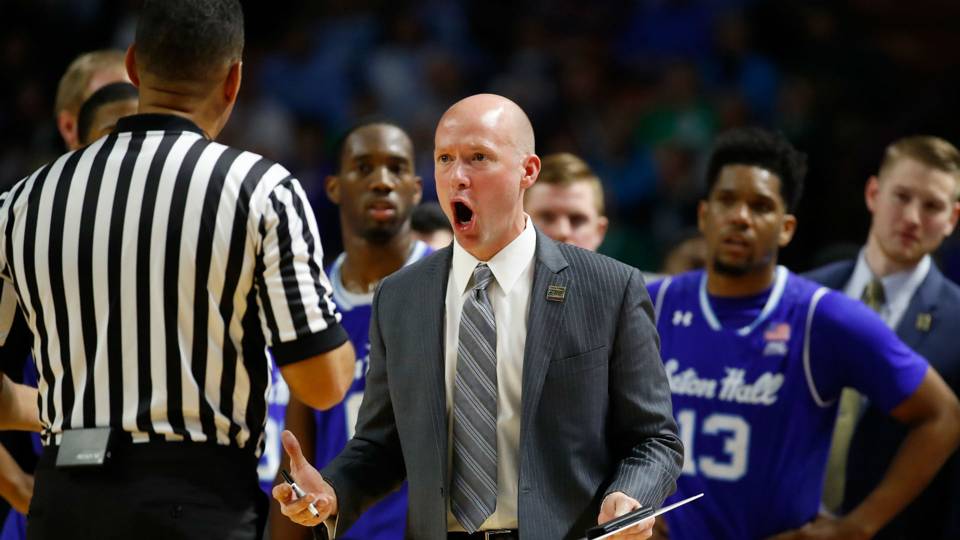 Willard got his coaching start under Pitino, serving as an assistant with the Boston Celtics from 1997-2001 before going with Pitino to Louisville. He stayed with the Cardinals until 2007 when he left for a head job at Iona and has now built Seton Hall into a perennial Big East contender. If Louisville wants to "stay in the family," Williard is someone who knows the school well and has proven he can successfully lead a program at the top level of the sport.
2) Mick Cronin, Cincinnati head coach
Cronin served as an assistant at Louisville under Pitino from 2001-03 before taking the head job at Murray State and then Cincinnati, where he has been since 2006. While Cronin does have previous ties to Pitino and the program, he'd be a home run hire even if those factors weren't in play. He is averaging over 25 wins per season with the Bearcats over the last seven years, making the NCAA Tournament every year. However, Cronin has hit somewhat of a glass ceiling at Cincinnati. He has only made the Sweet 16 once and the school is stuck in the AAC - a non-Power 6 job.
Louisville is less than 100 miles down the road and would give him a chance to coach at one of the sport's marquee programs. Louisville will likely throw all of their resources at him if they're still looking for a permanent coach next summer. It is worth mentioning that Cronin is from Cincinnati, attended the school and served as an assistant there before moving to Louisville. Would he be willing to leave that job for a rebuild like this?
1) Tom Crean, former Indiana head coach
Crean is easily the favorite to take over at Louisville, whether it be for this year or next. He took over the Indiana job in 2008 and was tasked with rebuilding and cleaning up that program following sanctions from the Kelvin Sampson era. Crean did that, leading the Hoosiers to three Sweet 16 appearances in the last six years but was fired after a disappointing 18-16 mark in 2016-17 - just one season after winning Big Ten Coach of the Year.
The Cardinals find Crean an attractive candidate for a number of reasons. He has coached and experienced success at a major program, has gotten said program back on track after NCAA sanctions and - perhaps most importantly - is currently a coaching free agent. All of those things make him the most likely candidate to replace Pitino.
Follow our Louisville Cardinals team page for all the latest Louisville basketball news!
Back to the Louisville Cardinals Newsfeed
Related Topics: NCAA Basketball, ACC Basketball, Rick Pitino, Louisville Cardinals Basketball