Many people have dubbed the Villanova Wildcats as the favorite to win the NCAA Tournament, but the Texas Tech Red Raiders should provide them with their toughest test yet in the Elite 8. Both teams have rolled through the East Region, passing tough tests against West Virginia and Purdue, respectfully, in the Sweet 16, and both teams feel they have what it takes to cut down the nets in San Antonio.
Which of these teams will earn that trip to the Final Four? Here's our full preview and prediction:
Catch up on nightly college basketball scores in the best sports app available - the Chat Sports App!
Game Info:
When: 2:20 p.m. EST
Where: TD Garden, Boston, MA 
TV: CBS
Spread: Villanova (-6.5)
O/U: 144.5
Projected Starting Lineups
(1) Villanova Wildcats (33-4, 14-4 in Big East)
G Jalen Brunson (Jr.) – 19.3 ppg, 4.6 apg, 3.0 rpg
G Phil Booth (Jr.) – 10.5 ppg, 3.2 rpg
G Mikal Bridges (Jr.) – 18.0 ppg, 5.4 rpg
F Eric Paschall (Jr.) – 10.3 ppg, 5.0 rpg
F Omari Spellman (Fr.) – 10.8 ppg, 7.5 rpg
(3) Texas Tech Red Raiders (27-9, 11-7 in Big 12)
G Keenan Evans (Sr.) – 17.7 ppg, 3.2 apg
G Justin Gray (Sr.) – 5.1 ppg, 3.7 rpg
G Zhaire Smith (Fr.) – 11.4 ppg, 4.9 rpg
G Jarrett Culver (Fr.) – 11.2 ppg, 4.9 rpg
C Norense Odiase (Jr.) – 3.8 ppg, 4.5 rpg
What they're saying about the Villanova Wildcats:
Jay Wright takes Villanova to his fourth Elite Eight (VU Hoops)
Villanova has a knockout punch nobody else has (ESPN)
2018 NCAA Tournament Sweet 16 game recap: Brunson lifts Villanova to victory over West Virginia, 90-78 (VU Hoops)
What they're saying about the Texas Tech Red Raiders:
10 things to know about Texas Tech coach Chris Beard, including his obsessions with social media, Whataburger (Dallas Morning News)
Inside The Box Score: How Texas Tech Beat Purdue (Fansided)
HIGHLIGHTS: No. 3 Texas Tech - No. 2 Purdue 78-65 (Viva The Matadors)
Keys to the game:
How does Texas Tech handle Villanova's bigs?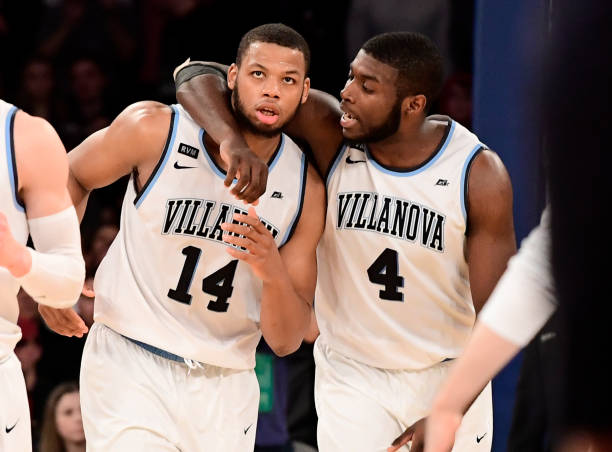 For as good as Villanova's guards are, their big men present the biggest matchup problems for opponents. Both Eric Paschall and Omari Spellman are very comfortable playing on the perimeter, which pulls the opposing big men out of the paint which opens up driving lanes. And, many times, those opposing big men are uncomfortable defending out there, which is one area Villanova creates an advantage.
Texas Tech has the size, length, and athleticism to defend Villanova's guards adequately. However, they don't have versatile big men. Head coach Chris Beard will either try to go small to defend those bigs on the perimeter at the risk of getting killed in the post/on the glass or will trust his big men. 
Will Keenan Evans get help carrying the offensive load for Texas Tech?
The Red Raiders are the best defensive team remaining in the field, but the offensive play of Keenan Evans is why they were ranked in the top 10 this season. However, for Texas Tech to advance to the Final Four and beyond, they need another consistent offensive weapon.
Zhaire Smith has stepped up as that option so far in the tournament, and Justin Gray also scored in double-digits in the win over Purdue. Those two will need to be major contributors again. 
Prediction: Villanova wins 75-70
Texas Tech's defense is going to bother Villanova just as much - if not more - than West Virginia's did, but the Wildcats showed that they have an excellent counterpunch in their repertoire. In the end, I don't think the Red Raiders will be able to find enough consistent offense in the second half as Villanova will pull away late.
Back to the Villanova Wildcats Newsfeed