The NFL rumors have been swirling around NFL free agency, especially the future of quarterback Kirk Cousins, offensive guard Andrew Norwell, and cornerback Richard Sherman. The free agent frenzy may be over, but rumors around how these players will fare with their new teams will continue to grow all offseason. There were a ton of signings around the NFL, but which ones were the most impactful? Here are the three best signings from the 2018 NFL free agency frenzy:
NEXT READ: The 3 Worst Signings From 2018 NFL Free Agency
1.) Kirk Cousins, QB, Minnesota Vikings
The Vikings lost in the NFC Championship game last year to the Eagles, but signing Cousins may be what puts them over the hump in 2018. The Vikings offense is dynamic with talented players like Stefon Diggs, Adam Thielen, Dalvin Cook and Kyle Rudolph which should help Cousins' transition into the offense. Cousins has called Washington home for the past six seasons and played under the Redskins' franchise tag the last two years. Over the last three seasons Cousins has averaged 67% completion, 4,392 yards, 27 TDs, and 12 INTs. He has also been sneaky good with his legs, rushing for 13 touchdowns the last three years. Signing Cousins to a three-year $84 million, all of which is guaranteed, is a lot of money but if he is their franchise quarterback it's well worth it.
2.) Andrew Norwell, OG, Jacksonville Jaguars

Norwell and the Jaguars have agreed to a five-year, $66.5 million, with $30 million fully guaranteed deal. Per Over the Cap, the deal set new highs for guards in total value, average per seasons, and guarantees. Norwell was regarded as the top offensive lineman in free agency. The Jaguars want to establish themselves as one of the toughest teams on offense and defense. Norwell will bring the toughness and elite blocking it takes to have running back Leonard Fournette and this Jaguars offense excel in 2018.
3.) Richard Sherman, CB, San Francisco 49ers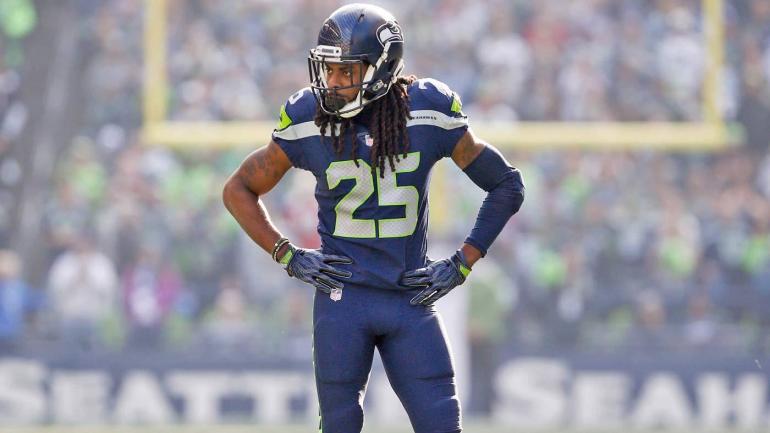 Given San Francisco's lack of depth at the position, they needed to find players they can rely on in the back end of the defense. It remains to be seen how Sherman rebounds from the Achilles injury, but prior to it, he was still one of the elite corners in the NFL. The 29-year-old recorded 35 tackles with two interceptions and seven pass breakups in nine games last season. Sherman makes the list because his contract is absolute gold for the 49ers, signing a player like Sherman to a three-year $27.2 million contract is great. The basics of Sherman's contract include a $3 million signing bonus, $6 million in per-game roster bonuses, $2 million 2018 roster bonus and almost $12 million in incentives, which basically means Sherman is betting on himself to succeed and if he doesn't he won't be paid like a top cornerback in the NFL.
For more NFL Free Agency coverage, check out and subscribe to the NFL Daily Podcast or download the Chat Sports app for iPhone or Android to follow NFL news, rumors, and scores. 
FOLLOW: Mitchell Renz is the Senior Writer & On-Air Host at Chat Sports. Check out his article archive and live videos on Chat Sports Facebook page. Please follow him on Twitter @MitchellRenz365. 
Back to the NFL Newsfeed
Related Topics: Richard Sherman, Andrew Norwell Jaguars, Kirk Cousins, NFL Free Agency Rumors, Andrew Norwell, Kirk Cousins Vikings, NFL Free Agent Rumors, NFL Free Agency, Richard Sherman 49ers, Best Free Agent Signings, Best Free Agent Moves 2018