There is no shortage of NFL rookies who can come in and make an immediate impact on their new teams. While some are already pretty much guaranteed starting jobs, others will have to scratch and claw their way past a veteran on the depth chart. These guys are the former and should be an immediate force for their teams. Here are the five players that should begin the season as favorites for Offensive Rookie of the Year:
5) Josh Allen, QB, Buffalo Bills
No matter what you think of Allen and his potential at the NFL level, Buffalo has made it clear that he's going to get his opportunity to start sooner rather than later (especially is A.J. McCarron doesn't do anything overwhelming). Allen certainly has the arm talent to run with that opportunity and perform well, but his consistency and accuracy issues could cause him to sink. However, if he takes advantage of his opportunity, he will get some Rookie of the Year buzz.
4) Derrius Guice, RB, Washington Redskins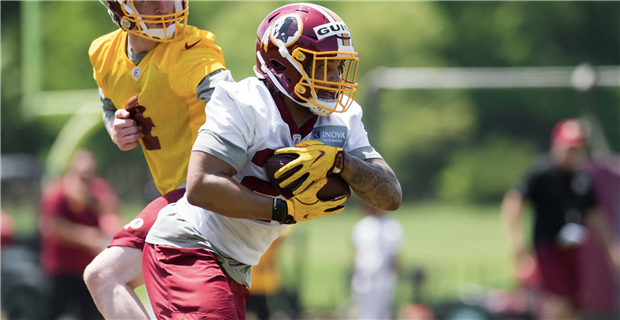 If you're looking for something of a sleeper, Guice is your guy. He's a powerful runner with some wiggle to him, which makes him a perfect running back in most offenses in the league. While some maturity and off-field concerns caused him to drop to the second round, Washington feels like they have the steal of the draft and a guy who can be a three-down back.
Guice led LSU with 237 carries, 1,251 rushing yards, and 11 TDs last season and was an absolute monster in 2016, rushing for 1,387 yards (7.6 ypc) and 15 touchdowns while splitting time with Leonard Fournette. A rookie running back has led the NFL in rushing the past two seasons - Ezekiel Elliott in 2016 and Kareem Hunt in 2017 -  will Guice make it three years in a row?
NEXT READ: Here Are The 12 Best Running Backs In Fantasy Football For 2018
3) Baker Mayfield, QB, Cleveland Browns
Usually, the No. 1 overall pick is higher on this list, but Mayfield will likely start the season on the bench behind Tyrod Taylor. He will see the field at some point this season - and I think his accuracy will serve him well - but it's hard to win Rookie of the Year when you miss the start of the season. Still, though, if Mayfield delivers on his hype, he has a chance.
2) Sam Darnold, QB, New York Jets
Darnold is competing with Teddy Bridgewater and Josh McCown for New York's starting quarterback job but all indications are that he'll be under center for the Jets in Week 1, if not shortly thereafter. Many thought of Darnold as the most NFL-ready quarterback of the group thanks to this athleticism, arm strength, and accuracy, and New York is hoping to parlay that into a better-than-expected season. 
1) Saquon Barkley, RB, New York Giants
The most complete running back prospect to enter the NFL since Adrian Peterson, Barkley has been compared to LaDainian Tomlinson and David Johnson by some experts, and for good reason. His ability to run between the tackles, catch the ball out of the backfield, and take any play to the house is why the Giants drafted him with the No. 2 pick. He should see over 300 touches in 2018, which means he'll have a great chance to put up eye-popping numbers.
Are you a die-hard NFL fan? If so, SUBSCRIBE to Chat Sports on Youtube breaking down the latest NFL news and rumors!
Back to the NFL Newsfeed
Related Topics: Josh Allen, Derrius Guice, Saquon Barkley, Sam Darnold, NFL News, Baker Mayfield