The New York Jets are flying up the draft board after they acquired the #3 overall pick in the 2018 NFL Draft from the Indianapolis Colts. The Jets' move up allows them to secure one of the top four quarterbacks in this year's draft. The Jets leapfrogging a QB-needy team in the Denver Broncos, and prevent a team like the Buffalo Bills from trading with the Colts. Here are the Jets four most likely targets in the first round of the draft after trading with the Colts:
For more NFL Draft coverage and scouting reports, check out NFL Draft by Chat Sports on YouTube or download the Chat Sports app for iPhone or Android to follow NFL news, rumors, and scores!
1.) Josh Rosen, QB, UCLA Bruins
Josh Rosen is expected to be selected by the New York Giants, however, if he isn't drafted at two overall, the Jets may select him. Even though he was surrounded by lesser talent and bad coaching throughout his UCLA career, Rosen has continued to show the arm strength, accuracy, and pocket awareness to solidify him as a top pick. He does make some questionable throws under pressure, but Rosen's positive traits will far outweigh any concerns.
WATCH: Josh Rosen 2018 NFL Draft Profile: Strengths, Weaknesses & Player Comparison
2.) Sam Darnold, QB, USC Trojans
Sam Darnold is rumored to be the first overall pick to the Cleveland Browns, but if they pass on a quarterback he may fall to the Jets at three. Darnold has the arm strength, leadership qualities, accuracy, and mobility that a franchise quarterback needs to be successful. However, turnovers and decision-making have become major question marks with him at USC. Despite, the turnovers look for the Jets to select him if he falls to the Jets.
WATCH: Sam Darnold 2018 NFL Draft Profile: Strengths, Weaknesses & Player Comparison
3.) Josh Allen, QB, Wyoming Cowboys
Wyoming Cowboys quarterback Josh Allen is one of the most divisive prospects in this year's NFL Draft. Allen has drawn a considerable amount of hype and buzz, despite not putting strong numbers in college. Allen has all the physical tools (size, arm, athleticism), but they're very raw. He's had some consistency and decision-making issues at Wyoming, but some team will fall in love with his upside. The Jets, should Mayfield be off the board, maybe the ones to gamble on him. 
WATCH: Josh Allen 2018 NFL Draft Scouting Report: Strengths, Weaknesses & Player Comparison
4.) Baker Mayfield, QB, Oklahoma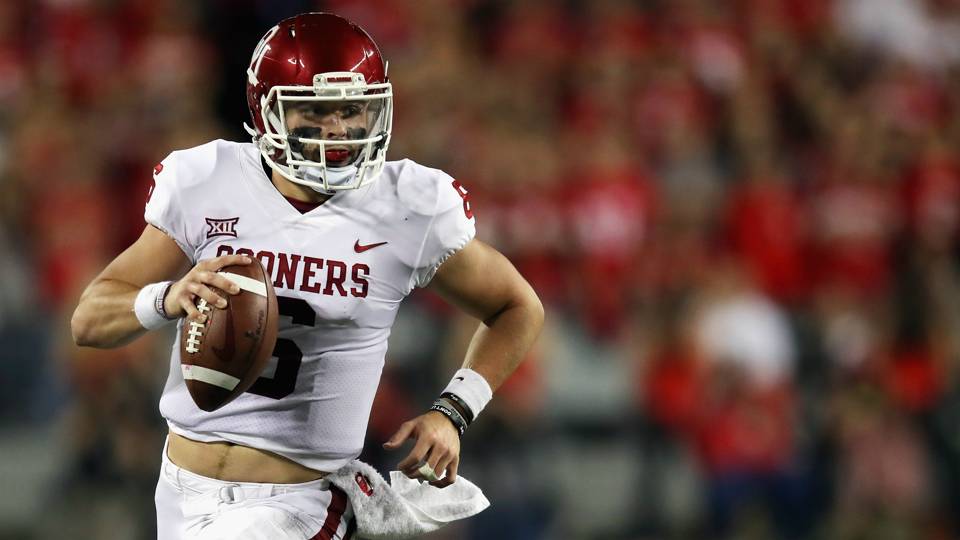 Until the Jets find a quarterback, this team will not win games. Josh McCown played great in 2017 but couldn't stay healthy to finish the season. Bryce Petty and Christian Hackenberg aren't the answer for the Jets going forward, so why not draft the Heisman trophy winner? Baker can handle the spotlight in New York because he thrives in big moments and loves the spotlight. Baker the last three seasons combined has 117 passing touchdowns and 20 interceptions.
WATCH: Baker Mayfield 2018 NFL Draft Scouting Report: Strengths, Weaknesses & Player Comparison
FOLLOW: Mitchell Renz is the Senior Writer & On-Air Host at Chat Sports. Check out his article archive and live videos on Chat Sports Facebook page. Please follow him on Twitter @MitchellRenz365. 
Back to the New York Jets Newsfeed
Related Topics: Josg Rosen Jets, Jets 2018 NFL Draft, New York Jets NFL Draft, Jets NFL Draft 2018, New York Jets News, Sam Darnold Jets, Jets Josh Allen, Jets NFL Draft, Jets Draft News, New York Jets Rumors, Baker Mayfield Jets, Jets 2018, Jets Draft Targets