Most college football coaches get in the door by playing the sport in college or the NFL, but there are also a select few that have found success despite not playing the sport at a high level. Here are the top 5 college football coaches that didn't play the sport in college:
5) Sonny Dykes, Cal Golden Bears
Dykes took on the tall task of rebuilding Cal football, and he's done an incredibly impressive job in just three seasons, taking them from a 1-11 mark in 2013 to an 8-5 record and an Armed Forces Bowl victory in 2015. 
4) Mike Leach, Washington State Cougars
Leach was one of the best coaches in the country at Texas Tech, but after he was fired, he has completely resurrected a Washington State program that was one of the worst in the nation. He's 21-29 in four seasons in Pullman, including 9-4 record in 2015 that resulted in a Sun Bowl victory.
3) Paul Johnson, Georgia Tech Yellow Jackets
Johnson was incredibly successful at Navy and has carried that over to Georgia Tech. Despite their extremely disappointing 3-9 record in 2015, the Yellow Jackets are 61-44 since Johnson took over in 2008, leading them to an Orange Bowl victory in 2014.
2) David Cutcliffe, Duke Blue Devils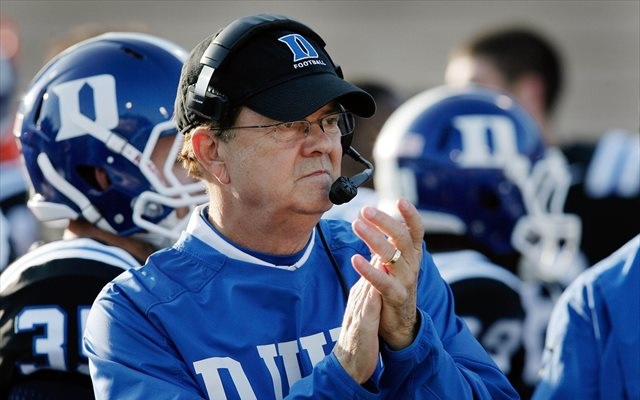 Cutcliffe has done the impossible at Duke - turning them into a consistently successful, respectable football program. He has a 48-53 record in eight years in Durham, while recording the school's first 10-win season and first bowl victory since 1961.
1) Hugh Freeze, Ole Miss Rebels
Freeze is one of the best young coaches in the country, which is amazing considering he first didn't have a FBS coaching job until he became Arkansas State's offensive coordinator six years ago. He has since turned Ole Miss into a SEC power in the just four seasons, including a Sugar Bowl victory this past year.
Back to the NCAA Newsfeed
Related Topics: Paul Johnson, SEC Football, NCAA Football, ACC Football, Duke Blue Devils Football, Georgia Tech Yellow Jackets Football, David Cutcliffe, Mike Leach, Sonny Dykes, Cal Golden Bears Football, Hugh Freeze, Pac-12 Football, Ole Miss Rebels Football, Washington State Cougars Football