Welcome to this season's first Rauf Report, where I will share my biggest takeaways from the past week in college basketball. There's a ton to sort through - especially with the mass amount of games recently due to Feast Week - so I'm here to make things easier and tell you what you need to know. You can (and should) follow me on Twitter for real-time college basketball updates and analysis, but here are my eight biggest takeaways from the week:
1) Don't talk to me about anyone but Marvin Bagley III being the No. 1 pick
It's a major disappointment that we won't get to see Michael Porter Jr. in college this year, but that has cleared the way for Marvin Bagley III to solidify himself as the top pick in the 2018 NBA Draft. Some scouts have told me that Bagley would have likely been the top pick anyway, especially after the way he has played so far this season.
First off, let's start with his skill set. At 6-foot-11 and 220 pounds, he can do everything. He's been effective in the post, rebounding at a high rate, blocking shots, and is supremely athletic, but he also has handled the ball against the press and showcased a smooth jumper. 
That's enough to make NBA scouts salivate - especially since he won't turn 19 years old until March - but the way he has used those skills to dominate the college game so early in his career has been incredibly impressive. He averages a double-double (22.3 ppg, 11.3 rpg) and absolutely went nuts in the PK80.
Marvin Bagley in the #PK80:

18 pts, 15 rebs vs Portland St
34 pts, 15 rebs vs Texas
30 pts, 15 rebs vs Florida

And he's supposed to be a senior in high school.

— Brian Rauf (@brauf33) November 27, 2017
Duke may have a number of questions they need to answer, particularly defensively, but there are no questions about Bagley or where he'll go in the draft.
2) Luke Maye, Player of the Year candidate
Luke Maye was one of the biggest revelations of Feast Week. Even with a subpar eight-point, six-rebound performance in their loss to Michigan State, Maye is averaging 19.0 points and 10.0 rebounds per game while emerging as North Carolina's primary offensive threat. He has at least 20 points and nine rebounds in four games this year, giving the Heels the floor balance they need with Joel Berry II, Kenny Williams, and Theo Pinson in the backcourt.
Maye's play is a major surprise given that he averaged just 5.5 points per game off the bench last year, but with UNC's inexperience in the frontcourt - freshmen Sterley Manning, Garrison Brooks, and Brandon Huffman are the only other bigs that see playing time - the Heels are utilizing Maye's versatile skills.
Whether he can continue to perform at this level remains to be seen, but right now, he's up there with the best players in the country.
3) What the hell is wrong with Arizona?
What was supposed to be a successful trip to the Battle 4 Atlantis ended with Arizona falling to NC State, SMU, and Purdue, marking the first time in school history the Wildcats lost three games before the start of December. So what's wrong with the team that was No. 2 in the country?
For starters, their defense has not been good. They're giving up nearly 75 points per game (T-223rd in the country), don't force turnovers, and are letting opponents shoot 38 percent from three (260th). Last year, they didn't give up 85 points in a single game. This year, they've already done so twice. That's something you'd expect a coach like Sean Miller to fix rather quickly (Rawle Alkins' return will help with that), but right now, it's terrible.
There's also the FBI investigation looming over the program. Miller's longtime assistant, Book Richardson, was one of the four coaches indicted and the school was identified as "University-4" in court documents. They may have also been in a bidding war for "Player-12," who has been identified as five-star recruit Nassir Little, a behavior has drawn even more attention from the FBI.
That kind of off-court distraction can really hang over a team, and it's fair to wonder if that has played some role in this start even though the defensive struggles have been the biggest reason for their on-court struggles. Both will be something to watch as the season wears on.
4) Kevin Ollie is firmly on the hot seat
UConn fans were surprisingly positive about Ollie this offseason, but all of those feelings are gone following a 20-point loss to Michigan State and embarrassing 35-point loss to Arkansas in the PK80. According to some people I've talked to with knowledge of the program, Ollie is coaching for his job this season.
Ollie was the hottest coach in the basketball world after leading UConn to the national championship in 2014 in just his second season in Storrs, but the Huskies are just 65-45 since, missing the NCAA Tournament twice - something UConn should never do. A 16-17 record last season, with all of his recruits, simply isn't good enough. The extra time that championship has brought him has run its course.
5) Saint Mary's needs to win the WCC to make the NCAA Tournament
The Gaels were a top 25 team going into the season but won't be in it when the new rankings come out this week following back-to-back losses to Washington State and Georgia in the Wooden Legacy tournament. For pretty much every other top team, that would certainly be cause for concern...but not reason to panic.
For the Gaels, there is plenty of reason to panic.
In a conference like the WCC, teams like Saint Mary's and Gonzaga have relied on racking up a marquee non-conference win or two and beating each other in conference play to build a tournament resume worthy of an at-large bid. Now, the season is still early, but both losses look like they'll be classified as "bad losses." And, with no more opportunities to pick up any quality victory in their non-conference schedule, they need to pick those up against the Zags.
If they do that, the Gaels will likely win the conference regular-season title and will prove they're worthy of a berth (of course, winning the WCC Tournament could give them an automatic bid). 
The task for Saint Mary's is this - beat Gonzaga and don't pick up any more bad losses. They don't have any more room for error.
College Basketball Fans - Download Chat Sports on iPhone today for breaking news, rumors, scores and more - Chat Sports App!
6) What if Western Kentucky had Mitchell Robinson?
Western Kentucky was the center of the second-biggest college basketball soap opera of the offseason (the whole FBI thing kind of takes the cake) when five-star center Mitchell Robinson committed to the school. Then he left school when assistant coach Shammond Williams, his godfather, resigned from WKU in early July. Then he went back to school to honor his commitment and play for Rick Stansbury. Then he left campus for the second time with the intent to transfer to another school. However, he would not have been eligible to play this season since he took summer classes at WKU, so he opted to just drop out of school entirely and not play basketball in order to solely prepare for the NBA Draft.
Got all of that? Good.
Well, the Hilltoppers are winning without the highest-rated prospect in school history, going 2-1 at the Battle 4 Atlantis with wins over Purdue and SMU despite only having eight scholarship players eligible due to transfers and eligibility reviews. If they get everyone back, they have the look of an NCAA Tournament team. 
And that begs the question...how good would they be if they had Robinson, a projected first-round pick in the draft, holding things down on the inside? Unfortunately, we'll never know - and it likely keeps the Hilltoppers from being a real spoiler in March.
7) I told you Virginia was good!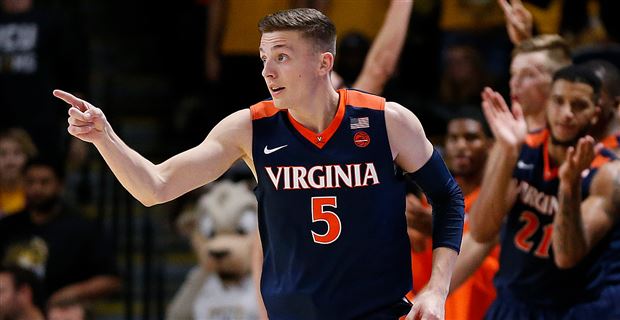 A lot of people thought I was crazy when I picked Virginia to finish third in the ACC this season, but at 6-0 with wins over VCU, Vanderbilt, and Rhode Island all away from home, it's clear the UVA will be a force to be reckoned with again. Kyle Guy (15.8 ppg) is having a breakout season as the Cavaliers' go-to guy, complementing the stingy defense we've come to expect from head coach Tony Bennett's teams. They lead the country in adjusted defensive efficiency and are ninth in effective field goal percentage defense.
8) We need to space these early season tournaments out more
Feast Week great because there are so many quality matchups on all the time, but there have been many occasions where those tournaments and top games overlap. We had the PK80, Battle 4 Atlantis, Advocare Invitational, and Wooden Legacy all going head-to-head, meaning that fans often had to choose which one to watch instead of watching them all. Space them out and give us time to enjoy all of them!
Follow our NCAA news page for all the latest college basketball news or download the Chat Sports App!
Back to the NCAA Newsfeed
Related Topics: NCAA Basketball, Rauf Report