College football national champions forever write their name in the history of the sport by winning the title, but how do those champions stack up against other champions? Here's how we rank the 10 best college football teams of the last 25 years:
10) 2010 Auburn Tigers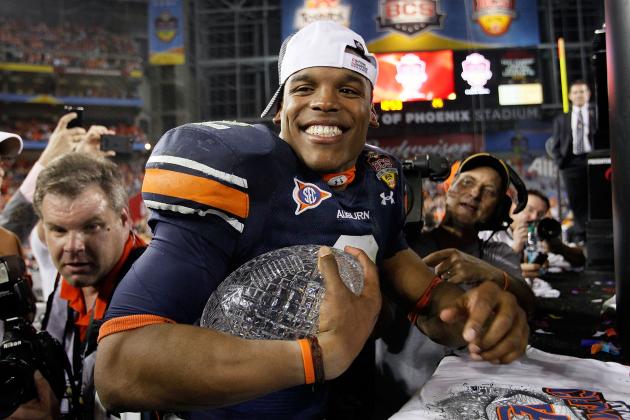 Auburn came virtually out of nowhere in 2010 to go 14-0, headlined by Heisman Trophy winner Cam Newton. They beat six ranked teams that year, and while only six players from that team got drafted, they were an excellent college team. They were one of just four teams in the last 16 years to go undefeated in the SEC.
9) 2008 Florida Gators
Best known for Tim Tebow's "promise" speech, the 2008 Gators dominated most of their competition, going 13-1 and winning all 13 games by double digits. This team also had as much talent as anyone, with NFL stars Percy Harvin, Brandon Spikes, Janoris Jenkins and Joe Haden joining Tim Tebow as All-SEC performers.
8) 1991 Washington Huskies
Washington went 12-0 and ended up splitting the national title with Miami, but the Huskies were more dominant than anyone that season. They had just one game decided by single digits, most of which weren't even close. They also had 11 players selected in the ensuing NFL draft.
7) 2013 Florida State Seminoles
Heisman Trophy winner Jameis Winston headlined this 14-0 championship team, but simplifying them to that doesn't give enough credit to what this team accomplished and how talented they were. They outscored the five ranked teams they played by a combined score of 234-66, boasted 10 All-Americans and had 20 players from that team eventually drafted.
6) 2000 Oklahoma Sooners
Bob Stoops produced his best team in Norman during his second year at the helm. The Sooners beat six ranked opponents that year, including then-No. 1 Nebraska, No. 2 Kansas State and No. 3 Florida State. Their defense, led by longtime NFL safety Roy Williams, showcased their dominance all year - capped off by allowing just two points to FSU (who scored 50+ points five times during the season) in the national championship game.
5) 2009 Alabama Crimson Tide
Nick Saban's first national championship team at Alabama might have been his best. They made their mark with their defense, led by Rolando McClain, Mark Barron and Marcell Dareus, as they held half of their regular season opponents to seven points or less. However, the offense was full of stars as well, headlined by Heisman winner Mark Ingram, fellow running back Trent Richardson and wideout Julio Jones. 
4) 2005 Texas Longhorns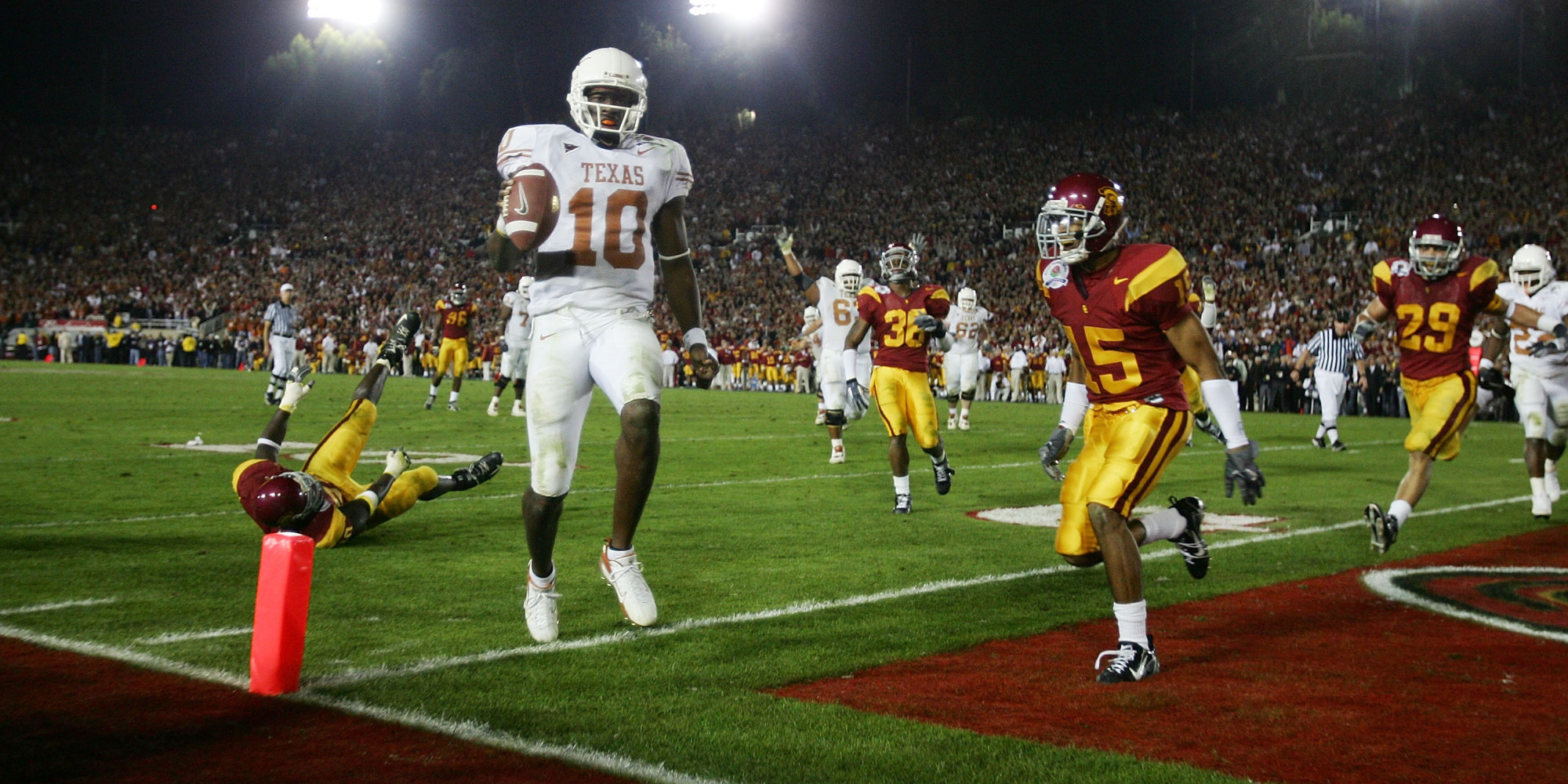 Texas won perhaps the best national championship game in college football history, as Vince Young led this talented group to a perfect 13-0 record and a win over another all-time team (which we'll get to in a second). They won 11 of their games by double digits - including a 70-3 romping over Colorado in the Big 12 title game (yes, you read that score right). Texas also set the NCAA record for most points scored in a season. 24 players from this team ended up in the NFL.
3) 2004 USC Trojans
No one paid as much attention to Texas as they should have in 2005 because of how good USC was in 2004. They went 13-0 on their way to their second-straight national championship, with only three games being decided by single digits. USC also dominated Oklahoma in the title game, winning 55-19, capping off the year going wire-to-wire as the No. 1 ranked team. Quarterback Matt Leinart won the Heisman that year, only to be followed by running back Reggie Bush the next year. In all, 21 players ended up being drafted
2) 1995 Nebraska Cornhuskers
This Nebraska team was the most dominant college football squad every, going 12-0 with an average margin of victory of 38.6 points. In fact, they only had one game that was decided by less that 23 points. They beat four top 10 teams on their way to a title, showing that they didn't just beat up on cupcakes. So why aren't they No. 1 on this list?
1) 2001 Miami Hurricanes
Nebraska may have been the most dominant, but this Miami team is easily the most talented team the sport has ever seen. 38 players drafted. 17 first-round picks. They had just two games decided by less than 22 points, finished the season on a 22-game winning streak (which would hit 34) and knocked off five top 15 teams. No other team can match the sheer ability this team had at every position, and they showed it on the field - making them the best of all-time.
Back to the NCAA Newsfeed
Related Topics: Oklahoma Sooners Football, Big 12 Football, NCAA Football, Florida Gators Football, Big Ten Football, Washington Huskies Football, Auburn Tigers Football, Alabama Crimson Tide Football, Pac-12 Football, ACC Football, Miami Hurricanes Football, Florida State Seminoles Football, Texas Longhorns Football, USC Trojans Football, Nebraska Cornhuskers Football, SEC Football