The first full weekend of the 2016 college football season is just away, and it's being called the best opening weekend of all time. There are more high quality non-conference battles between the country's top teams than ever before, giving us an early glimpse at who are legitimate College Football Playoff contenders - and which ones are pretenders. Here's who we predict will win all of this weekend's biggest games:
#3 Oklahoma Sooners at #15 Houston Cougars 
Sat, Sept. 3 - 12:00 pm ET, ESPN
What a way to kick off the Saturday, huh? Don't sleep on Houston. The Cougars beat Florida State to end the season, and they're a CFP dark horse, while Oklahoma is the Big 12 favorite - meaning this could end up serving as Week 1 College Football Playoff elimination game. Even though this is a neutral site game, it's being played at NRG Stadium in Houston.
Winner: Houston Cougars
Both of these teams are have very experienced offenses, so the difference will come down to which defense can make more plays. Oklahoma has plenty more question marks on that side of the ball than Houston does, and since the Cougars are essentially playing a home game, they win a close game.
#16 UCLA Bruins at Texas A&M Aggies 
Sat, Sept. 3 - 3:30 pm ET, CBS
This is a very underrated Week 1 matchup. Texas A&M is looking to return to national prominence, while UCLA is expected to compete for a playoff berth with star sophomore quarterback Josh Rosen. This game will be very telling as to where both teams stand in the national pecking order.
Winner: UCLA Bruins
Even though this a true road game for the Bruins, Rosen should have a field day going up against Texas A&M's porous defense. New Aggies quarterback Trevor Knight also might have some struggles in his first game at the helm.
#5 LSU Tigers vs. Wisconsin Badgers 
Sat, Sept. 3 - 3:30 pm ET, ABC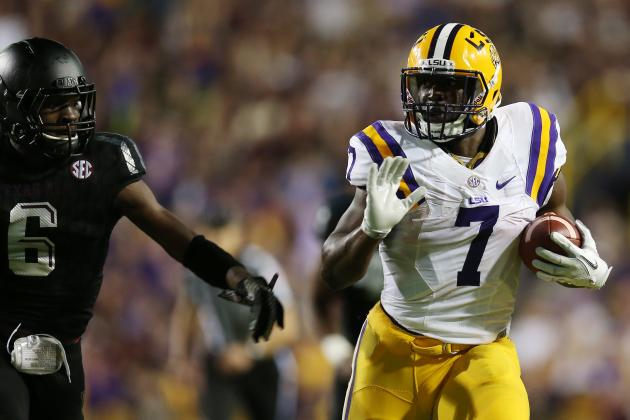 LSU's new defensive coordinator, Dave Aranda, was with the Badgers last season. This is the site of College Gameday, and it'll be fun to watch Leonard Fournette go up against the Wisconsin defense. This game is being played at Lambeau Field.
Winner: LSU Tigers
Expect Fournette's Heisman campaign to get off to a huge start in this one. Yes, Wisconsin as a quality defense and LSU doesn't really have a passing attack, but the Badgers' offense isn't any good, either. In a old-school, hard fought game like this, a player with Fournette's talent will be the difference.
#22 North Carolina Tar Heels at #18 Georgia Bulldogs 
Sat, Sept. 3 - 5:30 pm ET, ESPN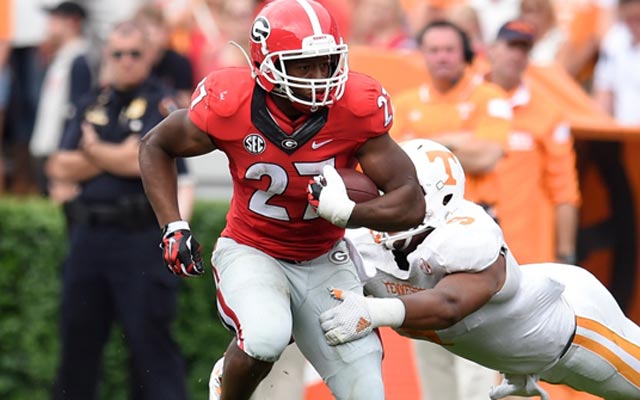 North Carolina is looking to build on last season's 11-3 record, while Georgia is playing their first game under new head coach Kirby Smart. Both teams have College Football Playoff hopes, and the winner puts themselves in position to reach that goal - while the loser doesn't have much of a chance.
Winner: Georgia Bulldogs
UNC has a high-powered offense, but Smart has had all summer to develop a gameplan to neutralize that unit. I expect them to do just that, while running back Nick Chubb re-introduces himself to the national audience with a huge game.
#1 Alabama Crimson Tide vs. #20 USC Trojans 
Sat, Sept. 3 - 8:00 pm ET, ABC
USC has struggled a bit in recent years thanks to coaching issues, but this is still a high-profile matchup. Both are top 20 teams, and there's the whole Lane Kiffin against his former team thing. This one is being held at AT&T Stadium in Dallas. 
Winner: Alabama Crimson Tide
Yes, the Tide are replacing a lot of talent, but let's look at how they've fared in similar games under Nick Saban:
2015: 35-17 win over Wisconsin
2014: 33-23 win over West Virginia
2013: 35-10 win over Virginia Tech
2012: 41-14 win over Michigan
2009: 34-24 win over Virginia Tech
2008: 34-10 win over Clemson
All six of those games were season-opening, neutral site games. Safe to say Nick Saban will have Alabama ready to play.
#2 Clemson Tigers at Auburn Tigers 
Sat, Sept. 3 - 9:00 pm ET, ESPN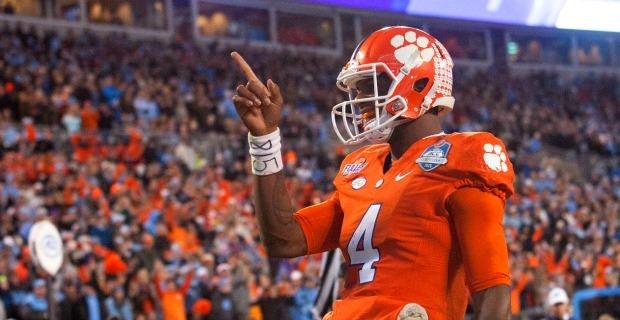 This game would be an even bigger deal if Auburn didn't struggle so badly last year. Still, it's still a solid ACC-SEC matchup and one that Clemson must win to help their College Football Playoff hopes. 
Winner: Clemson Tigers
Even though this is a true road game, Clemson is the much more talented (and experienced) team. Auburn may keep it close for a half because they're playing at home, but Deshaun Watson and company will win this game pretty easily.
#10 Notre Dame Fighting Irish at Texas Longhorns 
Sun, Sept. 4 - 7:30 pm ET, ABC
Notre Dame blew out Texas last year, and it's unclear if this matchup will be any different. Texas has a brand new offense, and could start a true freshman QB in Shane Buechele. Playing at home should help Texas. With no NFL in this week, this game is on Sunday. 
Winner: Notre Dame Fighting Irish
This game won't be a blowout, but the winner won't change. The Longhorns are a much improved team, but Buechele is bound to make a few mistakes as a true freshman. Plus, Notre Dame has plenty of talent returning, headlined by quarterback DeShone Kizer.
#11 Ole Miss Rebels at #4 Florida State Seminoles 
Mon, Sept. 5 - 8:00 pm ET, ESPN
Both Ole Miss and FSU have College Football Playoff hopes, but a loss will hurt those. This is the premier game of Week 1, and it should be a thrilling matchup between two Top 10 caliber teams. This is another neutral site game, but it's in Orlando, essentially making it a Florida State home game.
Winner: Florida State Seminoles
Many view Ole Miss as a dark horse in the SEC, but they simply won't be able to match up with FSU in this one. The Rebels are dealing with plenty of roster turnover, and the Seminoles return 18 starters from last year's team - including Heisman candidate Dalvin Cook. Redshirt freshman Deondre Francois will be making his first career start, but Cook will make that transition very easy.
Back to the NCAA Newsfeed
Related Topics: Oklahoma Sooners Football, Notre Dame Fighting Irish Football, UCLA Bruins Football, Texas A&M Aggies Football, Ole Miss Rebels Football, North Carolina Tar Heels Football, American Athletic Football, Big 12 Football, Big Ten Football, Pac-12 Football, Houston Cougars Football, Texas Longhorns Football, Clemson Tigers Football, Wisconsin Badgers football, SEC Football, Georgia Bulldogs Football, LSU Tigers Football, NCAA Football, Alabama Crimson Tide Football, Auburn Tigers Football, ACC Football, Florida State Seminoles Football, USC Trojans Football