This season's Heisman Trophy winner will be announced tonight on the first Saturday after the college football regular season. Oklahoma quarterback Baker Mayfield, Louisville quarterback Lamar Jackson, and Stanford running back Bryce Love were announced as the three finalists earlier this week, meaning they will be at the Heisman ceremony in New York City tonight. How will the voting shake out tonight? Here are our predictions for the top 5:
5) Jonathan Taylor, RB, Wisconsin Badgers
Season stats: 273 carries, 1,847 rush yards, 13 TDs
Taylor's terrible Big Ten Championship Game (41 yards on 15 carries) really sunk any chances he had of being named a finalist, but his play all season - as a freshman on the last undefeated Power 5 team - will be enough for him to crack the top five. He'll be one of the early Heisman favorites next year.
4) Saquon Barkley, RB, Penn State Nittany Lions
Season stats: 199 carries, 1,134 rush yards, 16 TDs, 47 catches, 594 rec yards, 3 TDs, 2 KO return TDs
Barkley faltered down the stretch after being a huge mid-season favorite, yet it was a little surprising not to see him named a finalist. That signals he's outside the top three, but given his play in some of the biggest games of the season, it's hard to see anyone else leapfrogging him.
You can now listen to Chat Sports' College Football Podcast which can be found on iTunes and Google Play!
3) Lamar Jackson, QB, Louisville Cardinals
Season stats: 60.4 completion percentage, 3,489 pass yards, 25 TDs, 6 INTs, 208 carries, 1,443 yards, 17 TDs
Last year's Heisman winner came close to matching his eye-popping numbers from a season ago, which is why he was named a finalist despite being on an 8-4 Louisville team. We know he'll get at least one vote (all previous Heisman winners, including Jackson, get a vote), but he's clearly behind the top two in the race.
2) Bryce Love, RB, Stanford Cardinal
Season stats: 237 carries, 1,973 rush yards, 17 TDs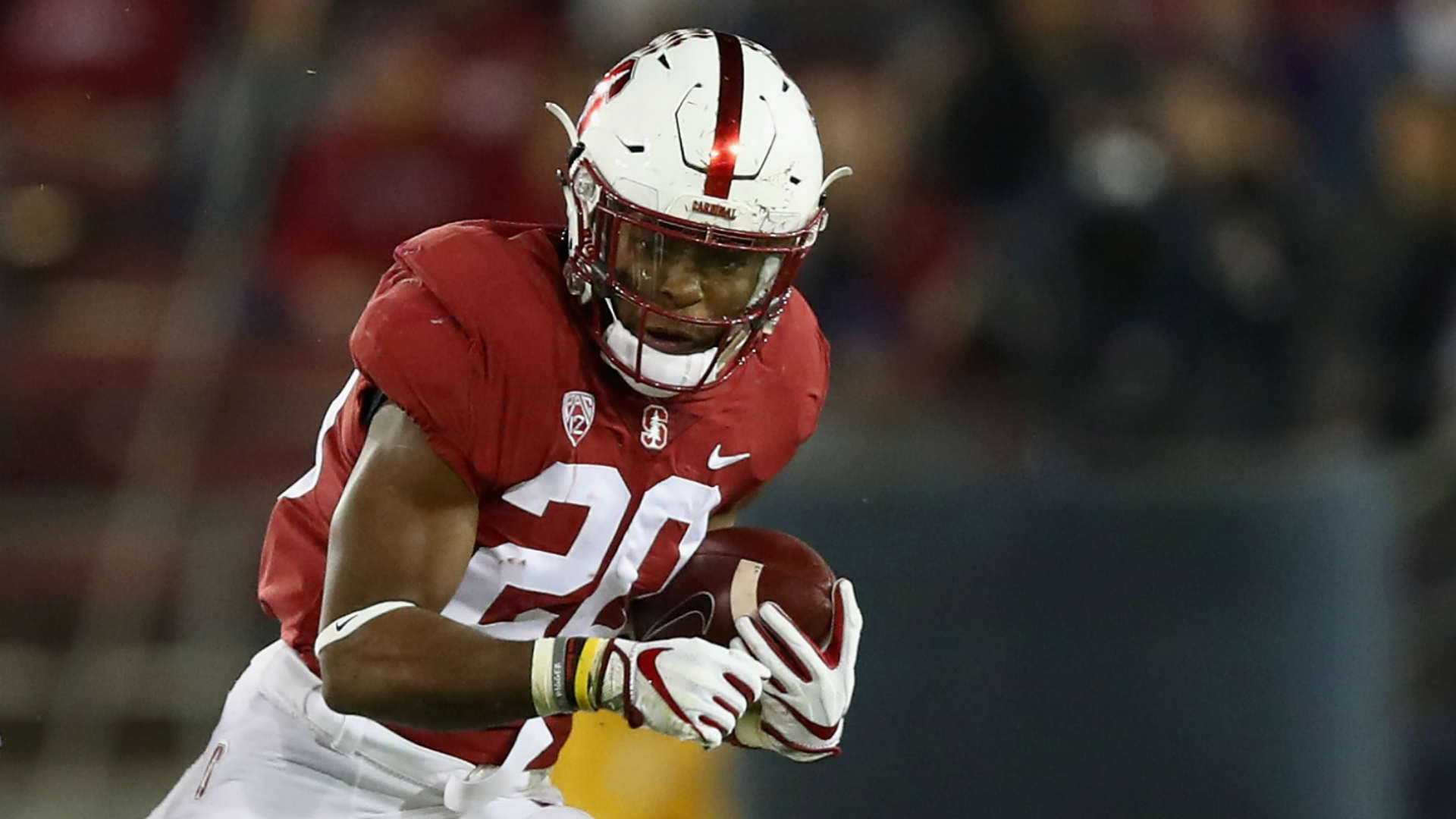 The second half of Love's season was really slowed by an ankle injury - he even missed a game - but he played through it and still put up incredible numbers. Love will get almost all of the West Coast vote and deserves it, but we don't see him having enough support to overcome Baker Mayfield, the heavy favorite.
College Football Fans - Download Chat Sports on Android today for breaking college football news, rumors, scores and more - Chat Sports Android App!
1) Baker Mayfield, QB, Oklahoma Sooners
Season stats: 71.0 completion percentage, 4,340 pass yards, 41 TDs, 5 INTs, 85 carries, 310 rush yards, 5 TDs
It will be arguably the biggest Heisman upset ever if someone other than Baker Mayfield wins. He has incredible stats while leading the nation's most explosive offense, and he's the only candidate who led his team to the College Football Playoff. Mayfield has been the heavy favorite for the past month and could win the award by one of the largest margins ever.
Check out our NCAA page for all the latest college football news or download the Chat Sports App!
Back to the NCAA Newsfeed
Related Topics: Lamar Jackson, NCAA Football, 2017 Heisman Trophy, Heisman Trophy, Bryce Love, Saquon Barkley, Baker Mayfield, Jonathan Taylor