After the craziest opening weekend ever, the NCAA Tournament is down to the Sweet 16. The South Region is in a state of chaos after all of the top four seeds have already been eliminated for the first time ever, and neither of the top two seeds in the West made the Sweet 16, either. 
How's the left side of your bracket looking? Probably not great. But, that's what makes this tournament so great. UMBC and Loyola's Sister Jean have taken over the headlines, but the second weekend is when the real Cinderellas get weeded out as real contenders emerge.
With the games still a few days away, it's time to take a step back and re-evaluate where these teams stand - since, obviously, their original seeding doesn't mean much anymore. If you're betting on college basketball this weekend, don't be surprised if one of the lower ranked teams finds a way to continue pulling off upsets, but here are our power rankings for the Sweet 16:
Catch up on nightly college basketball scores in the best sports app available - the Chat Sports App!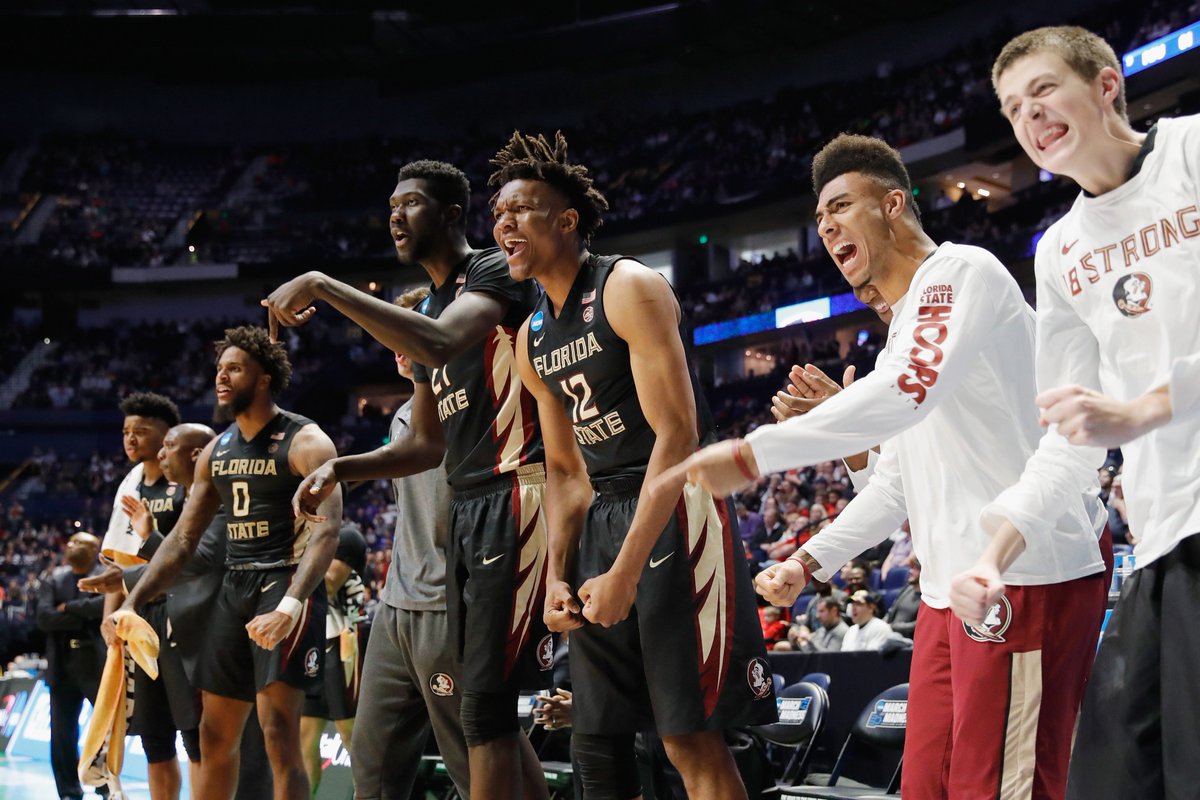 Florida State is one of the most puzzling teams in the tournament this year. They were 4-6 in their last 10 games heading into the Big Dance and don't have any one thing they do particularly well. However, they've managed to go on two runs (first half vs. Missouri, second half vs. Xavier) that have kept their season going. The Seminoles have size (11th biggest team in the country), grit, and toughness, but that's not enough to have them higher on this list.
15) Nevada Wolf Pack
Like Florida State, Nevada has kept their season going thanks to two miraculous runs, coming back from 14 points down to beat Texas and 22 points (with 11 minutes to play!) down to shock Cincinnati. They're an excellent three-point shooting team and led the nation in turnover rate this season, both things that have allowed them to rally back in these games.
Want to know one of the more stunning stats of the tournament? Nevada has only led for just over four minutes yet are still playing. Eventually, they won't be so lucky.
14) Gonzaga Bulldogs
Gonzaga had sizable leads over both UNC-Greensboro and Ohio State before seeing those leads vanish. Big shots from freshman Zach Norvell Jr. have ultimately bailed the Bulldogs out but the underlying problems with this team - inconsistent guard play and a lack of athleticism - have been the reason why the Zags have given up those leads. I'll be shocked if this group makes the Final Four.
K-State certainly benefitted from going up against UMBC in the second round, but don't let that distract you from how well their defense has been playing. The Wildcats held a very good Creighton team to 59 points before allowing just 43 to the Retrievers. In total, they've held five of their last eight opponents under 70 points, including three of them under 60 and two under 50. The only question is if they'll be able to find enough offense, especially without a healthy Dean Wade.
RELATED: UMBC: What It Stands For, The Upset Over #1 Virginia, & Its NCAA Tournament Legacy
12) Syracuse Orange
Cuse gonna Cuse, right? Syracuse is an extremely limited offensive team - Tyus Battle, Frank Howard, and Oshae Brissett are their only reliable scorers - but have successfully mucked up each of their three games thanks to their zone. They're playing ugly, keeping games close, and relying on Battle to hit big shots late. It's a recipe that allowed them to upset TCU and Michigan State, but eventually, they'll need their offense to improve.
Loyola has been one of the best stories of the NCAA Tournament, winning both of their games on last-second shots while the country falls in love with Sister Jean. However, looking under the surface with this team, there's substance behind this run. They were among the most efficient teams in the country on both offense and defense during the season and have only lost one game since Jan. 3.
Miami and Tennessee were both quality teams they went blow-for-blow with. Expect them to do the same with Nevada in the Sweet 16 - and potentially beyond.
10) Clemson Tigers
This is the Clemson team that went 14-1 to start the season - not the one that went 9-8 after. The Tigers have benefitted from a favorable draw (Auburn is a complete mess right now) but are playing their best basketball of the season thanks to their quality guard play, unselfishness, and superb defense.
The job head coach Brad Brownell has done with this team, who lost their best player in Donte Grantham earlier this season, can not be overstated. Point guard Gabe DeVoe is the guy to watch for them moving forward.
A last-minute three from Dakota Mathias pushed Purdue into the Sweet 16 despite them not having starting center Isaac Haas, though that injury certainly limits this team's ceiling. The Boilermakers now have to rely on their guards, and while Carsen Edwards and Vincent Edwards are very good players, they're not capable of carrying this group on a long run without Haas.
Haas is trying to play through a fractured elbow (if the school can get the NCAA to approve a brace), but even if he sees the court, you have to think he won't be anywhere near as effective. I think Purdue has hit their peak.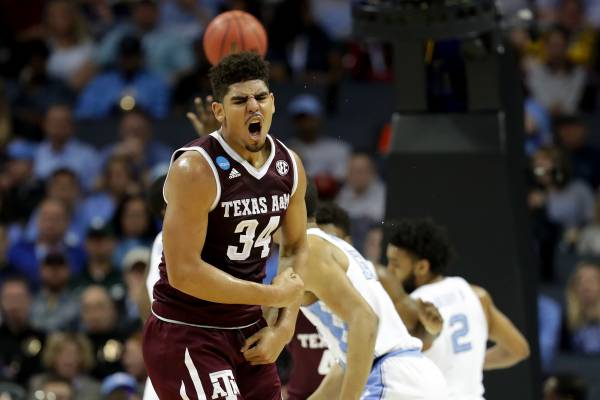 Much like Clemson, Texas A&M has suddenly started playing like the team that rose to No. 5 in the country in December as opposed to the team that went 9-10 in SEC play. Tyler Davis and Robert Williams are back to playing like two of the better big men in the country and freshman point guard T.J. Starks has finally given the Aggies some reliable play at the position.
This team can still be inconsistent offensively and are limited defensively by having two bigs on the floor, but they certainly have the talent to make it to the Final Four.
Dominant wins over Murray State and Marshall have done nothing to cause us to question what we already know about this West Virginia team. They're really, really good defensively, Jevon Carter is one of the best players in the country, and Sagaba Konate is a beast.
However, WVU also hasn't had the chance to answer the biggest question about them - their half-court offense - as both Murray State and Marshall are poor defensive teams. Whether or not they have the ability to overcome it will be determined against Villanova. To this point int he season, they haven't proven they have the ability to do so.
Michigan doesn't look like the dominant team that cruised to the Big Ten Tournament title but have found a way into the Sweet 16 thanks to a miracle from Jordan Poole. The Wolverines have uncharacteristically struggled offensively to this point in the tournament, but I don't have any reason to believe that will continue. Plus, their defense has continued to be phenomenal. I'm still very high on this group and their Final Four potential.
RELATED: Top 5 Upsets In NCAA Tournament History
Texas Tech was a top 10 team in the country with a healthy Keenan Evans this season, and now that he's back to playing at a high level, the Red Raiders are a very tough team to beat. They're the best defensive team left in the tournament now that Virginia and Cincinnati are out, but unlike those teams, Evans and Zhaire Smith spearhead an underrated offense. Tech is also one of the most athletic teams in the tournament, which should give them a major advantage over Purdue.
The Jayhawks are not a dominant force without a healthy Udoka Azubuike in the middle, but the combination of Devonte' Graham, Malik Newman, Svi Mykhailiuk, and Lagerald Vick have been good enough to carry Kansas, However, their ability to make the Final Four or win a national title is dependent on having Azubuike be a major contributor.
Head coach John Calipari had every right to complain about Kentucky's tough path to the Final Four when the bracket was released. After all, it looked like they'd have to go through Arizona and Virginia to get to the Elite Eight. 
Now, it's very clear that the Wildcats have the easiest path - but they're also playing as well as anyone.
Shai Gilgeous-Alexander has emerged as a lottery pick and a calming, reliable presence at point guard while Kentucky has used their length and athleticism to run people off the three-point line. As usual, they've been lethal in transition, yet are still struggling to shoot from deep. That lack of shooting continues to be UK's one potential Achilles' heel, but everything else is clicking right now.
This Duke team is looking like the Duke team from the first two months of the season when they were the unquestioned No. 1 team in the country. Grayson Allen is playing efficiency, Trevon Duval is playing his best basketball of the season, and Marvin Bagley and Wendell Carter are absolutely dominating inside. 
Duke's defense continues to be stifling and, with more talent than any team in the country, are playing up to their full potential. A Final Four run - and potentially further - seems to be in line for this group.
This shouldn't be a surprise. When healthy, Villanova has been the best team in the country all season long and they've done nothing to dispell that notion by blowing out Radford and Alabama. A number of guys are capable of carrying them, and we saw that against the Crimson Tide when Donte DiVincenzo led the charge in the first half before Mikal Bridges got hot in the second half.
Their upcoming game against West Virginia looks like the best game of the Sweet 16, but the Wildcats have shown all season long that they should be able to handle that test. I still have them as the favorites because of their experience, guard play, three-point shooting, and a multitude of weapons.
NEXT READ: Preview & Prediction For Every Sweet 16 Game
Back to the NCAA Newsfeed
Related Topics: NCAA Basketball, March Madness, 2018 NCAA Tournament