The college football season is already approaching the halfway point following five weeks of action, and as such, we know there are a number of coaches who will be coaching for their jobs over the next couple of months. Many of these guys started the season on the hot seat and haven't done anything to take themselves off, while others find their way here after some disappointing losses this season. Here are five Power 5 conference coaches that are already on the hot seat:
7) Todd Graham, Arizona State Sun Devils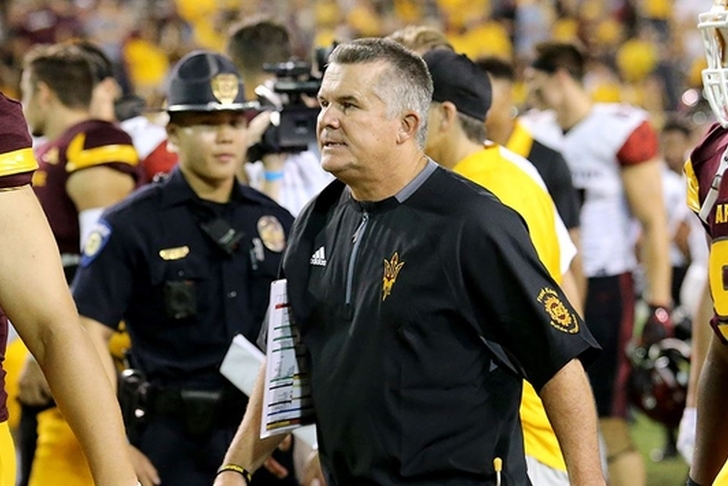 Graham had the Sun Devils playing at a high level just a few short years ago, posting back-to-back 10-win seasons in 2013 and 2014. That success was shortlived, however, as they're just 13-17 over the last two and a half seasons. A 2-3 start to the season suggests the going in the wrong direction. Graham will need to make a bowl game to save his job - but even that may not be enough.
6) Rich Rodriguez, Arizona Wildcats
Arizona has been on a steady decline since making the Pac-12 Championship Game and Fiesta Bowl in 2014, going just 12-17 over the last two and a half seasons - including a measly 4-15 in conference play. That includes a 2-2 mark so far this season with a tough schedule on deck - they'll face UCLA, Washington State and USC in three of their next five games.
This drop-off has put head coach Rodriguez firmly on the hot seat. If the Wildcats are unable to turn things around, Rich Rod will be gone.
5) Bret Bielema, Arkansas Razorbacks
The Razorbacks have had a losing record in the four-plus years under head coach Bret Bielema and are just 2-2 on the season. Given the lack of progress the program has made under Bielema, there are some calls for Bielema to be replaced. The SEC West is having a down year - Bielema needs to capitalize and pick up some big wins 
4) Mike Riley, Nebraska Cornhuskers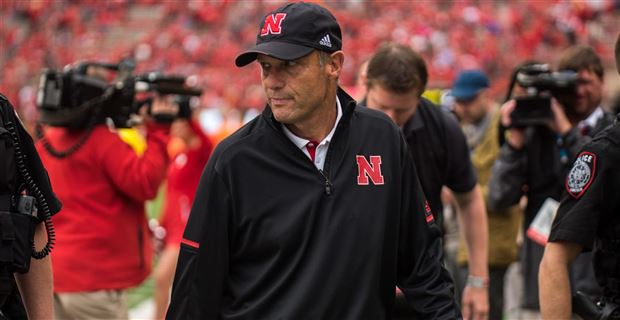 This is where the hot seats start to get really, really warm. Nebraska fired their athletics director for a "lack of on-field success," which means Riley will likely meet a similar fate if the Huskers continue to struggle. A 2-2 mark on the year - including a home loss to Northern Illinois - is bringing up memories of Riley being on the hot seat in 2015 when he won just five games. Take away the 7-0 start to 2016 (in which all wins came against much lesser competition), and Nebraska is just 9-13 under Riley.
This a bit of a rebuilding year but fans in Lincoln demand success. Another losing season and Riley could be gone.
3) Kevin Sumlin, Texas A&M Aggies
If you ask Texas A&M fans, they'll tell you that Sumlin should be No. 1 on this list. The Aggies need to compete in the SEC West for him to keep his job. Yes, the loss the UCLA was extremely disappointing, but they've won every game since. And, with the division struggling this year, Sumlin needs to record wins over LSU and Mississippi State while avoiding a loss to a lesser opponent. That happens and he may be out of a job later that night.
College Football Fans - Download Chat Sports on iPhone today for breaking college football news, rumors, scores and more - Chat Sports iPhone App!
2) Jim Mora, UCLA Bruins
Mora was supposed to UCLA back in the national title mix and it looked like he was going to lead them there. However, UCLA is trending in the wrong direction - 10 wins dropping to eight to four over the last two years. With a star quarterback in Josh Rosen, Mora has the talent to win big. He'll be gone if the Bruins don't reach eight or nine wins this year - and a 3-2 mark is certainly putting that in doubt.
1) Butch Jones, Tennessee Volunteers
Time is running out on Butch Jones. Following Tennessee's humiliating 41-0 home loss to Georgia, it's looking like the Vols could be making a change sooner rather than later. 
Jones improved his record each of his first three years in Knoxville before sticking at nine wins last season. They fell short of their SEC East goals in 2015 and 2016, and their disappointing start this season certainly signals that Jones is not the guy who can get this program over that hump moving forward.
It's at the point now where it doesn't feel like Jones can endure another disappointing loss. The Vols have a bye before starting a tough string of games against South Carolina, Alabama and Kentucky.
Follow our NCAA page for all the latest college football news!
Back to the NCAA Newsfeed
Related Topics: 2017 College Football, College Football Hot Seat, NCAA Football