Landing a head coaching job at the college football level is not easy and neither is keeping it. Part of the college football coaching circle of life is the coaching carousel at the end of the year. Coaches are fired and hired every season and that won't change in 2017. So which college football coaches are on the hot seat entering this season? 
We're only focusing on notable Power 5 coaches for this list, which means we won't discuss which MAC coaches could get the boot this year. While any coach could be fired if he has an 0-12 year on the field or runs into major problems off it, this is reserved for coaches with seats already a little warm. With that in mind, here are eight big name college football coaches on the hot seat for 2017. 
Hugh Freeze, Ole Miss Rebels
Freeze is probably the safest of anyone on this list and his place doesn't have too much to do with the on-the-field play. Sure, Ole Miss didn't make a bowl game last year, but they are just one year removed from winning 10 games. No, Freeze's spot here is because of the recruiting issues and the NCAA investigation. If the NCAA rules harshly and/or Ole Miss struggles again, Freeze could find himself in trouble. 
Butch Jones, Tennessee Volunteers
The Vols faithful are getting tired of "next year." Butch Jones improved his record each of his first three years, before sticking at nine wins last year. The Vols were supposed to win the SEC East, but faltered down the stretch after a solid start. Another year of "close, but not quiet" could cause new Tennessee AD John Currie to make a change. With less talent than last year's team, it's time for Jones to prove he's more than just a great recruiter. 
Brian Kelly, Notre Dame Fighting Irish
The 2017 season was a drastic departure from Kelly's previous years at Notre Dame. After winning at least eight games in each of his previous six years, the Irish won just four games. Notre Dame brought back Kelly for another year, but if Notre Dame fails to make a bowl game, or just struggles in general again, he could be fired. Heck, there's even been buzz Kelly has wanted to leave Notre Dame anyway.
Kliff Kingsbury, Texas Tech Red Raiders
The former favorite son of Texas Tech isn't quite as popular as he once was. He won just five games last year and might need a bowl game to save his job. Texas Tech's terrible defense isn't doing him any favors either. 
Gus Malzahn, Auburn Tigers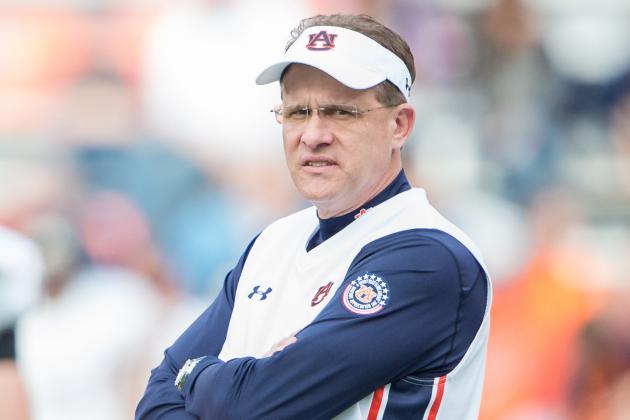 If Jarrett Stidham plays like he can (and we think he will), Malzahn won't have to worry too much about his job. But right now, his seat is a little warm. He's failed to top eight wins in the last three years and his offensive coordinator took less money for the same job at UConn. Yeah, that's not a positive sign. If Auburn has another down year (by its standards), Malzahn could be canned. 
Jim Mora, UCLA Bruins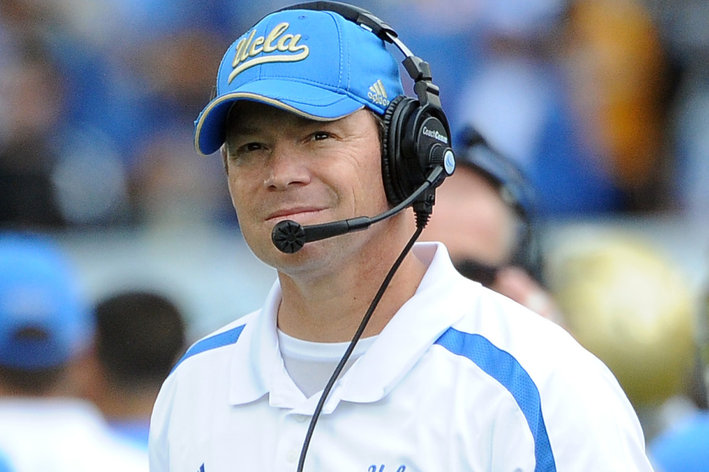 Mora was supposed to UCLA back in the National title mix. But the last two years have seen UCLA head in the wrong direction (10 wins to 8 and to 4). If Josh Rosen stays healthy and lives up to the Chosen Rosen moniker, Mora will be fine and UCLA will be really good. If not, Mora could find himself looking for a new job. 
Rich Rodriguez, Arizona Wildcats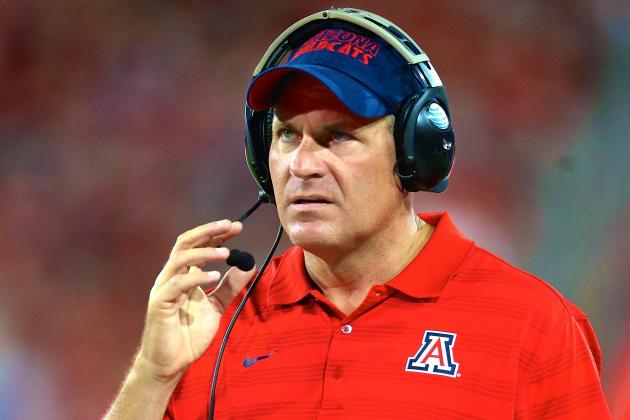 Much like More, Rodriguez has trended in the wrong direction. Arizona won 10 games in 2014, before falling to 7 and then 3. That's even worse and Rodriguez's massive buyout saved him from being fired last year. He might not be so lucky if Arizona doesn't get it going this year. 
Kevin Sumlin, Texas A&M Aggies
Sumlin has been on the hot seat, with varying temperature, for some time. Sumlin posted a surprising 11-2 mark in his first year at A&M, but the Aggies regressed since. Sumlin has posted nine wins and then three straight years of eight wins, but hasn't had a signature win since beating Alabama in that first year. Sumlin has not fared well against Top 25 teams, hasn't won the SEC and his teams have struggled badly in the second half of seasons. With more questions at QB, a poor season and/or losses in the games that matter could result in Sumlin's firing. 
Back to the NCAA Newsfeed
Related Topics: 2017 College Football, Brian Kelly, College Football Coaching Rumors, Butch Jones, Kevin Sumlin, Hugh Freeze, Jim Mora, Kliff Kingsbury, College Football Coaching Hot Seat, Rich Rodriguez, Gus Malzahn