Offense may rule this era of college football, but the best programs in the country know that having a good defense is what differentiates good teams from great teams. It's still early in the season, but which defenses have been the best in the country so far?
This list is changed a bit from last week's based on the outcome of Saturday's games and performances around the country. Through the first four weeks of the season, here are our top six defenses:
This week's inclusion for stats-based dominance, Minnesota leads the country in points allowed and are fifth in yards allowed. The only other team that ranks in the top five in both categories is Clemson - and they top our list for the third consecutive week. Look for them to flex their defensive muscle again on Saturday against a Maryland team that's down to their third-string quarterback.
VT's defense limited a high-powered West Virginia offense in the opener and have been even better since, posting shutouts in two of their last three games. They'll get their next big test Saturday against Clemson. Bud Foster will have this group ready to go.
Auburn's 51-14 win over Missouri was as dominant as expected and one of Mizzou's touchdowns came in garbage time. Despite the offense's struggles against Clemson, the Tigers have been one of the best defenses all year long - remember, they only gave up 14 points to Clemson's high-powered attack. Their numbers reflect that, ranking fourth in yards allowed (236 per game) and seventh in points allowed (11.3 per game).
College Football Fans - Download Chat Sports on iPhone today for breaking college football news, rumors, scores and more - Chat Sports iPhone App!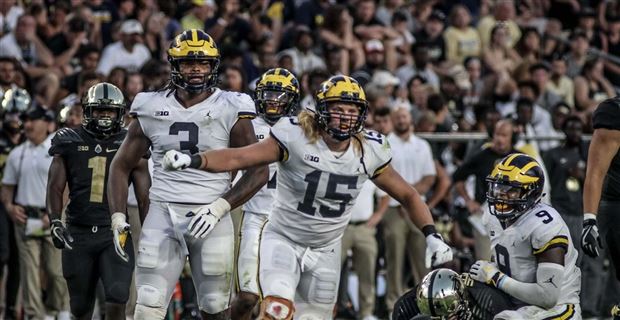 Michigan's defense continues to dominate and gave up just 189 total yards in a 28-10 win over Purdue - including just one yard in the entire second half. These top three teams are all full of elite talent and the Wolverines are putting up some impressive numbers, allowing the fewest yards per game (203) of anyone in the country.
We knew Alabama had the talent to be No. 1 on this list, but a lack of focus against Fresno State and Colorado State didn't show their dominance. All it took was some trash talk from Vanderbilt to wake them up. Their 59-0 win was one of the most impressive performances of the season, giving up just 78 yards to a team that had knocked off a ranked team the week before. 
Boston College provided Clemson's defense with a bit of a break following high-level contests against Auburn and Louisville and they showed their dominance once again, allowing just 238 total yards and one touchdown. They rank third in the country in both yards allowed and points allowed per game.
Follow our NCAA page for all the latest college football news & rumors!
Back to the NCAA Newsfeed
Related Topics: Michigan Wolverines Football, NCAA Football, Minnesota Golden Gophers Football, Auburn Tigers Football, Alabama Crimson Tide Football, Virginia Tech Hokies Football, Clemson Tigers Football