To test the difficulty of a college football schedule, you have to look at two major things -- non-conference showdowns and in-conference road games. Taking both of those factors into account, here is our list of the 5 Hardest ACC Football Schedules For 2015:
5) Wake Forest Demon Deacons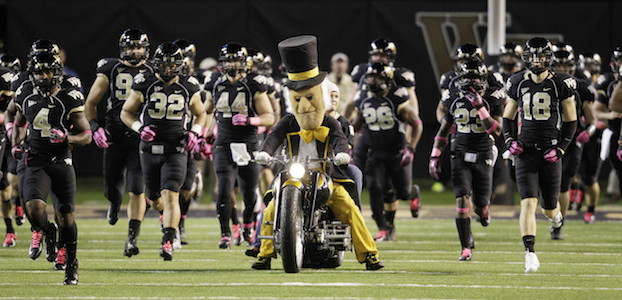 Non-Conference Slate: Elon, at Army, Indiana, at Notre Dame
Tricky ACC Road Games: Clemson
Wake Forest is not going to be a good team in 2015, but their schedule certainly hasn't made things any easier for them. Road games against Notre Dame and Clemson are just blowouts waiting to happen, as is a home contest against Florda State. Wake also faces a trio in-state rivals (NC State, at UNC, Duke), all of which are more talented and will be extra motivated to beat them.
4) Clemson Tigers
Non-Conference Slate: Wofford, Appalachian State, Notre Dame, at South Carolina
Tricky ACC Road Games: Miami
Clemson's non-conference schedule is absolutely brutal with contests against Notre Dame and South Carolina, but ACC play shouldn't be too harsh on the Tigers as they get almost all of their big games at home - including Florida State.
3) Miami Hurricanes Non-Conference Slate: Bethune-Cookman, at Florida Atlantic, Nebraska, at Cincinnati
Tricky ACC Road Games: Florida State, Duke
Miami's non-conference matchup against Nebraska will be a big test, but that's at home. They will also host most of their main Coastal rivals, with the exception of Duke, though the Blue Devils don't have a big home field advantage. Still, playing Florida State in Tallahassee is the toughest game an ACC team can play.
2) Virginia Cavaliers
Non-Conference Slate: at UCLA, Notre Dame, William & Mary, Boise State
Tricky ACC Road Games: Pitt, Miami, Louisville
Virginia desperately needs to make a bowl game to save head coach Mike London's job, but their schedule is working against them. UCLA, Notre Dame, and Boise State is a murders row of non-conference games, then road contests against Pitt, Miami, and Louisville - all of whom are capable of winning the Coastal - are sure to give UVA a rough time.
1) Georgia Tech Yellow Jackets Non-Conference Slate: Alcorn State, Tulane, at Notre Dame, Georgia
Tricky ACC Road Games: Duke, Clemson, Miami
The Yellow Jackets have to face their two biggest Coastal rivals on the road, and also welcome both Florida State and Clemson to town. Having to face both Atlantic powers is tough enough, but non-conference games against Notre Dame and Georgia make this schedule the toughest in the ACC.
Back to the NCAA Newsfeed
Related Topics: ACC Football, ACC