College football's opening weekend is just one day away, giving Heisman favorites their first chance to make a positive impression on voters Plenty of players are true threats, but we've narrowed it down to the Top 10. Here are our preseason Heisman Trophy Top Ten Power Rankings: 
10. QB Greg Ward Jr., Houston Cougars
The leader of the best Group of Five team in the country, Greg Ward Jr. is one of the best dual threats in the country. The QB-turned-WR-turned-QB is underrated by many. He passed for 2,828 yards and 17 touchdowns in 2015, but was even more impressive on the ground, racking up 1,108 rushing yards and 21 touchdown. Houston's offense is designed around his running ability, and he'll post more video game numbers in 2016. 
9. QB Chad Kelly, Mississippi Rebels
I nearly went with Seth Russell for this spot and if Baylor wasn't still reeling from the sexual assault scandal, he'd likely be in the Top 10. Russell could still make a run at the trophy, but instead we're going with the best QB, by a wide margin, in the SEC. Kelly has high expectations this year and he'll carry the Ole Miss offense. If Kelly can get the Rebels to the SEC title game, he might just win.  
8. RB Royce Freeman, Oregon Ducks
Freeman isn't often mentioned when people discuss the best running backs in the country, but he should be. At 5-foot-11 and 230 pounds, Freeman used his elite combination of speed and strength to rack up 1,836 yards and 17 touchdowns as a sophomore last year. If Oregon has more success this season on the field, expect Freeman to get more recognition. 
7. RB Nick Chubb, Georgia Bulldogs
Before a knee injury ended his season, Chubb was in the mix with Leonard Fournette and Derrick Henry as the best back in the SEC last season. Chubb has racked up 2,294 yards and 21 TDs on just 311 carries (7.4 YPC) in his collegiate career and tied Herschel Walker's record for most consecutive games with 100 or more rushing yards in school history. If he comes back healthy and plays the way he has in the past, this might be too low for him. 
6. QB J.T. Barrett, Ohio State Buckeyes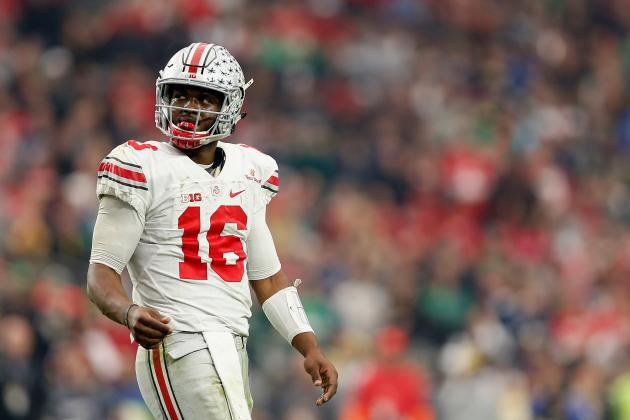 Barrett took a secondary role for the Buckeyes last year. He was the backup to Cardale Jones to start the year and let Ezekiel Elliott carry the offense. Not this year. Both players are gone and it's Barrett's time to run the offense. He'll be expected to do more running and throwing last year and the dual-threat has the ability to do so. If he can guide OSU into the College Football Playoff conversation, he'll be near the top of the Heisman race.
5. QB Baker Mayfield, Oklahoma Sooners
Mayfield didn't get an invite to New York last year, but he put up the numbers and results needed. He led Oklahoma to the CFP after an upset loss to rival Texas, turning into a folk hero for the Sooners in the process. Doing damage with both his arms and legs, Mayfield is another dual-threat QB on this list. He could be hurt by the presence of gifted RBs Samaje Perine and Joe Mixon. 
4. RB Dalvin Cook, Florida State Seminoles
Cook carried Florida State's offense all season, and should do so again this year. He finished with 1,691 yards and 19 touchdowns on 7.4 yards per carry last year. He put up those impressive numbers despite battling injuries. If Cook can stay healthy and FSU keeps winning, he could crack the Top 3. 
3. RB Christian McCaffrey, Stanford Cardinal
He should have won last year. McCaffrey obliterated Barry Sanders' all-purpose yardage record in 2015, racking up 3,864. No player in the nation does more in all three facets of the game (offense, defense and special teams) than McCaffrey. He'll face a tougher challenge this year, as Stanford is dealing with some serious attrition on the offensive line. Still, McCaffrey is part of the clear-cut Top 3 Heisman threats, with little separating them. 
2. RB Leonard Fournette, LSU Tigers With 2015 Heisman winner Derrick Henry playing on Sundays, Fournette is the SEC's premier back. He rushed for 150 yards or more in eight of LSU's 11 games this year, breaking LSU's single-season rushing mark in the process. Fournette had one bad game against Alabama that tanked his Heisman hopes last year and he'll need to avoid that in 2016. 
1. QB Deshaun Watson, Clemson Tigers
Watson led Clemson to their first undefeated regular season since the program's 1981 title run, making opposing defense look silly both on the run and through the air. The Tigers wouldn't have challenged for an ACC title without him, let alone earning a berth in the national championship game. He's the most dynamic QB nation right now, and he'll hold that same designation in 2016. With the defense of the Tigers losing some key talent, Watson and the offense might need to be even better next year. 
Back to the NCAA Newsfeed
Related Topics: Oklahoma Sooners Football, Ohio State Buckeyes Football, Stanford Cardinal Football, Ole Mss Football, American Athletic Football, Big 12 Football, Big Ten Football, Chad Kelly, Christian McCaffrey, Deshaun Watson, Pac-12 Football, Houston Cougars Football, Royce Freeman, Oregon Ducks Football, Clemson Tigers Football, Greg Ward Jr., Nick Chubb, Dalvin Cook, Baker Mayfield, SEC Football, Georgia Bulldogs Football, LSU Tigers Football, NCAA Football, Leonard Fournette, ACC Football, Florida State Seminoles Football, J.T. Barrett