The first seven weeks of the college football season are complete and the contenders and pretenders are starting to emerge for the Heisman Trophy race. We've narrowed the list down to the Top 10 candidates, although the crop gets thin outside the top five or six. 
Players like Baker Mayfield, Leonard Fournette and DeShone Kizer have suffered multiple losses already this year, tanking their Heisman chances. Much can, and will, change during the next few weeks. But for now, this is really Lamar Jackson, Deshaun Watson and then everyone else.  
With that in mind, here are our Week 7 Heisman Trophy Top Ten Power Rankings: 
10. QB Skyler Howard, West Virginia Mountaineers
Don't look know, but West Virginia is undefeated and ranked No. 12 in the country - and Howard's production is the biggest reason why. He has 1,590 passing yards and eight touchdowns in just five games, while adding 195 yards and three more touchdowns on the ground. He's a big dark horse at this point, but if WVU keeps winning, his name will be mentioned more and more.
9. RB Dalvin Cook, Florida State Seminoles
Cook won't win the Heisman, but in a not-so-clear race outside the Top 4 or so, he deserves a mention. He's third in the NCAA in rushing with 900 yards. He's posted seven TDs, plus one in the passing game. He's already set a career mark with 356 receiving yards. If FSU upsets Clemson, perhaps Cook can get an invite to New York. 
8. Seth Russell, Baylor Bears
Baylor dropped out of the national eye because of the sexual assault scandal, but they are still undefeated and are now in the top 10. Sure, they haven't really played anyone, but Russell has still been impressive this year, completing 57.1 percent of his passes for 1,470 yards, 16 TDs and four INTs. He's also added 302 yards and five scores on the ground. If Baylor can actually push for a CFP spot, Russell has a shot. 
7. QB Trevor Knight, Texas A&M Aggies
The Aggies are an undefeated Top 10 team, and Knight has played a major role in that. He still has flaws as a passer, which is why he has completed only 53.5 percent of his passes with five INTs, but Knight also has nine TDs and 1,500 yards through the air. His real threat comes on the ground, as he's racked up 502 yards and nine TDs. If Knight and A&M beat Alabama this weekend, he'll make a big jump. If they lose, he'll likely slide out of the picture. 
6. QB Jake Browning, Washington Huskies
The Huskies' win over Stanford put the program and Browning in the national spotlight. Just a true sophomore, Browning is a talented QB. He's completing a blistering 72.2 percent of his passes for 1,1418 yards, 23 TDs and two INTs. He posted an absurd eight TDs against Oregon in his last outing (the Huskies are coming off a bye week). If Washington keeps winning, Browning should continue to rise. The future is bright in Washington and Browning is a major reason for that. 
5. ATH Jabrill Peppers, Michigan Wolverines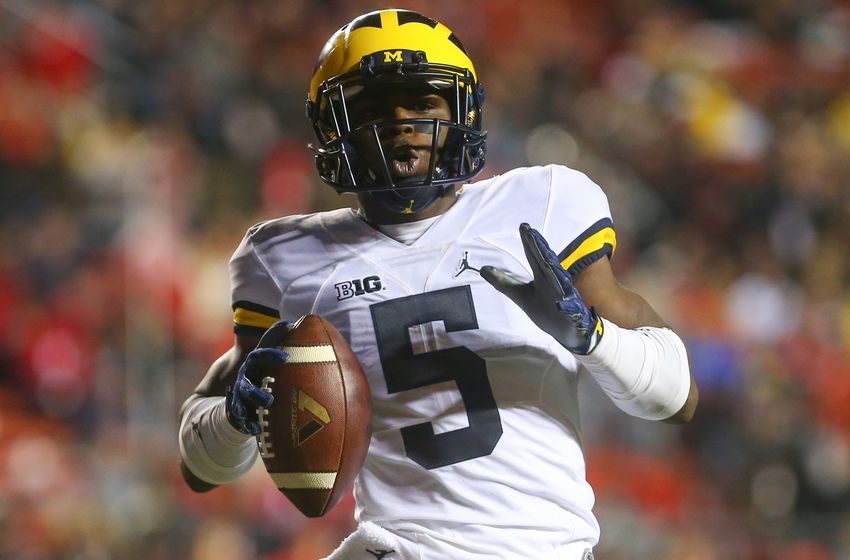 Peppers is one of the best athletes in college football. He's listed as a linebacker, but can play defensive back, return specialist and even offensive playmaker. He was impressive against Rutgers in his last outing (Michigan also had a bye week), posting two rushing touchdowns while playing Wildcat QB and had a great punt return called back. He was great against Colorado, recording 9 tackles, a sack, 3 tackles for loss, a punt return TD and 204 all-purpose yards. Jim Harbaugh has said Peppers should win the Heisman and while I love Peppers, it's tough to see him actually winning - but he should be invited to New York as a finalist.
4. QB Jalen Hurts, Alabama Crimson Tide
As we saw last year with Derrick Henry, the best player on the best team can end up with the Heisman. Perhaps a version of that will be true for Jalen Hurts as the signal-caller for this Alabama team. And for a true freshman, Hurts has looked great. He's completing 63.5 percent of his passes for 1,385 yards, nine touchdowns and two picks. However, what really sets him apart is his running ability, where he has 428 yards and eight touchdowns - including 132 rush yards and three touchdowns against Tennessee this past weekend. If Alabama keeps winning, Hurts will get a good chunk of the credit and maybe a few Heisman votes. Still, he's clearly behind the top group. 
3. QB J.T. Barrett, Ohio State Buckeyes
Barrett's Heisman case was on full display against Wisconsin. He's not going to blow you away numbers-wise, but he showed tremendous leadership in guiding the Buckeyes to a come-from-behind victory. Barrett put the team on his back, rushing for both of Ohio State's regular touchdowns before throwing the winning score in overtime. His overall numbers aren't overly impressive (1,207 pass yards, 16 TDs, four INTs along with 434 yards and six more scores on the ground), but as long as he keeps leading Ohio State to victories, he'll be a top contender.
T-1. QB Deshaun Watson, Clemson Tigers
Watson came into the year as one of the Heisman favorites, but struggled early. While he did make a big statement against Louisville, his (and Clemson's) performance against NC State on Saturday left much to be desired. Still, he's the only preseason favorite still in the race, his team is undefeated and firmly in the College Football Playoff picture, and he has good numbers - 1,950 passing yards, 20 touchdowns and eight interceptions while adding 279 yards and another touchdown on the ground. Watson has done enough to be one of the favorites, but we're still waiting for him to really separate himself.
T-1. QB Lamar Jackson, Louisville Cardinals
Yep, we're going with a tie. Jackson has the numbers, but Watson has the key win. Jackson is still putting up video game numbers and Clemson's defense only sort of limited him. With 1,806 passing yards, 832 rushing yards and 30 total TDs, Jackson is by no means done because of his loss. September Heisman favorites don't always hang around until November, and Jackson could slide as the season goes on if Louisville drops another game - but another big win (or eight-touchdown performance) would make him the unquestioned No. 1 again.
Back to the NCAA Newsfeed
Related Topics: Michigan Wolverines Football, Ohio State Buckeyes Football, Jabrill Peppers, Texas A&M Aggies Football, Pac-12 Football, Big 12 Football, Big Ten Football, Washington Huskies Football, Deshaun Watson, Louisville Cardinals Football, Jake Browning, Clemson Tigers Football, Lamar Jackson, Trevor Knight, Jalen Hurts, Dalvin Cook, Seth Russell, SEC Football, NCAA Football, ACC Football, Baylor Bears Football, Alabama Crimson Tide Football, West Virginia Mountaineers Football, Skyler Howard, Florida State Seminoles Football, J.T. Barrett