College football's opening weekend didn't disappoint, and several of the country's top players played major roles in the outcomes of some of the weekend's biggest games. On the flip side, a few of the preseason Heisman favorites did not have their best performances on display. Here are our Week 1 Heisman Trophy Top Ten Power Rankings: 
10) QB Shane Buechele, Texas Longhorns
DARK HORSE!! Buechele led Texas to their upset win over Notre Dame, throwing for 280 yards and three total touchdowns while giving the Longhorns' offense the spark they've been desperately lacking since Colt McCoy graduated. This true freshman still has a long way to go, but with the hype building around the No. 11 Longhorns, Buechele is in prime position to keep vaulting up the rankings with impressive play.
9) QB DeShone Kizer, Notre Dame Fighting Irish
Speaking of impressive play, Kizer clearly distanced himself from Malik Zaire as Notre Dame's starting quarterback. He accounted for six total touchdowns while leading the Irish back from a 17-point deficit on the road, and even though they lost, no player on the field was more impressive than Kizer.
8) RB Leonard Fournette, LSU Tigers
We all know that Fournette is one of the top two or three players in the country - that's not going to change. His performance against Wisconsin was fine, picking up 138 yards on 23 carries. However, he wasn't as dominant as we wanted him to be, failing to get into the end zone. A large part of that is because Wisconsin stacked the box against the run due to LSU's poor passing attack, something other teams will look to duplicate.
7) RB Dalvin Cook, Florida State Seminoles
QB Deondre Francois was the star of FSU's 22-point comeback win over Ole Miss, but Cook's abilities were on full display as well. He got close to 200 total yards in the game, and showed off some surprising receiving skills.
6) QB Lamar Jackson, Louisville Cardinals
How does eight touchdowns in a half sound to you? Jackson managed to do that, finding the end zone six times through the air and twice on the ground - pulling off several runs that would make Johnny Manziel proud. Given, it was against a subpar Charlotte squad, but the performance was still impressive. He'll need to continue to play well against Syracuse on Friday and Florida State in two weekends to move into the top 5.
5) QB Greg Ward Jr., Houston Cougars
Ward gets a big boost up the rankings thanks to Houston's huge win over Oklahoma. The Cougars are now No. 6 in the country, and Ward is a huge reason why. He threw for 321 yards and two touchdowns, but the real impact was shown in his leadership and ability to make plays in clutch situations - particularly on third down. He'll have plenty of chances to put up numbers in the AAC, which he'll need to do to stay in the thick of the Heisman race.
4) RB Nick Chubb, Georgia Bulldogs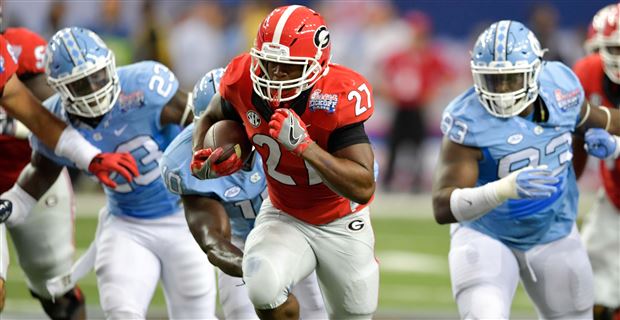 Chubb was very impressive against North Carolina, rushing for 222 yards and two touchdowns to lead Georgia to a close victory. Even more impressive was that this was Chubb's first game back since suffering a torn ACL last season. He'll only get better as the season goes on - giving him a great chance to make it to New York.
3) QB Deshaun Watson, Clemson Tigers
Watson came into the year as the Heisman favorite, and while there is still more than enough hype surrounding him, a less-than-stellar performance against Auburn certainly dampened that shine. He accounted for just one touchdown while throwing an interception, failing to do much against Auburn's defense. Still, we know he's the best quarterback prospect in the country.
2) RB Christian McCaffrey, Stanford Cardinal
The third of the preseason Heisman favorite trio, McCaffrey took care of business against Kansas State, accounting for 210 total yards - including 128 yards and two scores on the ground. Unfortunately for him, he has become a victim of his own success. There isn't as much buzz about his performance as there should be, largely due to the monster games he had last year.
1) QB J.T. Barrett, Ohio State Buckeyes
Barrett showed how good he is by winning Big Ten Offensive Player of the Year in 2014, and after a lackluster 2015 season, he seems to be back and better than ever. He set a Ohio State record with seven total touchdowns in the Buckeyes' 77-10 win over Bowling Green and was in total command of the offense. It was J.T. Barrett at his best, and when he's at his best, there are very few people who can match him.
Back to the NCAA Newsfeed
Related Topics: Stanford Cardinal Football, Notre Dame Fighting Irish Football, Shane Buechele, Heisman Trophy, Ohio State Buckeyes Football, Pac-12 Football, Heisman Power Rankings, American Athletic Football, Big 12 Football, Big Ten Football, Christian McCaffrey, Deshaun Watson, Louisville Cardinals Football, Houston Cougars Football, Texas Longhorns Football, Clemson Tigers Football, Greg Ward Jr., Nick Chubb, Lamar Jackson, Dalvin Cook, Deshone Kizer, SEC Football, Georgia Bulldogs Football, LSU Tigers Football, NCAA Football, Leonard Fournette, ACC Football, Florida State Seminoles Football, J.T. Barrett, Heisman Watch