Only 16 teams are left in the NCAA Tournament after numerous top teams fell over the weekend, but there's still plenty of top basketball on tap this Thursday and Friday. Here's what you can expect from all of the Sweet 16 games:
MIDWEST REGION
Thursday, March 26
7:15 p.m. ET
The Irish start four guards that can all shoot from long range and can space the floor, and Notre Dame is shooting over 50 percent from the floor (second in the country) as a result, including 39.2 percent from three. The good shooting has turned Notre Dame into the 12th highest scoring team in the country (78.8 points per game), and their offensive production hasn't been stopped all season.
Wichita State also has extremely good guards, headlined by juniors Ron Baker and Fred VanVleet. They're two extremely explosive players that put pressure on a defense from every angle, but what makes them special is their ability to take care of the ball. Wichita State only turns it over nine games per game as a team, and less than three of those come from the backcourt – a good number since those guys have the ball in their hands most of the time. 
Prediction: Notre Dame wins 78-72
This game will be extremely close throughout since both teams play the same perimeter-oriented style. However, Notre Dame does it better and has proven they can do it against good competition.
Thursday, March 26
9:45 p.m. ET Kentucky has great balance and depth, but defense is this team's calling card. The Wildcats give up the second-fewest points per game in the country (52.7) and have held opponents to just 34.3 percent shooting from the field, the best mark in the nation. They're able to do that because of their outstanding size – only the Portland Trail Blazers have a bigger starting lineup in the NBA. Every player is athletic enough to guard any position (you'll often see center Willie Cauley-Stein shut down a point guard), allowing them to switch effortlessly on defense.
West Virginia is also good on the defensive end, playing perhaps the most aggressive press defense in the country that frustrates even their best opponents. They lead the country in steals per game, and the Mountaineers are excellent at quickly turning turnovers into points on the other end.
Prediction: Kentucky wins 68-57
Bob Huggins is 8-2 in his career against John Calipari and WVU beat a Kentucky team led by John Wall and DeMarcus Cousins in the 2010 Elite 8 by  playing this style, so the Mountaineers have confidence they can pull the upset. However, no one has been able to handle this Kentucky team for a full 40 minutes, and the Mountaineers don't have enough talent to become the first.
WEST REGION
Thursday, March 26
7:47 p.m. ET Wisconsin has been known as a defense-first team under head coach Bo Ryan, and while the Badgers are still very good on that end of the floor, their calling card is their offensive execution. They run their sets to perfection and take advantage of mismatches to get the best shot possible. Those smarts have led them to 48 percent shooting from the field as a team, good for 25th in the country.
UNC's strength is on the glass, where they rank second in the country in rebounding (42.2 per game), and they're particularly effective on the offensive boards. The Tar Heels rely on their 14.6 offensive rebounds per game to create extra shots, which are often high-percentage putbacks. Their rebounding prowess limit's the opposition's offense while creating more shots for themselves, and advantage they've used to be successful this year.
Prediction: Wisconsin wins 72-69
North Carolina has several talented big men that can give Wisconsin star center Frank Kaminsky problems along with the athleticism on the perimeter to slow down the Badgers' guards, but the Tar Heels don't have enough offensive firepower of their own to pull off this upset.
Thursday, March 26
10:17 p.m. ET
Arizona is one of the tallest and most athletic teams in the country, and they use that to their advantage on the defensive end. The Wildcats only allow 58.5 points per game and hold opponents to under 40 percent shooting from the field. They don't force many turnovers, but they use their length to force their opponents into tough shots.
Xavier relies on their efficient offense, utilizing the fluidity and rhythm they create by how well they move the ball. The Musketeers rank in the top 10 in the country in assists, averaging 16.4 per game, which makes their offense unpredictable and much harder to guard.
Prediction: Arizona wins 63-56
Arizona's defense has stifled everyone they've played so far this season - including offenses better than Xavier's. The Musketeers have been hot in the tournament, especially from three-point range, but Arizona's length will bother them and force them into a bad shooting night.
SOUTH REGION
Friday, March 27
7:15 p.m. ET The Bulldogs lead the nation in field goal percentage (52.4 percent) largely because of their offensive execution. Head coach Mark Few is one of the best coaches in the country, and his veteran squad has his offensive system down to a science. His system is designed to exploit mismatches and to get players in position where they can be most effective. They almost always get the shot they want and will pass up a good shot to get a great one, and that's carried them to the Sweet 16.
Many argued that UCLA shouldn't even be in the tournament, and even more argued that they shouldn't have won their Round of 64 game against SMU (they advanced because of a controversial goaltending call with just seconds left). Point guard Bryce Alford has been unstoppable from the outside (24 ppg in the tournament) and center Tony Parker has dominated the paint, giving the Bruins a lethal inside-outside combination.
Prediction: Gonzaga wins 87-78
Gonzaga's offense can be stopped by disciplined defense, but that's been UCLA's problem all year. The Bulldogs will simply be able to shoot their way to a victory in this one.
Friday, March 27
9:45 p.m. ET
Even with star freshman center Jahlil Okafor being the focal point on offense, Duke's calling card is still long-range shooting. Okafor's dominance in the paint has forces opposing defenses to collapse, creating more open shots for Duke's talented shooters. They make 38.9 percent of the three-pointers as a team, good for 37th in the country. Quinn Cook is the team's leading shooter from behind the arc (41.5 percent), but every perimeter player Duke puts on the floor is capable of going off from long range.
On the flip side, the Utes rank eighth in the country in points allowed per game (55.8) largely due to their size. Brandon Taylor is just 5'10″, but Delon Wright, Chris Reyes, and Jordan Loveridge are all relatively the same size, allowing them to switch effectively on the perimeter and bother shooters.
Prediction: Duke wins 77-67
This is a classic strength-vs-strength matchup, and should make for some good battles - and high-quality basketball - when Utah is defending Duke. However, the game will likely be decided by who gains the edge on the other side of the floor, and Duke's defense is much better than Utah's offense.
EAST REGION
Friday, March 27
7:37 p.m. ET
Louisville's patented pressure forces a lot of turnovers, as they rank 17th in the country in steals per game. Montrezl Harrell and Chris Onuaku also deter teams from attacking the rim, helping the Cardinals rank in the top 20 in the country in blocks (5.5 per game). Their perimeter pressure and shot blocking ability hold the opposition to just 59.5 points per game, giving them a chance to win every game they're in.
NC State isn't bad on the defensive end either, ranking among the top 20 teams in blocks per game, thanks in large part to the play of Beejay Anya. The 6'9″, 300-pounder has a 7'9″ wingspan, and comes off the bench to average 2.6 blocks per game.
Prediction: Louisville wins 69-64
NC State won the lone conference matchup between these two teams this year, and while they've had an amazing run to get to this point, Louisville's defense will be too much for them. The Cardinals have received a spark with the amazing play of shooting guard Terry Rozier, and he'll carry Louisville's offense to the finish line.
Friday, March 27
10:07 p.m. ET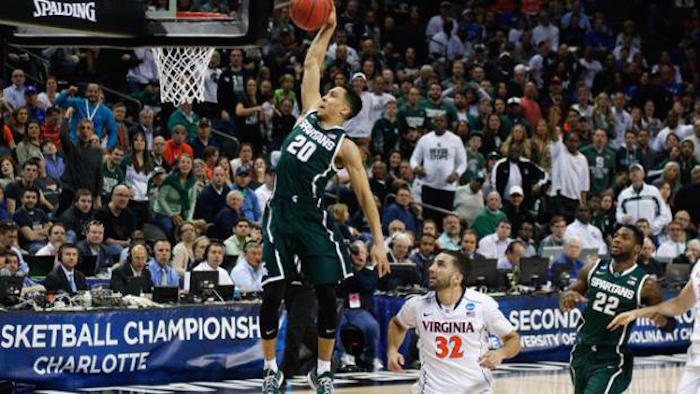 Oklahoma ranks 38th in the country averaging 37.6 rebounds per game, which is good, but they're an elite defensive rebounding team, grabbing 27 per game (10th in the nation). That means they're able to limit an opponent's offensive effectiveness by eliminating second chance points, while giving themselves more room for error at the opposite end of the floor.
The Spartans were able to upset Virginia and make the Sweet 16 because of their strong defense and unselfishness on offense. Michigan State ranks among the best teams in the country in assists (17.2 per game), and because the Spartans have weapons that can hurt you all over the court, it makes Michigan State's offense unpredictable.
Prediction: Michigan State wins 73-71
Michigan State head coach Tom Izzo is a master in March, and he has his team playing as well as anyone in the country. Oklahoma's streaky offense will allow the Spartans to go on several runs in this game, and they won't be able to overcome the deficit at the end.
RELATED ARTICLES
The 3 Best Sweet 16 Games To Watch This Week
Back to the NCAA Newsfeed