We're just days away from the NBA Trade Deadline on Feb. 18 at 3:00 pm ET, which means there's plenty of rumors to sift through as teams look to either bolster themselves for a playoff run or punt on a lost season. With that in mind, here are all the latest news and rumors from around the league:
Teams showing little interest in trading for Dwight Howard
The Houston Rockets have been actively shopping center Dwight Howard for the better part of two weeks as he plans to opt out of his contract to become a free agent this offseason, but they have had very little luck in finding a team that would be willing to meet their asking price. Via ESPN's Zach Lowe:
It's hard to find a team willing to meet Houston in the middle. No team is a Dwight Howard away from vaulting into Warriors/Spurs/Cavs/Thunder territory; the Rockets contacted Toronto, perhaps the closest thing to a one-player-away team, and found zippo interest, sources say. The Celtics, loaded with ammo, have recoiled at paying a price Houston would find acceptable.
Howard has been "extremely unhappy" in Houston this season as his usage has decreased drastically, but it doesn't seem like he'll be moved unless the Rockets significantly lower their asking price. Miami has been the team most involved in talks with the Rockets, but talks seem to have stalled between the two sides.
Cavs demanding stars in return for Kevin Love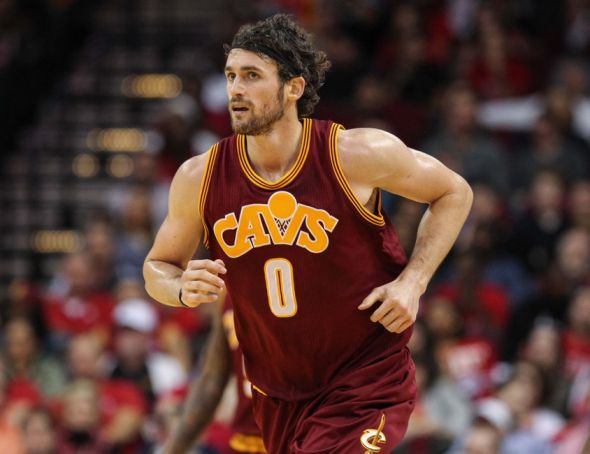 It's not a big surprise that the Cavaliers have been listening to offers for Kevin Love leading up to the deadline, but their asking price is likely too high to get a deal done with anyone.
Windhorst: The #Cavs have made it clear, for Kevin Love- teams need to bring a star studded offer.

— ESPN Cleveland (@ESPNCleveland) February 16, 2016
Boston has offered Cleveland a package deal of several young, talented rotation players coupled with several draft picks, but the Cavs turned down the offer, opting instead to shoot for getting a star player in return. Outside of that, other teams have only shown preliminary interest in acquiring Love.
Atlanta "not serious" about trading Jeff Teague, Al Horford
The Hawks were thought to be shopping All-Stars Jeff Teague and Al Horford ahead of the deadline, but there is absolutely no traction for either of them getting moved. The Vertical's Chris Mannix is reporting that Atlanta is listening to offers for them, though they're looking for a "Godfather-type" deal in return, indicating that Teague and Horford will stay with the Hawks.
Raptors not interested in Markieff Morris
Toronto hasn't made it a secret that they're looking to upgrade their power forward position prior to the deadline, and while they've previously expressed interest in acquiring Markieff Morris from the Phoenix Suns, The Vertical's Adrian Wojnarowski reports the Raptors have moved on.
One contender who is not interested in Phoenix's Markieff Morris: The Toronto Raptors.

— Adrian Wojnarowski (@WojVerticalNBA) February 16, 2016
Phoenix is looking for more than just a draft pick in return for Morris, and Toronto simply doesn't want to match that asking price. The Raptors will now turn their attention to Denver's Kenneth Faried, Milwaukee's Greg Monroe, and Chicago's Taj Gibson.
Back to the NBA Newsfeed
Related Topics: Raptors News, Hawks News, Markieff Morris, Jeff Teague, Al Horford, Suns News, Kevin Love, Dwight Howard, Cavs News, Rockets News, NBA News