We're just a few weeks away from the NBA Trade Deadline, which means there's plenty of rumors to sift through as teams look to either bolster themselves for a playoff run or punt on a lost season. With that in mind, here are all the latest news and rumors from around the league:
Bucks open to trading Greg Monroe
Greg Monroe was one of the biggest free agents available this summer, and the Milwaukee Bucks scored big when they signed him to a three-year, $50 million deal. However, Milwaukee is already looking to shop him after just half a season with the team, reports Gery Woelfel of the Racine Journal Times.
Clearly, the pieces to the Bucks' puzzle aren't fitting. Several league officials said they would be surprised if the Bucks didn't make a major trade.
"From what I'm hearing is they (the Bucks) are willing to trade anybody not named Parker, Antetokounmpo or Middleton,'' an NBA executive said. "I even heard they'd listen (to offers) for Parker and Middleton, but it would have to be some crazy offer. They want to do something; they know they have to do something. That group they have isn't working.''
Milwaukee is just 20-31 this year and are 6.5 games out of a playoff spot. Monroe is averaging 16.6 points and 9.7 rebounds per game so far this season.
Rockets won't deal Dwight Howard, eyeing Kevin Durant in free agency
The Houston Rockets have been open to trading center Dwight Howard, even having preliminary talks about a deal with the Boston Celtics on Wednesday. Howard was reportedly "extremely unhappy" with his role in Houston earlier this season and demanded a trade, but he seems to have reversed course. According to ESPN, Howard now wants to stay with the Rockets, who are no longer trying to trade him.
Sources told ESPN.com on Wednesday that the Rockets, despite recent speculation to the contrary, are not looking to trade Howard before the Feb. 18 deadline even though he has the right to become a free agent July 1 and could thus leave the team this summer without receiving anything in return.
The Rockets' grand plan, sources said this week, remains making an all-out pursuit in free agency this summer for Oklahoma City Thunder star Kevin Durant. Rockets officials have long believed privately that they will have as good a chance as any team to lure Durant away from the Thunder in the offseason because of his strong relationship with former teammate James Harden and the room Houston has to pay Durant max-contract money while also re-signing Howard.
Howard has a player option worth $23.3 million for next season.
Raptors interested in Suns duo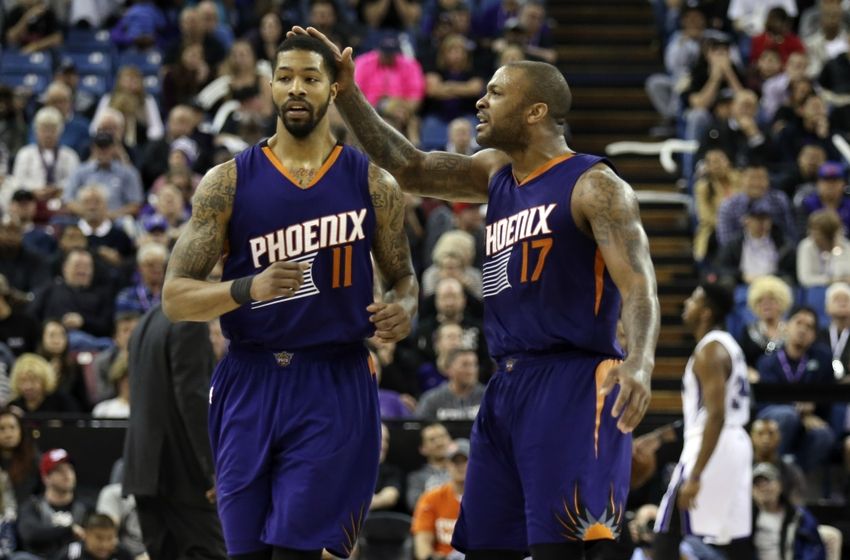 ESPN's Marc Stein is also reporting that the Toronto Raptors are looking to upgrade their frontcourt at the trade deadline. They reportedly have interest in Phoenix Suns forwards P.J. Tucker and Markieff Morris, and are a "virtual lock" to make at least one deal before the deadline.
Celtics to get rid of David Lee
The Boston Celtics acquired forward David Lee this offseason with the hope of him providing a contributing veteran presence to their young roster, but that hasn't been the case. He hasn't been able to find any time on the court, and Boston is prepared to move on at the deadline.
Some trade buzz: BOS intends to move David Lee by Feb. 18 deadline, or buy him out. Lee is out of rotation and wants a role somewhere.

— Howard Beck (@HowardBeck) February 3, 2016
Lee is averaging 7.1 points and 4.3 rebounds in 15.7 minutes per game so far this season.
Back to the NBA Newsfeed
Related Topics: Pistons News, Raptors News, Brandon Jennings, Celtics News, Markieff Morris, David Lee, Suns News, Bucks News, Greg Monroe, NBA News, P.J. Tucker