To all the haters out there who say the NBA regular season is no fun, Celtics-Warriors on Thursday night took the wind out of that argument. We've seen a lot of new pretenders, contenders, and a whole lot of chaos to start the NBA season, so let's take this relaxing Saturday and slow it down. Here are the 5 things we've learned so far this NBA season!
1. Kyrie Irving is evolving as both a basketball player and as a leader.

I don't want to get overly mushy, but the picture above of Kyrie Irving embracing 20 year old Jaylen Brown after dropping 22 points on the eve of his best friend's death really personifies what we've seen from Kyrie so far this year. His offensive output and efficiency are down, yet he's receiving MVP chants during road games. While that might just be traveling Celtics fans, that's how quickly Kyrie has taken over this franchise. His on and off court leadership has been the driving force behind the Celtics 14 game win streak and it doesn't hurt when you've statistically and theoretically been the best player in the NBA in 4th quarters this year. His offensive numbers should only improve and when they do, the Celtics will (somehow) get better.
2. Ben Simmons is legit.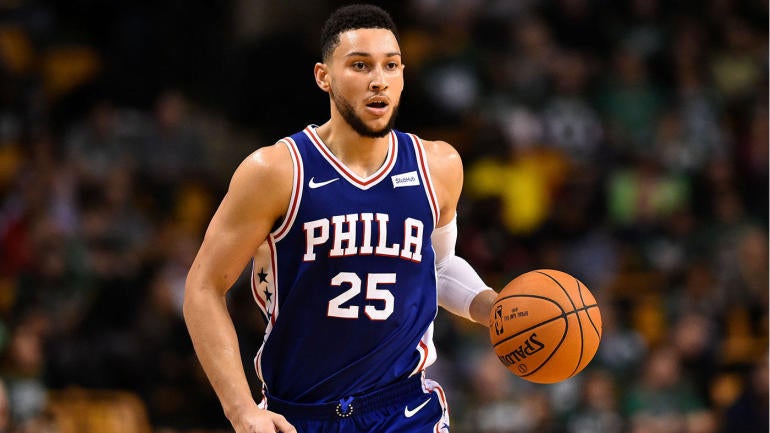 Can we all just take a second to collectively laugh at the people who thought Lonzo Ball was going to win Rookie of the Year over Simmons? 3...2...1...hahahahahahahahaha! Ben Simmons is currently averaging 17-8-9 on 50% shooting and a PER (player efficiency rating) of 20.80 basically without being able to shoot the ball, but who needs to shoot when you're 50% from the field. He's been everything we'd hoped and a little more and his combo with both Embiid and Robert Covington has made for some great games this year. The get the Celtics next week in what should be a very fun test for both sides.  Oh and one more thing about Embiid/Simmons. Embiid is the guy, there is 0 pressure on Simmons right now. How do we know? You know the pressure is off when you go 19-10-8 with 5 steals on national TV and no one talks about how good you were. Scary.

3. The Rockets experiment is working.


Oh my sweet goodness, Houston. 90 points in the first half against Phoenix, 142 points overall in Chris Paul's return to the lineup. But, let's not beat around the bush. I said in my last column, that James Harden is the NBA's next legend and he's made me look great since that column. This is his stat line. 48 points, 11 assists, 5 rebounds...A GAME. Those were his averages this week, he has literally been unstoppable. The overall success of the Rockets remains to be seen during playoff time, but goodness, James Harden has to be the MVP right now.
4. It's okay if only one of Kyle Kuzma or Lonzo Ball get good


Deep breaths, Laker fans. In through your nose, out through your mouth. Iiiiiiiiin.....oooooouuuuutttt. Lonzo Ball is not Jason Kidd. In fact, he's probably Rajon Rondo. The sweeping over reaction of Lonzo Ball's first few weeks in the NBA has been seriously fun to watch and until he proves me wrong, I will stick with my original prediction of him being a really good PG for a playoff roster. He'll never be "The guy" and he'll only be as good as the players around him, but that's just fine. If the Lakers are good and have quality shooters, he'll get them the ball and average 13 ppg while doing it. If he averages 13-10-6 a season on a playoff team, you should be pleased, that's a very good NBA player. Kyle Kuzma though? Maybe the 2nd most polished offensive rookie in the NBA right now behind Jayson Tatum. Sweet jumper, a distinct ability to get to the bucket, and some impressive handles for a guy who will have a great career as a stretch 4. A friend and I look at him as a more athletic Paul Millsap. He doesn't quite have his size yet, he will get bigger he's only 22, but the offensive prowess and nose for the ball is there. If he ends up being a star and Lonzo doesn't, that's okay. The 76ers drafted Embiid, Okafor, Simmons, and Fultz and it looks like they are going to hit on 50% of those picks. They'll be just fine and so will the Lakers.

5. Blake Griffin can only do so much.


I really, really, really want the Clippers to be good, but the Basketball Gods won't let them. "Let's make a really smart move and trade CP3 for an entire NBA bench and a starter." (Few months later) Everyone is injured, they can't score in the 4th quarter, and Blake Griffin is getting the crap kicked out of him every night. AAAARRRRGGGGGHHHH. 60% of their opening night starting lineup is injured which includes their best defender, best wing scorer, and their best facilitator, proving for the millionth year in a row that the Clippers are cursed. They are 5-9 currently after starting 5-2. Yea. I think at this point the Clippers should sacrifice Austin Rivers Mayan style to the Basketball gods in exchange for health. I don't know what else they could do.
Remember to check back this week for the first ever edition of the Chat Sports Super Star Power Rankings!
Back to the NBA Newsfeed
Related Topics: Celtics News, Clippers, Lakers, NBA