The NBA is currently in the middle of a massive crossroads. It has had a long standing tradition since the years of Michael Jordan of playing star first basketball, meaning that you can only go as far as your best player will take you. Whether it was Kobe's Lakers, Lebron's Cavs (first edition), Dwight Howard's Magic, LeBron's Heat, or the plethora of other teams that have been star first, it created a "me-first" atmosphere that took over basketball.
Well crafted teams did alright, but many of them just simply couldn't keep up to the legendary players. Proof of this is the entire Eastern Conference during the reign of the King. I could list countless promising basketball teams that got sucked into the greatest black hole the NBA has ever seen.
The only NBA franchise that consistently rebuffed this was the San Antonio Spurs, who have now become what they always hoped to destroy, a star first team with Kawhi Leonard at the helm. The Warriors destroyed that connotation. As we stand right now, regardless of whether or not the Warriors are a team of just too many stars, just watching them reminds you of the incredible brand of unselfish basketball they play. It's no coincidence that the rest of the NBA followed suit this summer with multiple NBA teams trying to create great TEAMS rather than just acquiring great PLAYERS. Sure, some teams acquired great players to make those great teams, but even after 10 games you can see which teams are working and which ones need some tinkering. So, without further ado, here are my 10 thoughts through the first 10 games.
1. The Cleveland Cavaliers should be fine, but it's been ugly.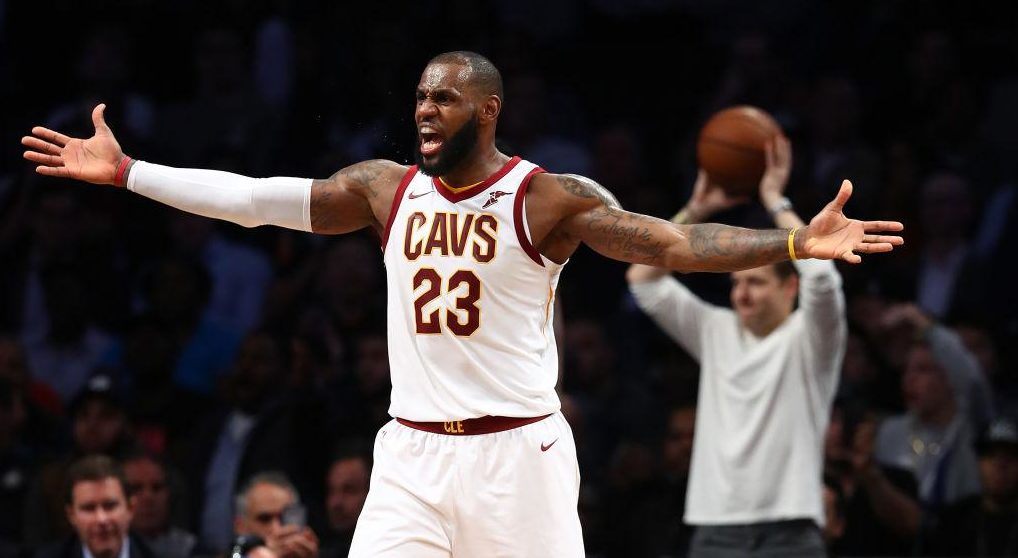 I understand the argument for the Cavs. LeBron James has dominated the Eastern Conference for over a decade and it runs through him blah blah blah instant Finals. But, I have one question for everyone. When was the last time a LeBron James led team has played this poorly to start a season? The Cavaliers currently sit at 4-6 coming off a loss to the Atlanta Hawks, widely regarded as far and away the worst team in the East. They have losses so far against the Nets, Pacers, Pelicans, Knicks, and Hawks and are giving up 113 points per game, good for 28th in the NBA. They probably should be 3-7 had LeBron not dropped 57 points against Washington, had he scored 48, they would've lost. They ranked 30th in half-court defense, 30th against spot up shooters, and 29th against ISO plays. They might just be the worst defensive team in basketball and I wonder where the improvement will come from. No one on the Cavs screams defensive specialist and I think we all saw last year that regardless of how incredible Isaiah Thomas might be on offense, he is the worst defensive player at his position and maybe in the entire NBA. I'm sure the Cavs will make the playoffs and win a few rounds, but the only team to start 4-6 and make the Finals was the 1980-1981 Houston Rockets. Tinkering is needed.
2. The Warriors are just as good as we thought they'd be.
Hey, remember how good the Warriors were last year? Casually the best offensive team in the history of the NBA, an incredible ability to move the ball, and an ability to back it up on the defensive side of the ball as well? Well, they are still that...and then some. Here are the list of offensive statistics where they have improved. Offensive efficiency, threes per game, assists per game, and effective field goal percentage. Their bench has been pretty subpar defensively, but for a team with this much offensive firepower, it might not matter. They are only going to solidify as a defensive unit, they currently rank 20th in defensive efficiency, but c'mon they have a true shooting percentage of 63.7%. Lord help the rest of the NBA.
3. The Boston Celtics experiment is working.
When the Celtics traded for Kyrie Irving this offseason, everyone said the same things. "He's not a leader, he can't lead a team on his own. He doesn't play defense. He's an inefficient player, he'll be nothing without LeBron, look at his record without him." Coming into the season, sure, those things were technically correct. 10 games with the Celtics later? Boston currently has the best record in the East, is sitting on an 8 game winnings streak and is the best defensive team in basketball, with Kyrie Irving leading the NBA in steals. I mentioned in the opening stanza that the NBA is in the middle of a new revolution and the Celtics are one of the epitomes of that idea of team basketball. Brad Stevens has masterfully taken all of his new toys and turned it into a defensively sturdy, and unselfish team. Combine that with the scoring prowess of first round pick Jayson Tatum and versatile wing Jaylen Brown, and you have the best team in the East as we stand here today. Last thing for the people who say Kyrie can't win without LeBron? Kyrie Irving has so far been the best player in the NBA in the 4th quarter in points scored, field goal percentage, and defensive efficiency. Look what happens when Kyrie Irving has a real basketball coach! UPDATE: Kyrie just dropped 35 on the Hawks including two 4th quarter buckets to end the game. 9 straight wins for the Celtics now.
4. James Harden is the NBA's next legend.
Ah, James Harden. This is what he did on Sunday night. 56 points and 13 assists on 19/25 shooting, 7/8 from 3 point range, leading the Rockets to an 8-3 record while their major offseason acquisition is out for who knows how long with a knee injury. I spent this whole column talking about how the NBA is in the middle of a massive shift towards team based basketball and here comes James Harden being incredible, averaging 29-9 to the tune of a 28.28 player efficiency rating(for those who don't know, this is incredible). At 28 years old, we are currently witnessing peak James Harden and it's been a joy to watch him play. Whether or not he'll ever have a career defining moment of taking down the Golden State Warriors in the Western Conference Finals remains to be seen, but as of right now, we are watching the next all-time great. If the season ended today, he's my MVP. Winning matters, sorry LeBron and Giannis lovers. We still have 72 games to go, so hold your horses.
NBA Fans - Download Chat Sports on iPhone today for breaking NBA news, rumors, scores and more - Chat Sports iPhone App!
5. Giannis is a freak of nature, but he isn't enough for the Bucks to be good.
First things first, I don't want to brag, but I will say this. I called this from Giannis. From the very first game I ever watched him play, I saw it and even said it on my old radio show that Giannis was going to be a freak. But, I have a question about Giannis. For as good as he is, and as the #1 player currently in PER (Player Efficiency Rating) he's been incredible, does it matter. Giannis is going to score a ton of points, he's going to dunk all over people, range a full NBA court in like 7 steps, but if that isn't enough for the Bucks to be above .500 then who really cares? Giannis has yet to win a playoff series or look remotely competitive in one. His individual stats are gaudy and boy oh boy, is he fun to watch, but outside of that? The Bucks aren't there yet.
6. Kyle Kuzma might be better than Lonzo Ball.

Okay, before I go through this, let me make one thing very clear. I think Lonzo Ball is going to be a very good basketball player. I think he's going to be somewhere in between Rajon Rondo and Jason Kidd, which equals a long and effective NBA career as a pass first point guard who can lead a team to the playoffs on a semi-regular basis. BUT. Kyle Kuzma might end up taking the spotlight away from him or maybe they will form an unreal 1-2 combo like a pseudo Stockton-Malone. Kuzma getting open looks everywhere due to Lonzo's eventual drive and kick efficiency. As of now? Lonzo just isn't capable of scoring in the NBA. His jumper isn't polished enough, he's struggling against man to man defense, and he's too tentative drive to the basket. The good news? He can fix all this. It's just that everything he is learning how to do, Kuzma already can. He's 2nd on the Lakers in points despite only starting twice in 10 games and has a PER of 18, also 2nd on the team. Once Kuzma starts when the Lakers trade Julius Randle (let's be real, it's inevitable), I only expect him to improve.
7. The Thunder will come around.
They'll come around. As of right now, it's pretty easy to see what's wrong with the Thunder. They are gelling. Russell Westbrook has a bunch of new toys that he has no clue how to utilize yet. He isn't even the leading scorer on his own team despite winning the MVP last year. His PER is much lower than it was at this point last year, but you can see the flashes. One thing to worry about long term potentially, last year the Thunder were one of the best teams when leading late in games. This year? They are 0-4 after blowing 4 leads with 3 minutes left in the game. They'll learn how to close, but hey at least Steven Adams is balling out. He currently has the highest PER on the team and has been one of the best centers in all of basketball.
8. The Dallas Mavericks might end up being one of the worst teams of all time.
Sigh, poor Dirk. This Mavs team is so, so bad. The only redeemable qualities are Nerlens Noel playing defense, Dennis Smith Jr. dunks, and Dirk throwing up leg-kick fadeaways. Besides that? Nothing. Harrison Barnes is okay. Wesley Matthews is going to get traded this season without a question. Dennis Smith Jr. might be the rawest NBA player since Giannis. On a game to game basis, he isn't very good yet at all, but his flashes show a powerful PG, capable on both ends of the court who can dunk the life out of a team. Will he be a good NBA player? Not sure, but put that man in a dunk contest!
9. The Pelicans are working...kind of.
If you would've told me that the Pelicans would have Anthony Davis and DeMarcus Cousins both in the top 6 in the NBA in scoring AND rebounding, we would've high fived because that's awesome and exactly what should be happening with this team. There is just one issue. The next best player is Jordan Crawford. Jrue Holiday has had a very slow start to the year and Rajon Rondo hasn't played a minute. Do you know how bad your team has to be if you have not 1, but 2 PLAYERS with a PER of over 26?! Both of them are MVP candidates right now, yet the team is 5-5. I didn't even think that was possible. DeMarcus Cousins is going to get traded to someone, I'm just not quite sure to who yet. The Cavs could be a fun option, still unsure if they have the assets to do so. Either way, the Pelicans need to get everything around these two towers figured out.
10. The NBA regular season is more fun than people think.
Look, I get it. The casual fan is going to look at this NBA season and just think it's going to be Cavs-Warriors again and I understand the argument. It's LeBron's league and everyone else is just in the way. I wonder if we are in the middle of a shift. Sure, the Warriors are going to the Finals and will probably win, but don't let that stop you from watching basketball. Off the top of my head I can name AT LEAST 10-15 fun basketball teams to watch this year. Boston, Washington, Philly, Milwaukee, Cleveland, Golden State, San Antonio, Houston, Minnesota, both LA teams, Denver, NOLA, and Portland I would all watch on television. I know fans don't usually watch regular season basketball, but if there was ever a year to, this might be it.
Back to the NBA Newsfeed
Related Topics: Celtics News, Cavs News, GS Warriors, NBA, Lebron James