The 2017 NBA Draft is now just days away, and there is more intrigue about this draft than there has been in a while. This class has plenty of star power at the top, and it might be the deepest group of prospects since the fabled 2003 class. 
The excitement got started late last week when the Philadelphia 76ers acquired the No. 1 pick in the draft from the Boston Celtics, marking the first time in 24 years that the top pick was traded. Philly made the move to take Washington's Markelle Fultz, but there are a lot of question marks outside of that.
These picks are based on intel I've gathered from sources, as well as various other rumblings from league circles. I have projected picks for both rounds for this version, so don't stop reading after the first round. And, of course, follow me on Twitter if you want to debate anything.
Without further ado, here is the final version our 2017 Mock NBA Draft:
*Note: Order & selections have been updated based on Lakers-Nets, Hawks-Hornets trades*
1) Philadelphia 76ers (via Boston Celtics from Brooklyn Nets) - Markelle Fultz, Fr., PG, Washington Huskies
6'5", 186 lbs. - 23.2 ppg, 5.9 apg, 5.7 rpg
There is no question about this one. Philly made the trade for Fultz, brought him in a for a workout and then finalized the deal. They view him as a future superstar and part of their future core with Ben Simmons and Joel Embiid. Philly plans to move Simmons to point guard this season, which is the position Fultz plays, but he doesn't have a problem with that. A member of Fultz's camp said that Fultz was excited about the idea of being the primary scoring option alongside a playmaker like Simmons. 
2) Los Angeles Lakers - Lonzo Ball, PG, Fr., UCLA Bruins
6'6", 190 lbs. - 14.6 ppg, 7.6 apg, 6.0 rpg
Forget everything else you've been hearing about the Lakers looking at other options. It's true that they're looking, and it's true that they really like Josh Jackson, and they have gone to great lengths to create the illusion that they aren't sold on Ball. But make no mistake about it - they are, in fact, sold on Ball. He will be their pick. His vision and up-tempo playing style make him a perfect fit in head coach Luke Walton's system.
3) Boston Celtics (via Philadelphia 76ers) - Jayson Tatum, Fr., SF, Duke Blue Devils
6'8", 205 lbs. - 16.8 ppg, 7.3 rpg, 2.1 apg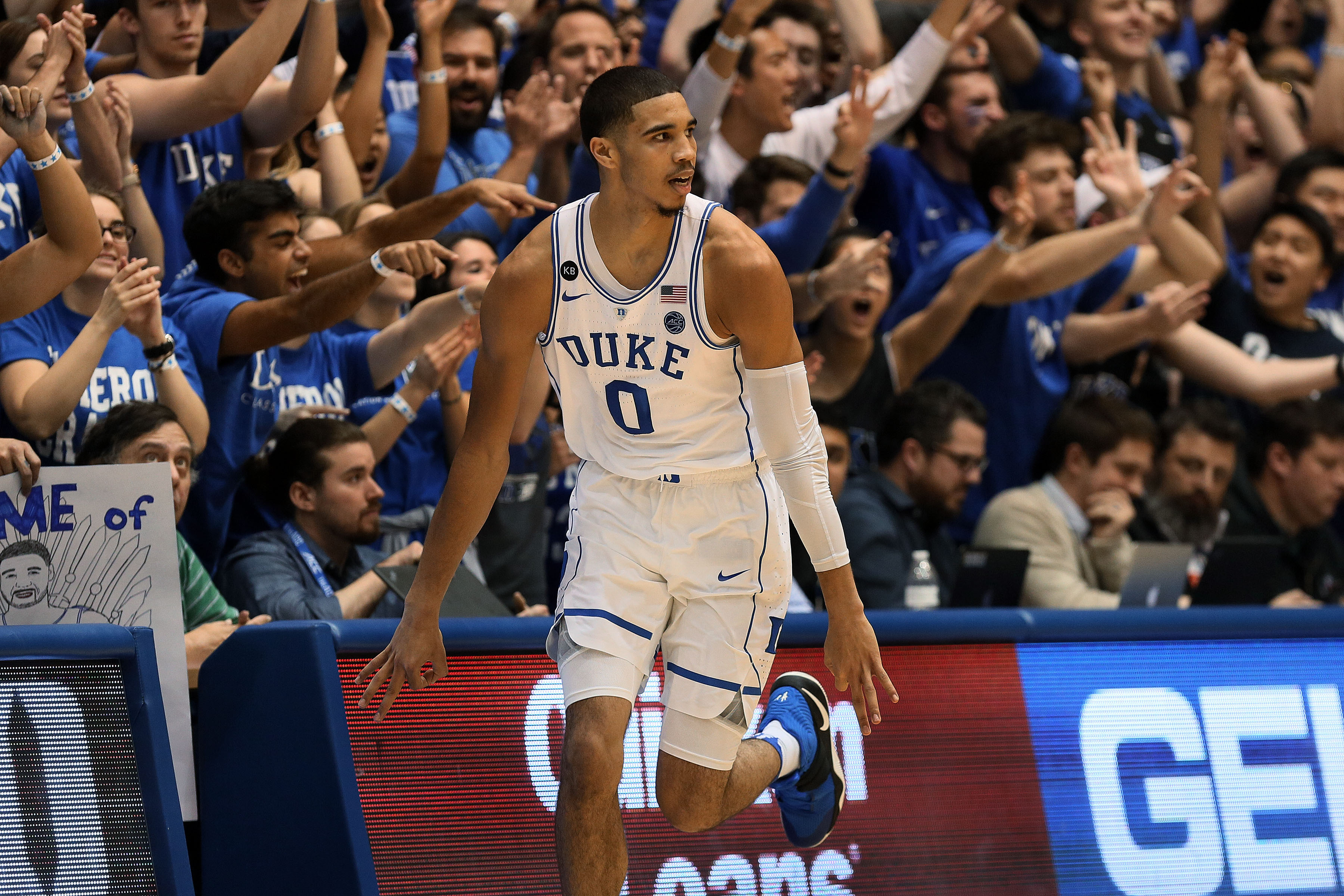 By moving down in the trade with the Sixers, Boston now plans to take Tatum. They like him over Jackson because members of the front office view Jackson as a similar prospect to Jaylen Brown, last year's No. 3 pick. They think Tatum will be the dynamic scoring option they need on the wing (he may be the most well-rounded scorer in this class), and is a better pair in the frontcourt with the more defensive-minded Brown.
4) Phoenix Suns - Josh Jackson, Fr., SF, Kansas Jayhawks
6'8", 207 lbs. - 16.3 ppg, 7.4 rpg, 3.0 apg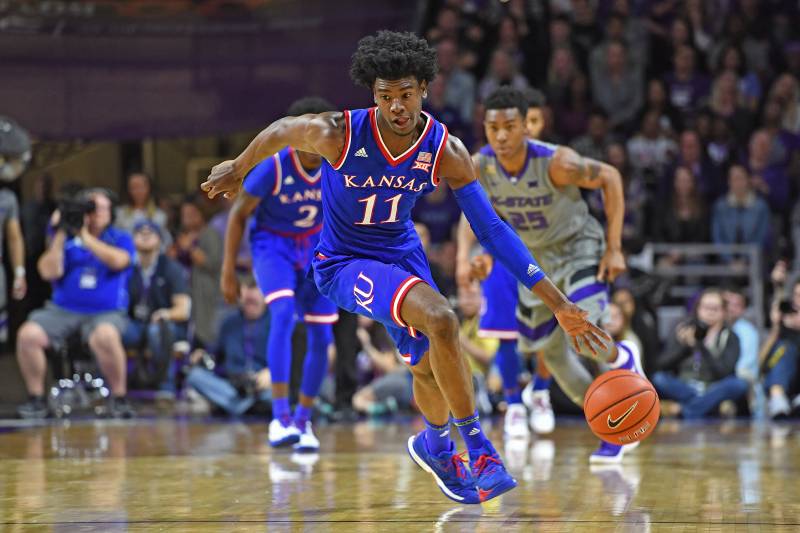 Phoenix needs an upgrade at small forward, so having Jackson fall to them would be ideal. He's as athletic as anyone, is great at attacking the rim and - most importantly - is an extremely smart player. The Suns do have concerns about Jackson's character, but he's too talented for them to pass on.
Want to work in sports? Check out Chat Sports jobs
5) Sacramento Kings - De'Aaron Fox, Fr., PG, Kentucky Wildcats
6'4", 171 lbs. - 16.7 ppg, 4.7 apg, 4.0 rpg
The Kings have talked about trading up to get Fox (and they're still thinking about doing so to get Jackson), so they'd be very happy to get him at No. 5. Fox has established himself as the No. 3 point guard prospect in this class. He has the size (6'4") and athleticism that NBA teams love, along with having the scoring ability to take over a game. Sacramento needs a point guard, and Fox wants to play there, making this a perfect fit.
WATCH: Chat Sports' Periscope NBA Mock Draft
6) Orlando Magic - Jonathan Isaac, SF/PF, Fr., Florida State Seminoles
6'11", 210 lbs. - 12.0 ppg, 7.8 rpg, 1.5 bpg
Are there better fits for the Magic at this spot? Absolutely. But, Orlando's new front-office tandem of Jeff Weltman and John Hammond showed just how much they love length in Milwaukee, and Isaac fits that bill to a tee. His length and athleticism make him a very capable defender on the perimeter, and with his shooting ability, Isaac can be a matchup nightmare at small forward or as a stretch four. Isaac is only working out for teams picking in the top four, but he won't go there. However, he may be doing that because he knows this is his floor. 
7) Minnesota Timberwolves - Malik Monk, SG, Fr., Kentucky Wildcats
6'3", 200 lbs. - 19.8 ppg, 2.5 rpg, 2.3 apg
Surprised? I am too putting him here. Minnesota has been linked to Lauri Markkanen throughout the draft process, but their interest in him is just a smokescreen. So, if Markkanen is off the table, who do they go with? Head coach and general Tom Thibodeau said they'll go with the best player available, regardless of position - even if that happens to be a point guard. Minnesota has used first-round picks on point guards each of the last two years.
"You're taking the best available player," Thibodeau said last month. "There's a lot of point guards. If it happens to be a point guard, it's a point guard. … It's just having the versatility and the ability. Obviously, we need the shooting and we need defense, but we're looking for good players."
Monk can play both on and off the ball (somewhat helping their point guard dilemma), and while he's not a defensive stopper, he is the best player left on the board and vastly helps improve their shooting.
8) New York Knicks - Frank Ntilikina, PG, Strasbourg (France)
6'5", 170 lbs. - 5.2 ppg, 2.2 rpg, 1.4 apg
If Ntilikina is available at No. 8, odds are the Knicks will take him. New York was "enamored" with Ntilikina early in the pre-draft process, and he has remained their favorite through workouts and interviews with other top prospects. Ntilikina's team, Strasbourg, is playing in the French League Finals, so he has not been able to work out for any teams. However, the Knicks have had a scout with him throughout Strasbourg's playoff run.
New York is reportedly taking calls about trading Kristaps Porzingis, and president Phil Jackson views Lauri Markkanen as a possible replacement. If they trade Porzingis, Markkanen will be the pick. However, I don't believe the Knicks will actually make the deal.
9) Dallas Mavericks - Dennis Smith Jr., Fr., PG, NC State Wolfpack
6'3", 195 lbs. - 18.1 ppg, 6.2 apg, 4.6 rpg
Dallas wants Ntilikina, and may trade with the Timberwolves to get up him. However, if they can't and he's off the board, they'll go with Smith. The Mavs are looking to upgrade their backcourt with this pick, and Smith gives them their best chance to land a star. This scoring ability also gives them a needed go-to guy whenever they get into the post-Dirk era.
Connect with Us:
Chat Sports on Facebook
Chat Sports on YouTube
Chat Sports on Periscope
Chat Sports on Starters
10) Sacramento Kings (via New Orleans Pelicans) - Lauri Markkanen, PF, Fr., Arizona Wildcats
7'0", 225 lbs. - 15.6 ppg, 7.2 rpg, 0.9 apg
Sacramento has plenty of bigs already with Willie Cauley-Stein, Skal Labissiere and Georgios Papagiannis, but Markkanen adds a stretch-four element to that group they don't have. He's better described as a seven-foot shooter more so than a stretch four, and the Kings have been looking for more perimeter shooting.
Connect With Chat Sports:
Chat Sports "Minds Behind the Game" on LinkedIn
Chat Sports on GitHub
Chat Sports on Pinterest
11) Charlotte Hornets - Luke Kennard, SG, So., Duke Blue Devils
6'6", 202 lbs. - 19.5 ppg, 5.1 rpg, 2.5 apg
Kennard's stock just keeps rising thanks to his offensive skill and the surprising athleticism he flashed in workouts, and Charlotte seems to be the one to take him. They need offensive help, especially on the wing off the bench, and Kennard fits that mold to a tee. He's incredibly polished on that end of the floor, and the Hornets can make up for his defensive limitations.
12) Detroit Pistons - Donovan Mitchell, SG, So., Louisville Cardinals
6'3", 211 lbs. - 15.6 ppg, 4.6 rpg, 2.1 spg
Adding Mitchell, with this offensive upside and potential to transition to point guard to replace Reggie Jackson, make him a real intriguing prospect for the Pistons.
Mitchell is the high-upside prospect who may not have a distinct position, but his 6-foot-10 wingspan has eased doubts about him being able to play shooting guard at the NBA level. He might be the best athlete in this class (which is saying something) and has developed a good jump shot, making an average of two three-pointers per game this past season. Mitchell is still scratching the surface of how good he can be and was already an elite defender in college basketball.
13) Denver Nuggets - Zach Collins, PF/C, Fr., Gonzaga Bulldogs
7'0", 232 lbs. - 10.0 ppg, 5.9 rpg, 1.8 bpg
Collins' draft stock really rose during the NCAA Tournament as he started to look like the McDonald's All-American he was, showcasing excellent footwork, shooting and shot-blocking ability. Denver doesn't have any real needs and can take the best player available. Collins could give them a potential long-term frontcourt pairing with Nikola Jokic.
14) Miami Heat - John Collins, PF, So., Wake Forest Demon Deacons
6'10", 225 lbs - 19.2 ppg, 9.2 rpg, 1.6 bpg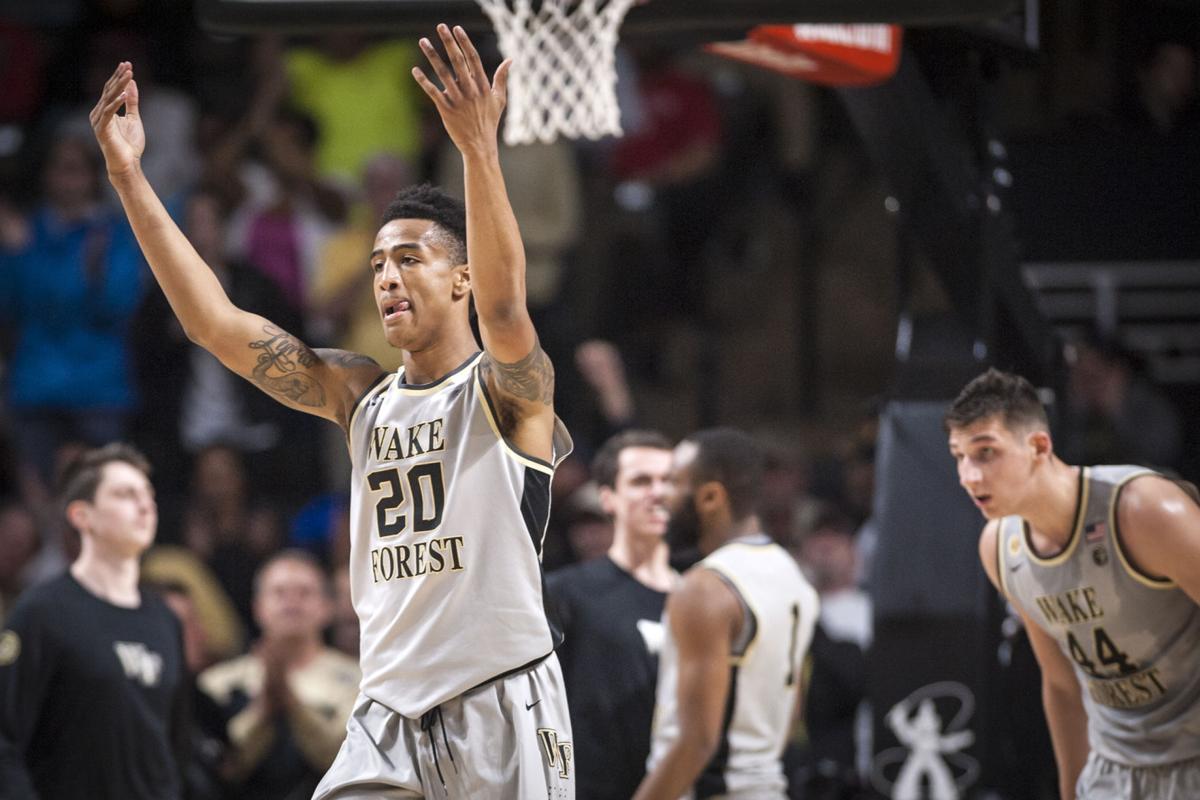 Collins wowed the Heat in his workout and makes a lot of sense as a possible replacement at the four position for Chris Bosh. He is a true post threat at the power forward position that has showcased more of a perimeter game in workouts than he did in college. Collins will be able to contribute immediately off the bench thanks to his offensive skill, and he has a good amount of upside.
Check out our NBA news page for more NBA Draft rumors or download the Chat Sports App!
Connect With Chat Sports:
​Chat Sports "Minds Behind the Game" on LinkedIn
Chat Sports on GitHub
Chat Sports on Pinterest
Back to the NBA Newsfeed
Related Topics: 2017 NBA Draft, 2017 Mock NBA Draft, 2017 NBA Draft Rumors, 2017 NBA Draft News