The NFL Draft is a fickle process. It's not always easy to separate first-round busts from late-round gems, but some teams have proven to be better at scouting and developing players than others. The Minnesota Vikings have done a solid job in recent seasons, but have missed on a few picks. With that in mind, here are the 5 Worst Picks By The Vikings Since 2005: 
5. QB Tarvaris Jackson, Alabama State
The Vikings, overall, have done a good job in the NFL Draft since 2005. It's why a late-second round pick makes this list. It wasn't the worst pick ever, but it wasn't a very good one. The Vikings dealt away two third round draft picks to move up and get Jackson with the No. 64 overall pick in the 2006 NFL Draft. It was a reach at the time, as Jackson was hoping for a third round selection. Jackson was supposed to be the team's future at QB, but that wasn't the case. He has carved out a niche as a backup QB.  
4. S Tyrell Johnson, Arkansas State
With no first round pick in the 2008 NFL Draft thanks to the Jared Allen trade, the Vikings weren't scheduled to pick until No. 48. But they decided to move up to No. 43 and taking Johnson, sending out a fourth rounder as well. Johnson spent four seasons with the Vikings and played four games with Lions in 2012. He hasn't played a regular season down since. For more Vikings news, download the Chat Sports Android and iPhone app. 
3. QB Christian Ponder, Florida State
The Vikings took Ponder No. 12 overall in the 2012 draft, but he didn't develop into a franchise QB. He lacked the arm strength and battled injuries. He signed with the Raiders after the 2014, but didn't make the 53-man roster. He briefly played with the Denver Broncos this year and could find a backup role next year. 
2. DE Erasmus James, Wisconsin
James is the first of two nominations from the 2005 draft, which was just awful. The Vikings took him with their second first round pick, No. 18 overall. He didn't even make it to the 2008 season, recording just five sacks. For more on the NFL Draft, download the Chat Sports Android and iPhone app. 
1. WR Troy Williamson, South Carolina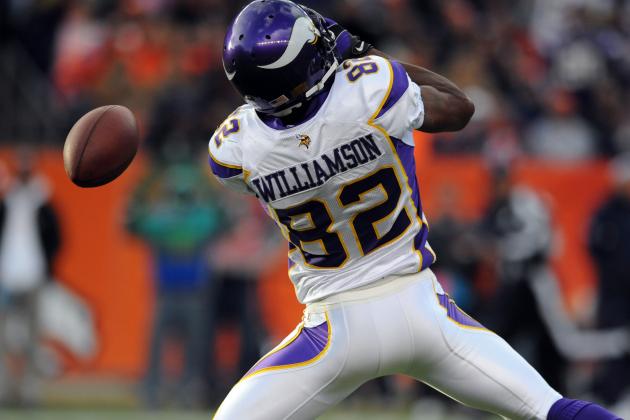 This one shouldn't be much of a surprise. The Vikings took the speedster to replace Randy Moss with the No. 7 overall pick in 2007. But drops ruined Williamson's career. In his three-year career with the Vikings, Williamson caught 79 passes for 1,064 yards and three scores. He spent a season with the Jaguars, but that was it for his NFL career. 
Back to the Minnesota Vikings Newsfeed
Related Topics: Erasmus James, Tarvaris Jackson, Vikings News, Troy Williamson, NFL Draft, Christian Ponder