Teddy Bridgewater is done for the season. He suffered a serious knee injury Tuesday, with the Vikings announcing later in the day that their young franchise QB is out for the year. With Bridgewater out, the Vikings' playoff chances have to take a hit as the QB position is now a major question mark. 
How the Vikings elect to handle the QB situation without Bridgewater is unclear. Shaun Hill, a 36-year-old with some starting experience, is the current backup and presumed starter. But, Hill and his 62 completion percentage and 16-18 record isn't the ideal starter. The problem for the Vikings is their other options are lacking. Joel Stave is the No. 3 QB, but he's not worth rostering, let along making the backup. Taylor Henicke was a 2015 UDFA with at least a bit of promise, but severed a tendon in his leg this offseason after trying to break into his own house. That leaves the Vikings hurting for at least a better option behind Hill, because if he gets hurt, the Vikings are in serious trouble. With that in mind, here are 5 QBs the Vikings could add to help replace Teddy Bridgewater.  
Johnny Manziel, FA
Nah, I'm kidding. This is a terrible idea. If anyone suggests Manziel, this should be the reaction from Mike Zimmers, the front office and every fan: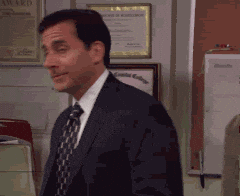 Side note: that's the same reaction Vikings fans when they heard about Bridgewater. Seriously, do NOT do this Minnesota. Ever. The same goes for Tim Tebow as well. 
5. T.J. Yates, FA
Leading the list with Yates is an indication of how poor the market is. A former 5th round pick, Yates has some starting experience. That includes two of the four games he played last year for the Texans. Yates threw for 3 TDs and only one pick, but completed less than 50 percent of his passes. Yates and his knee injury were just fully cleared, so he makes sense as an option. 
4. Mike Vick, FA
The free agent market for QBs is not pretty. Outside of Vick, the other top veteran options are guys like Matt Flynn. Vick wasn't that great for the Steelers last year, completing 60.6 percent of his passes for two TDs and a pick in three starts. But there aren't a lot of options and Vick has at least one more year left in him at age 36. Plus, he'd sell more jerseys than Flynn and if Hill goes down like Bridgewater did, the Vikings are going to be in trouble. 
3. Jimmy Clausen, FA
Clausen at least has some pedigree: he was a highly touted high school recruit who went to Notre Dame and was a second round pick. Of course, his 1-13 career record isn't ideal, but the Vikings have more talent than the teams Clausen has played for. He's not a guy the Vikings want starting, but he could cut it as a stop-gap if Hill gets hurt. He might be a decent enough fit in the Norv Turner offense. 
2. Josh McCown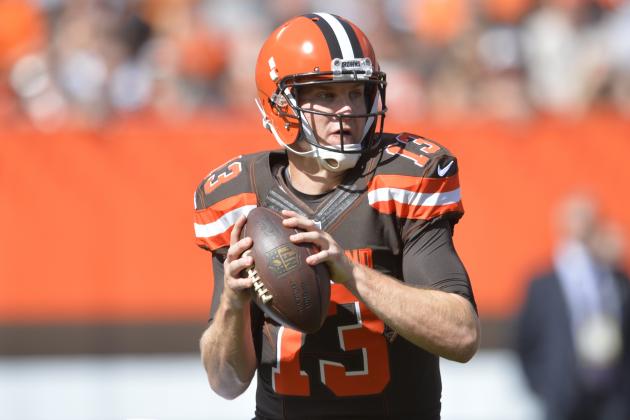 Here's a trade option for the Vikings, although any trade might be a bit unlikely. Unless the Vikings want the Jets' Geno Smith or Bryce Petty or someone like Colin Kaepernick, McCown looks like the best option. McCown isn't going to beat out Robert Griffin III in Cleveland, which makes him expendable. The Browns don't have a viable backup if they deal McCown, but since they aren't going to compete, they'd be better off getting something for him. A draft pick is what the Browns would want, but it's unclear just how high of a pick.  
1. Mark Sanchez, Broncos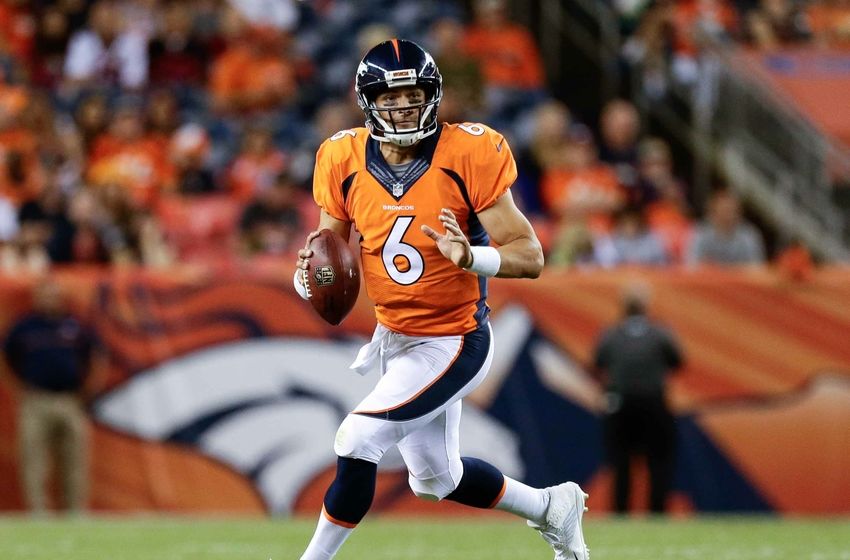 I know, I know. This isn't the guy Vikings fans want because of the butt-fumble. But Denver might end up cutting Sanchez since they'll start Trevor Siemian. Sanchez has looked better in the preseason, but the Broncos might not want to pay Sanchez his $4.5 million salary and give up a 7th rounder to the Eagles. The Vikings could trade for Sanchez or go out and sign him. He's not the perfect option, but of the potentially getable players, Sanchez is the best of a bad situation. A free agent pickup of Sanchez is more likely. 
Back to the Minnesota Vikings Newsfeed