The Minnesota Vikings will clinch a playoff spot with another win or a loss by the Atlanta Falcons to clinch a playoff spot, and they still have a chance to win the NFC North. However, the Vikings aren't content with making the postseason - they want to win the whole thing. Here are three reasons why the Vikings will win the Super Bowl:
3) Teddy Bridgewater's development
Bridgewater is far from being an elite quarterback, but he has repeatedly shown time and time again that he's capable of making game-changing plays. He's already thrown for nearly 3,000 yards with 16 total touchdowns and is peaking at the right time, passing for 556 yards, five touchdowns, and no interceptions over the past two games. Minnesota's offense will always rely on Adrian Peterson (more on him in a second), but Bridgewater's ability to keep a defense honest has been crucial to the Vikings' success this year.
2) Dominant defense There are impact players dotted all over this defense, and most of them are young with high ceilings they're just itching to turn into production. Anthony Barr is making the leap from dynamic pass rusher to a true leader as a three-down linebacker. Having Linval Joseph and Shariff Floyd in the middle of the defensive line and Brian Robison/Everson Griffin doing damage from the edges has only made Barr's job easier, and we haven't even talked about their elite secondary and safety Harrison Smith.
All-in-all, Minnesota has a top-five defense that is equally great against both the run and the pass. Defense wins championships, and the Vikings have one of the best.
1) Adrian Peterson's greatness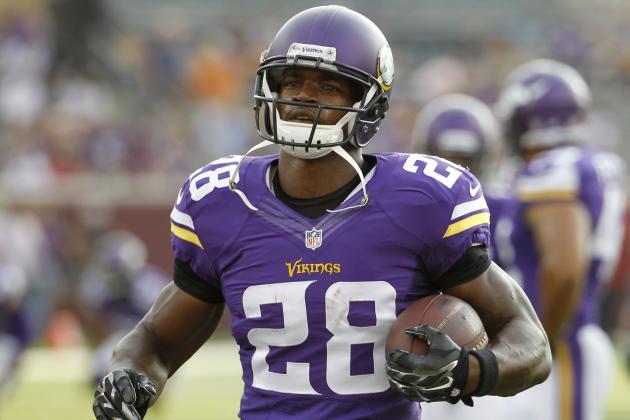 Peterson's return to the field has done wonders to open up this offense, and his production has been everything Minnesota could have asked for. He leads the league in rushing with 1,314 yards, averaging 4.6 yards per carry. Peterson didn't miss a step despite missing last season, and he has shown he can carry Minnesota through the postseason in the past.
Back to the Minnesota Vikings Newsfeed
Related Topics: Adrian Peterson, Anthony Barr, NFL News, Vikings News, Harrison Smith, Teddy Bridgewater