The Raiders rumors continue to swirl around who the Oakland Raiders will target in the first round of the 2018 NFL Draft. With pick #10 will Oakland go cornerback and select Iowa's Joshua Jackson or Ohio State's Denzel Ward? Maybe the Raiders focus on the defensive line and goes with Washington's Vita Vea. Or perhaps they go with linebacker and pick between either Georgia's Roquan Smith and Virginia Tech's Tremaine Edmunds. Here are three players the Raiders will likely select with pick #10 in the first round of the 2018 NFL Draft:
Subscribe: Raiders Report by Chat Sports on YouTube
1.) Roquan Smith, LB,  Georgia Bulldogs


Roquan Smith is an elite college LB who has the ability to stop the run and cover TEs out of the backfield at a high level right out of the NFL draft. He has the best sideline-to-sideline speed of any LB to come out this year and brings an on-field leadership ability with it. He's athletic, hard-hitting, patient, and a perfect fit for any defense looking to get faster and more physical. Roquan Smith had an incredible junior season, becoming the first Georgia Bulldog to ever win the Butkus award for best LB in college football. He racked up 85 solo tackles and 6.5 sacks along with being named the SEC Defensive Player of the Year by the Associated Press. He was the only defensive player in the country to receive Heisman Trophy votes this year and even received 3 first-place votes.
2.) Tremaine Edmunds, LB, Virginia Tech Hokies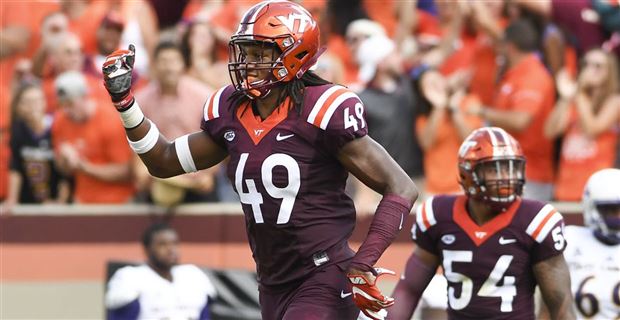 He is an athletic freak who showed a wide range of abilities in 2017 and proved to the country that if he hits his ceiling, he can be one of the best at his position. While still incredibly raw, Edmunds will end up being a top 10 pick in the draft and projects out to have an Anthony Barr-like career. He led the Hokies with 109 tackles, adding 5.5 sacks, 14 tackles for loss, and three forced fumbles this past season. If the Raiders want Edmunds they will have to draft him in round one.
3.) Denzel Ward, CB, Ohio State
The confident cornerback was a monster in the Big 10 this year, racking up 15 pass deflections and a pick while completely locking down one half of the field. He's electric, smart, and will be bonafide #1 CB in the NFL. Despite his lack of size, he's a very physical corner and isn't afraid to get his hands dirty. He should be one of the first 10 picks in the upcoming NFL draft,
Stick with us in the Chat Sports app or follow Oakland Raiders by Chat Sports on Facebook to be the 1st to know every breaking story and all the rumors on the Oakland Raiders. 
FOLLOW: Mitchell Renz is the Senior Writer & On-Air Host at Chat Sports. Check out his article archive and live videos on Chat Sports Facebook page. Please follow him on Twitter @MitchellRenz365. 
Back to the Las Vegas Raiders Newsfeed
Related Topics: Latest Raiders Rumors, Tremaine Edmunds, Raiders News, Raiders Rumors, Denzel Ward, raiders nfl news, Oakland Raiders Rumors, roquan smith