Duke basketball's run to the 2015 National Championship remains a feather in the cap of the Cameron Crazies, but there's a distinctly different roster in play now and an entirely different set of parameters to work with as Coach K's boys set their sights on a repeat. With that in mind, here's 4 Things Duke Needs To Do To Repeat As National Champions.
1. Take Advantage Of Increased Depth In The Frontcourt
Losing Jahlil Okafor to the NBA Draft is a hole that can't exactly be filled outright, but the strange thing here is that the Blue Devils are deeper in the frontcourt without Okafor patrolling the paint. Rice transfer Sean Obi is a marvel (6-9, 270 lbs) who has the legit muscle and footwork to achieve superstar status by the end of non-conference play. Antonio Vrankovic (6-11) and five-star wunderkind Chase Jeter (6-11) are two 99% locks to make a massive impact in their freshman years, backing up Obi's muscle with shooting that belies their size and explosive finishing around the rim. If Coach K can rotate these guys efficiently, Duke's bigs will dominate.
2. Ride The Blue-Chip Wave To Success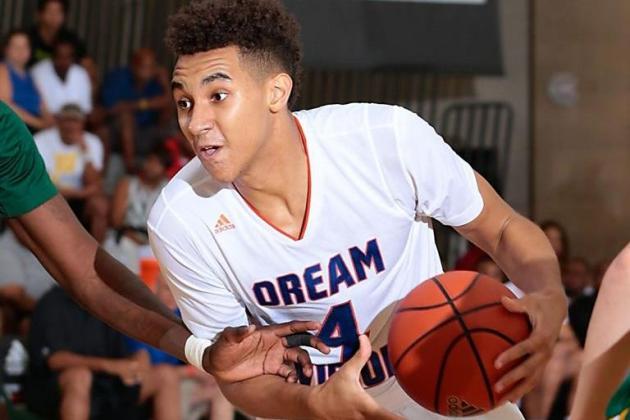 The aforementioned Chase Jeter is just one of four five-star prospects readying to begin their collegiate careers in Durham; Brandon Ingram, Derryck Thornton and Luke Kennard being the others. Whereas Kentucky and North Carolina have reputations for being freshman factories, the real impact first-years in 2015-16 will be lighting it up at Cameron Indoor. And unlike at UNC, they'll be playing for a coach unsullied by academic scandal/fraud.
3. Follow Brandon Ingram's Lead
"Long and lanky, Ingram is heralded for his versatility," Andrew Carter and Laura Keeley of The News and Observer note. "His court vision is advanced, too, as Ingram uses his length and height to find open teammates with crisp passes."
Ingram weaved pinpoint dimes through traffic with regularity at the prep level. On the defensive end, the nation's #2 small forward (per 247Sports) used his length to disrupt and embarrass guards and forwards alike. That sort of two-way dynamism is rare on any level. If he can translate his high-school dominance with even 80% effectiveness in ACC play, Duke will be able to backpedal through a tough slate to a #1 overall seed, both in the ACC and NCAA tournaments.
4. Just Be Duke
There are four names on the Mount Rushmore of college basketball coaches; John Wooden, Bob Knight, Dean Smith and Coach K. No modern-day coach mixes in-game adjustments, off-court motivational tactics and overall organizational efficiency with the grace and transparency that Coach K does. If you want to get a group of talented recruits to come together as a unstoppable machine, you can't do any better, past or present, than Mike Krzyzewski. Coach K is Duke basketball. His continued impact is what sets the Blue Devils apart from all other major college programs. If his roster stays engaged and falls in line with his philosophical underpinnings, Duke is a favorite to repeat. It's that simple.
Follow our Duke Blue Devils team page for the latest Duke basketball news!
Back to the Duke Blue Devils Newsfeed
Related Topics: NCAA, Coach K, Sean Obi, NCAA March Madness, Chase Jeter, Brandon Ingram, Luke Kennard, Duke Blue Devils, Duke Basketball