The Chicago Cubs fell short of returning to the World Series for the second straight season, and they're facing a crucial offseason if they want to remain among the top teams in the sport. They have a number of pressing issues they need to address, making them one of the most intriguing teams to watch this winter. Here are the three biggest rumors worth following:
1) Will Chicago pursue a trade for Giancarlo Stanton?
The Miami Marlins have said they will "seriously explore" trading slugger Giancarlo Stanton this offseason, and Chicago is the most well-positioned to make a trade if they so choose, according to Nick Cafardo of the Boston Globe.
We mention a lot of teams as possible landing spots for the slugger — primarily the Yankees, Giants, Phillies, and Red Sox — but keep your eye on the Cubs. Theo Epstein has an arsenal of players the Marlins would love to get.
Stanton's contract is a major issue for the Marlins, as he is owed between $25 million and $32 million each of the next 10 seasons. Chicago is trying to shed salary, so the deal doesn't make sense in that regard, but the Cubs could send equal salary back to the Marlins to offset that.
Stanton hit .281 with 59 home runs and 132 RBIs in a career-high 159 games this season.
2) Will the Cubs trade away Javier Baez?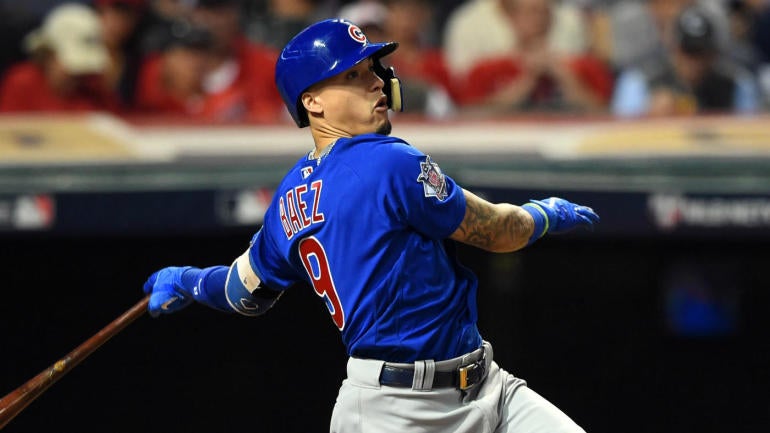 Baez has become a fan favorite in Chicago over the last three seasons thanks to his production and flair, but that has also made him a valuable asset. With the franchise trying to address a number of holes from the rotation to the bullpen to restocking the farm system, Bleacher Report's Jacob Shafer writes that trading Baez would allow them to address those needs while not losing much production.
First, the Cubs have a logjam in the infield. Kris Bryant is ensconced at third base. Addison Russell, despite battling injury and inconsistency in 2017, is an elite defensive shortstop with 20-homer pop.
Second base could belong to Baez full time in 2018, but that leaves veteran Ben Zobrist and Ian Happ—who posted an .842 OPS with 24 homers in a breakout rookie season—searching for a place to play.
By dangling Baez, the Cubs could restock the farm and add an MLB-ready impact arm while simultaneously clearing the depth chart.
Baez hit .273 with 23 home runs and 75 RBIs last season.
3) Is there a possible reunion with Jake Arrieta?
It's been a foregone conclusion that the Cubs would let star pitcher Jake Arrieta walk in free agency because of the contract he will demand on the open market, but team president Theo Epstein wouldn't rule out re-signing him.
"I wouldn't rule it out completely, and I wouldn't rule it in," said Epstein of pursuing a high-priced free-agent pitcher. "I would just say it's not our preferred method."
Arrieta went 14-10 with a 3.53 ERA with 163 strikeouts in 30 starts last season.
Follow our Chicago Cubs news page for all the latest Cubs news!
Back to the Chicago Cubs Newsfeed
Related Topics: Cubs Rumors, MLB Rumors