The 2017-18 college basketball season just wrapped up earlier this week and seemingly every prospect in the country is taking advantage of the new player-friendly rules by testing the NBA Draft waters, which leaves many teams wondering exactly where they stand going into next season. 
Some ACC players - like Duke's Wendell Carter and Syracuse's Tyus Battle- have not yet declared for the draft but are expected to do so and stay in the draft pool, while others who have already declared without an agent are expected to come back. There are also a couple of players, headlined by Boston College's Jerome Robinson, who have left the door open for a return but are expected to stay in the draft as borderline first-round picks.
This list could look a little bit different later this spring once players have to make their final decisions, but right now, here are the top 10 ACC players that are projected to be back next season - with a definitive freshman flair thanks to future stars at both Duke and UNC:
10) Justin Robinson, Virginia Tech Hokies
Robinson was a second-team All-ACC performer as a junior, posting career-highs with 14.0 ppg and 5.6 apg. His toughness makes him perfect for head coach Buzz Williams' system and his numbers should improve as the Hokies return seven of their top eight players. Virginia Tech will likely start next season as a top 20 team but will only go as far as Robinson takes them.
9) Kyle Guy, Virginia Cavaliers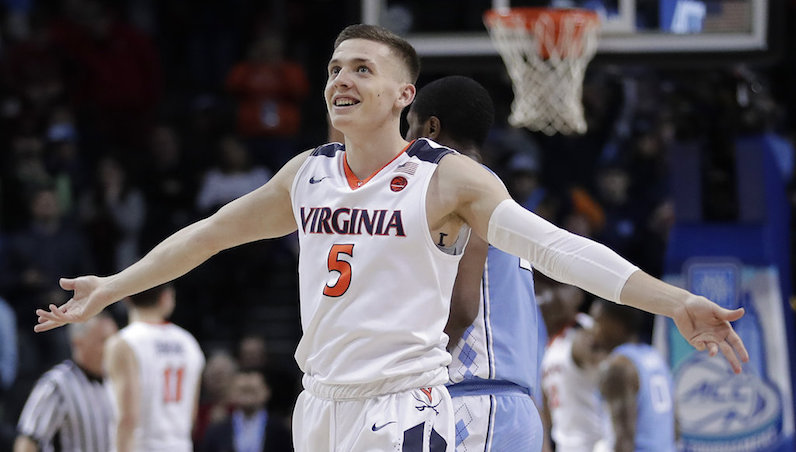 Guy was in charge of carrying Virginia's offense last season and did a good job during the course of the regular season, nearly doubling his scoring from his freshman season to average 14.1 points per game. That earned him first-team All-ACC honors and he'll be one of UVA's leaders again next year. However, he needs to become more efficient.
8) Ky Bowman, Boston College Eagles
For as good as Jerome Robinson is, I thought Bowman was actually Boston College's best and most important player last season. His all-around game is superb (17.6 ppg, 6.8 rpg, 4.7 apg) and, assuming he returns to the Eagles next season, is going to be one of the ACC's most dangerous players.
If BC gets Robinson back next year, they'll have legitimate top 25 aspirations. However, without him, Bowman will have to carry them - which I think will cause him to put up even more eye-popping numbers.
Catch up on the latest college basketball news and rumors in the best sports app available - the Chat Sports App!
7) Deng Adel, Louisville Cardinals
Adel is testing NBA Draft waters but I think he'll find his way to Louisville and finally start living up to his potential under new head coach Chris Mack. The versatile 6-foot-7, 200-pounder is capable of doing whatever he wants on the offensive end of the court, but Louisville's offense under Rick Pitino and Dave Padgett was cluttered. Expect Mack to use Deng in a way similar to how he used Trevon Bluiett at Xavier, which should allow Deng to flourish.
6) Luke Maye, North Carolina Tar Heels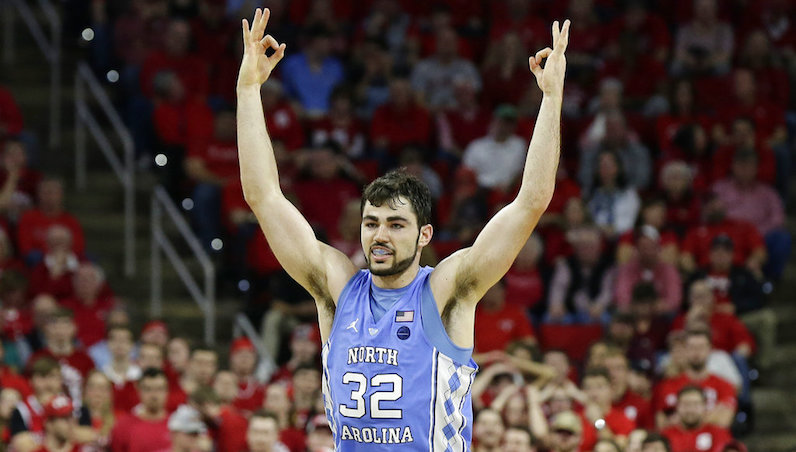 No one saw Maye's breakout campaign coming last season. He went from bench player (not even really a role player) to a superstar in one of the most impressive ways imaginable, averaging 16.9 ppg and 10.1 rpg. His three-point shooting added a new dimension to UNC's offense as he also became one of the country's best rebounders.
That said, it's hard to imagine him building on last season's success because of his limited athleticism. Essentially, he has maxed out his skill set (and he's one of the most skilled players in the country). Can he repeat a double-double season? Absolutely. However, I think he'll take a slight step back with freshman Nassir Little (who we'll discuss in a bit) taking over the offense.
5) De'Andre Hunter, Virginia Cavaliers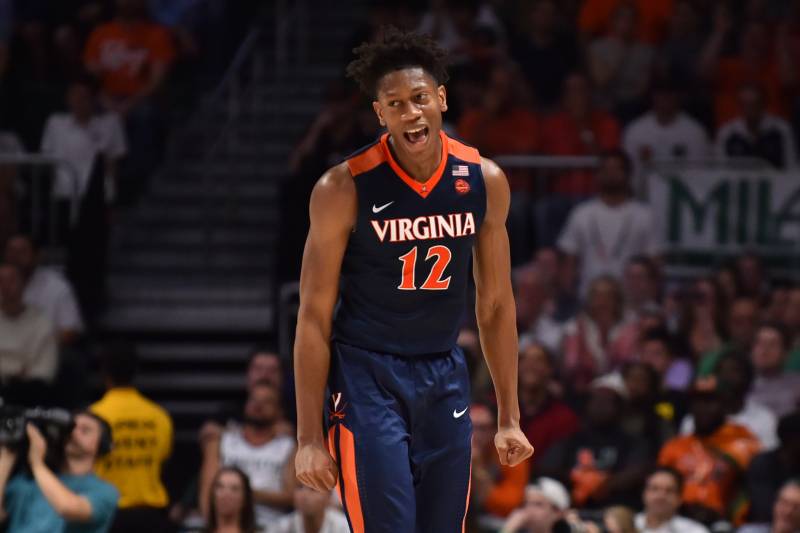 For many, Virginia is a starless, faceless team who tries to come out and smother their opponents defensively on a nightly basis - but that will change next year with Hunter. How important is UVA's best defender? The only game he missed last year was their loss to UMBC.
If Hunter's name sounds familiar, it's likely because he hit the game-winning three to beat Louisville in Virginia's epic comeback, but that's only a very small part of his game. He's a supremely athletic 6-foot-7, 222-pounder who can defend every position on the court due to his quickness (very important in Virginia's scheme). His offense also improved as the season went on and appears in line for a breakout season - one that could make him a lottery pick (or at least a first-round lock) in next year's NBA draft.
4) Zion Williamson, Duke Blue Devils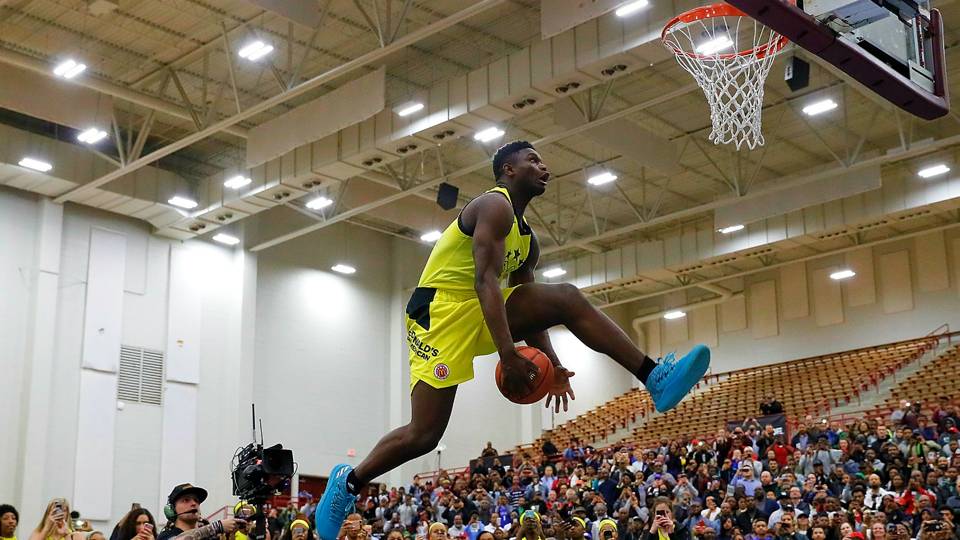 You've probably seen Williamson from his plethora of viral dunks, and that leaping ability and athleticism have propelled him to being a top three recruit in the county. His commitment to Duke surprised many but should thrive in a small ball four role alongside two other star freshmen in Cam Reddish and R.J. Barrett. Williamson's athleticism and finishing are obviously elite, but he needs to become more consistent with his shooting and conditioning.
NEXT READ: Here Are The Favorites To Win The 2019 College Basketball National Championship, According To Vegas
3) Cameron Reddish, Duke Blue Devils
Some NBA scouts think that Reddish, the No. 2 overall recruit in the country, is actually the best prospect in this class thanks to his size, length, and shooting ability. He needs to be more consistent and to continue to get stronger, but he's got everything - including the ball-handling and vision - you could want in a prospect.
2) Nassir Little, North Carolina Tar Heels
Little is UNC's highest-rated commit since James Michael McAdoo in 2011 and will immediately provide the Tar Heels with a dynamic slasher on the wing. He has the potential to be one of the best defenders in the country as soon as he steps on campus and showed his offensive abilities by winning the MVP of the McDonald's All-American Game. 
Little has the size, strength, and athleticism to be a bonafide superstar in the sport and I think he'll wind up being a top-five pick in the 2019 draft. He'll be UNC's clear go-to option next season over Luke Maye.
1) R.J. Barrett, Duke Blue Devils
To me, Barrett is clearly the best prospect in this class and is every bit as good as any of the top prospects we've seen in recent years (yes, including Ben Simmons). He led Canada to the U-19 title over the United States team because of his ability to really do everything and anything on the court. Though he's listed as a small forward, he has the ball-handling and passing abilities to play point guard along with the athleticism and scoring ability to play the two. His size and length also give him a lot of defensive upside.
The only real knock on Barrett is that he can overreliant on his left hand and occasionally tries to do to much - but I expect him to be the best player in the entire country next season.
NEXT READ: Predicting The Top 10 Big Ten Basketball Players For 2018-19
Back to the ACC Newsfeed
Related Topics: Luke Maye, Ky Bowman, Kyle Guy, Nassir Little, Deng Adel, R.J. Barrett, ACC Basketball, NCAA Basketball, Zion Williamson, Cameron Reddish, Justin Robinson, DeAndre Hunter