The 2017-18 college basketball season just wrapped up earlier this week and seemingly every prospect in the country is taking advantage of the new player-friendly rules by testing the NBA Draft waters, which leaves many teams wondering exactly where they stand going into next season. 
Some players - like Michigan's Moe Wagner - have not yet declared for the draft but are expected to do so and stay in the draft pool, while others who have already declared without an agent are expected to come back. The Big Ten has already lost a pair of projected stars for 2018-19 in Penn State's Tony Carr and Rutgers' Corey Sanders, and more could follow (Maryland's Bruno Fernando is expected to stay in the draft).
This list could look a little bit different later this spring once players have to make their final decisions, but right now, here are the top 10 Big Ten players that are projected to be back next season:
10) James Palmer Jr., Nebraska Cornhuskers
Palmer was a first-team All-Big Ten selection last season and is among those entering the draft without an agent, allowing him to test the waters while leaving the door open for a return. I expect him to do just that and will be one of the Big Ten's best players yet again.
He was Nebraska's leading scorer and best offensive threat last season, leading the Cornhuskers to a 22-win season and 13-5 mark in conference play. However, he is a volume scorer and can be inefficient due to poor shot selection at times, which is why he isn't higher on this list. I doubt he'll repeat as a first team all-conference performer - but I do think he'll lead the Huskers to their first NCAA Tournament appearance since 2014.
9) Nick Ward, Michigan State Spartans
Michigan State's big man is an absolute load in the post and uses his strength to dominate to the tune of 12.4 points and 7.1 rebounds in just 18.9 minutes per game. Ward needs to get into better shape and avoid foul trouble but his efficiency numbers cannot be ignored. He'll constitute a bigger part of MSU's offense with Miles Bridges and Jaren Jackson headed to the NBA and should see a lot more time on the court. 
8) Kevin Huerter, Maryland Terrapins
I think Huerter is one of the more underrated and underappreciated players in the country because of this all-around game and how much he does for the Terps. He's a knockdown shooter, excellent playmaker, and reliable ballhandler, making him the perfect complement to Anthony Cowan (who we'll see later in this list).
All of Huerter's numbers saw an uptick (14.8 ppg, 5.0 rpg, 3.4 apg) with only a slight increase in playing time as he became a more focal point of the team. Those numbers and his impact should only increase again following another year of experience.
7) Juwan Morgan, Indiana Hoosiers
Don't be surprised if Morgan is one of the country's breakout stars in 2018-19. He earned second-team All-Big Ten honors last season while putting up career-best numbers of 16.5 ppg and 7.4 rpg, yet those numbers should be in for another uptick in head coach Archie Miller's second year. Mordan will be Indiana's unquestioned go-to guy (unless they land No. 5 overall prospect Romeo Langford) and is a matchup nightmare for opponents due to his versatility.
6) Jordan Murphy, Minnesota Golden Gophers
Minnesota had a disastrous year but Murphy provided the lone bright spot, averaging 16.8 ppg and 11.3 rpg while racking up an eyebrow-raising 24 double-doubles - even though he's only 6-foot-6. The Golden Gophers are projected to have another long year ahead of them in 2018-19 but expect Murphy to continue being one of the most dominant forces in the conference.
Catch up on the latest college basketball news and rumors in the best sports app available - the Chat Sports App!
5) Charles Matthews, Michigan Wolverines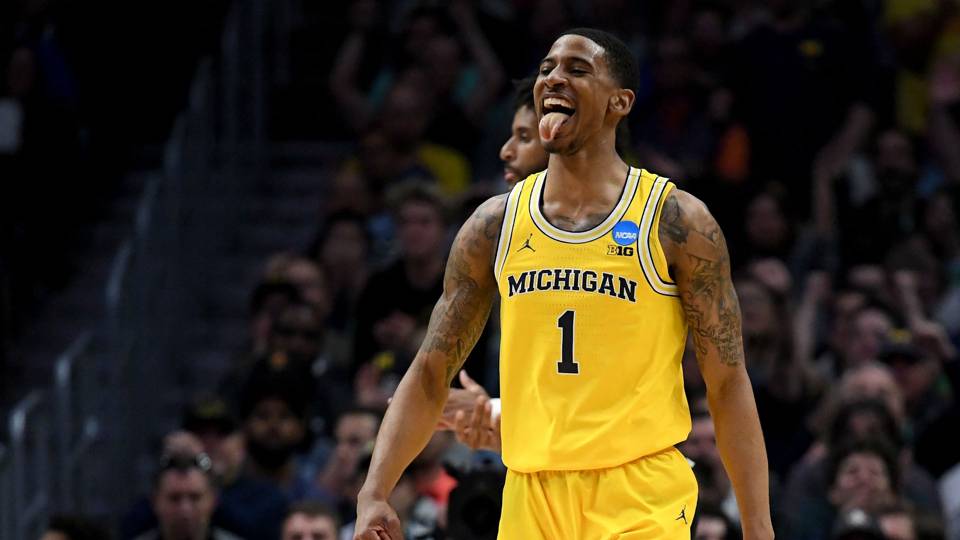 Matthews was one of the stars of Michigan's run to the national championship game, averaging 14.8 ppg and 6.2 rpg in the NCAA Tournament. He is expected to test NBA Draft waters as well but should be back as he's not a projected first-round pick. Assuming the happens, the Kentucky transfer - who can beat a team from the perimeter or by attacking the basket - will be the focal point of Michigan's offense without Wagner or Muhammad-Ali Abdur-Rahkman.
4) Anthony Cowan, Maryland Terrapins
Cowan really shined for Maryland after taking over full point guard duties from the departed Melo Trimble, averaging 15.8 ppg, 5.1 apg, and 4.4 rpg. As good as Huerter is, Cowan is the driving force behind Maryland's attack and is the key to them being a challenger in the Big Ten next season.
If he's able to make players around him better on top of putting up good numbers as a junior, he could win Big Ten Player of the Year.
3) Cassius Winston, Michigan State Spartans
I'm really excited to see what Winston will do next season when he's asked to handle more of the scoring load. He's already one of the country's best playmakers (6.9 apg last season) and greatly improved his shooting last year (up from 38 percent three-point shooting to 49.7 percent), but still wasn't relied on to carry the offense due to the presence of Bridges and Jackson.
That won't be the case in 2018-19 but I think Winston is up for the challenge. Michigan State will go as far as he takes them.
2) Ethan Happ, Wisconsin Badgers
It feels like Happ has been in college for a decade and he has been one of the best players in the Big Ten throughout his entire collegiate career. He is also testing NBA Draft waters but is expected to be back in Madison for his senior season given his draft stock.
Happ has started every game for the Badgers since he stepped on campus and his scoring numbers have risen every single season, up to 17.9 ppg last year. Wisconsin didn't really have any playmakers around Happ during a disappointing 2017-18 campaign due to the youth on their roster, and while they're expected to be much better in 2018-19, Happ remains the driving force behind everything Wisconsin does.
1) Carsen Edwards, Purdue Boilermakers
Edwards clearly emerged as Purdue's best player as the year went on and, with the rest of the starting lineup graduating, he'll be in line for an even bigger role next season. One of the best defensive guards in the country, Edwards really found his offense as a sophomore, raising his scoring average by over eight points to 18.5 ppg thanks to an improved shooting stroke and more confidence attacking the rim.
Edwards still needs to improve as a playmaker but he may be the best two-way guard in the country next season.
NEXT READ: Here Are The Favorites To Win The 2019 College Basketball National Championship, According To Vegas
Back to the Big Ten Newsfeed
Related Topics: NCAA Basketball, Carsen Edwards, Nick Ward, Jordan Murphy, James Palmer Jr., Anthony Cowan, Kevin Huerter, Charles Matthews, Juwan Morgan, Cassius Winston, Big Ten Basketball, Ethan Happ