We saw several coaching changes throughout this past college football season, including a few coaches that were fired during the season. That being said, there could have been several more. These three ACC coaches survived being on the hot seat in 2015, but will be coaching for their jobs in 2016:
Steve Addazio, Boston College Eagles
Addazio has engineered a top defense at Boston College, but his offenses have been atrocious - and the wins haven't followed. After two 7-6 seasons to start his career at BC, the Eagles went just 3-9 (0-8 in ACC) despite having a top five defense in the country. The reason? The Eagles scored just 106 combined points in their 10 games against FBS competition last year. That has to improve in a big way for him to keep his job.
Dave Doeren, NC State Wolfpack
Doeren was expected to turn NC State into one of the better teams in the ACC after a successful sting as Northern Illinois' head coach, but that hasn't happened yet. The Wolfpack are just 18-20 in Doeren's first three seasons at the helm in Raleigh, and they haven't finished above fourth in the Atlantic Division as they're just 6-18 in the ACC in those three seasons. Patience has run out at NC State, they need to finish at .500 or better in the ACC for Doeren to keep his job.
Dave Clawson, Wake Forest Demon Deacons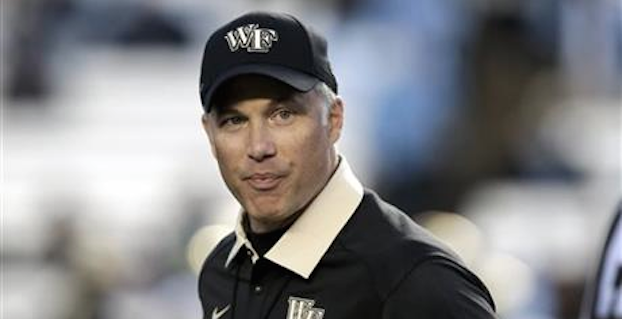 Clawson's previous four coaching stints all got off to slow starts before they became successful, and this year is that make or break year for him at Wake Forest. Under Clawson, Wake has posted two straight 3-9 seasons, are just 4-18 against FBS teams, and only have two ACC wins - which came in a 6-3 victory over Virginia Tech and 3-0 against Boston College. The results need to start turning around quickly for Clawson to keep his job.
Back to the ACC Newsfeed
Related Topics: NCAA Football, ACC Football, Steve Addazio, Wake Forest Demon Deacons Football, NC State Wolfpack Football, Boston College Eagles Football, Dave Clawson, Dave Doeren